Job Interviews a Waste of Time?
Job interviews, resumes, and all the rest are imperfect ways of matching candidates with employment openings.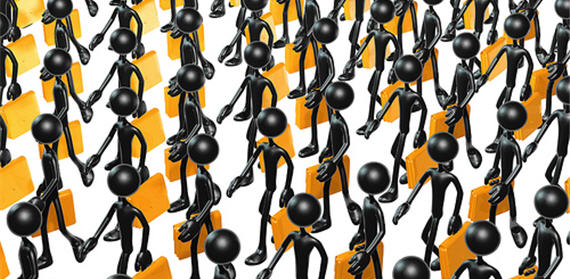 Susannah Breslin is out of work and frustrated at the process by which one finds same, observing,
I realize every significant professional advancement in my life has been totally random, a result of dumb luck, and had little to do with whether or not I could do actually the job. In fact, at most jobs that I have held, whether or not one can do the job seems to have little bearing on whether or not one has the job. I think maybe this is because the interview process is deeply flawed. That it focuses on abstractions and a piece of paper. That it has nothing to do with who you really are.
There's a lot of truth here but I think she goes too far.
Given the vagaries of hiring in the academic and creative worlds, I've sent out literally hundreds of job applications over the years. There were job descriptions seemingly written for me that I applied for and never heard back on. And I got interviews for jobs where I was stretching credulity even applying.
Of course, I only saw one side of the process and have no idea what the internal thinking was. Sometimes, jobs get advertised and the budget gets cut and the search is canceled–often without a note to the applicants. Quite often, the people doing the hiring have no idea what they're looking for and so they model the announcement either on the person they're trying to replace or a dream candidate they have no shot at landing.
Beyond that, in industries where dozens if not hundreds of people apply for a single opening, it's absurd to expect them to try go get to know who all the applicants "really are." So, a one-pager summarizing education, training, and experience rather has to do as a culling instrument.
I am rather amused at the interview process she describes:
He wants to know if he hires me, will I watch videos of cats skateboarding while I am at work? I tell him, no, I will not watch videos of cats skateboarding while I am at work. I try to recall if I have ever seen a video of a cat skateboarding. I have not.

The company is run like a start-up. It is expected I will work a 50-hour week. The CEO wants to know if I am interested in a "work-life balance." I think about saying, "Balance? Ha-ha! No." But I don't. I get the impression this is what the CEO wants to hear. That I have no interest in life, only in work, that I am allergic to balance, that all I want to do is edit software-related copy for 50 hours a week. I respond in a way that indicates I have no life, that I live to work, that I am work incarnate.

There is talk of ROIs, whiteboards, and the type of software that this company sort-of sells. The CEO asks me if I am interested in learning more about this certain type of software. For a fraction of a second, I hesitate, unsure if I can convincingly convey that I have an abiding desire to learn more about this certain type of software, that this certain type of software is of great interest to me, of far greater interest than, say, cat skateboarding videos or, say, having a life. I say I am very interested.
Quite a few bosses are shockingly bad at interviewing. I've been on that side of the process a handful of times and, frankly, I find it awkward and contrived. But I've usually eliminated all but the two or three best candidates (on paper) before interviewing, so am mostly just trying to get a sense of personality and fit.
Further, I'd wager very strongly that Breslin was in fact not a good fit for that job. She's an experienced writer of obvious talent desperate for work to pay the bills. She could likely do whatever it is the hiree is supposed to do vis-a-vis the software the company is selling. But she'd hate it and be constantly looking for a job more suited to her talents and interests. So, the cowboy-booted CEO in question was smart not to hire her.
UPDATE: Breslin reports she's gotten the comment, "she should seek a position that requires overgeneralizing from a few personal anecdotes."