Joe Flacco Not Highest Paid Player (After Taxes)?
The Ravens quarterback cashed in after winning the Super Bowl. Now it's Maryland's turn.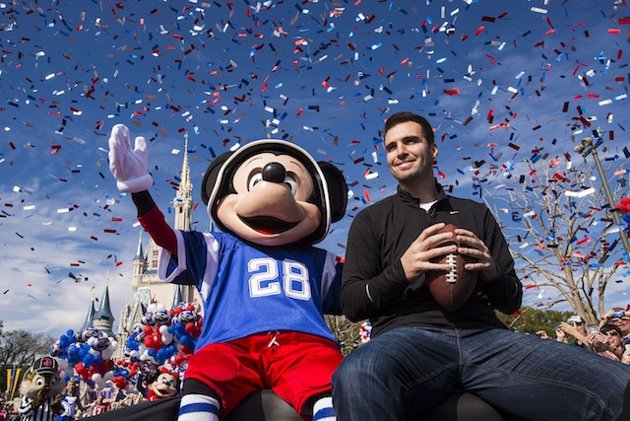 Baltimore Ravens quarterback Joe Flacco signed what is ostensibly the richest contract in NFL history after winning the Super Bowl. One analysis says that, because of Maryland's high taxes, he's not the highest paid player.
The Ticket ("Joe Flacco not the highest paid NFL player—after taxes"):
NFL quarterback Joe Flacco this week signed a new contract with the Baltimore Ravens worth $120.6 million over six years, making him the highest-paid player in the league's history. But because the Super Bowl MVP plays in Maryland, a state with a 51.98 percent marginal income tax rate, Flacco won't necessarily take home the most cash in the NFL.

That honor, according to an analysis by Washington-based Americans for Tax Reform, will go to New Orleans Saints Quarterback Drew Brees, who last year signed a five-year $100 million contract to play in Louisiana, a state with a combined federal and state tax rate of 49.4 percent. After taxes, Brees actually will take home $470,000 more than Flacco every year. (The analysis is based on player salaries, and does not take bonuses, endorsements and other sources of income into account.)

Had Flacco been offered the same deal with the Dallas Cowboys, the Tampa Bay Buccaneers, the Tennessee Titans or the Jacksonville Jaguars, teams that play in areas with no state tax burden, he would earn about $1.72 million more per year, ATR says. By playing for the Ravens, Flacco will shell out an estimated $10.44 million annually. After six years of paying state and local taxes in the Baltimore area, Flacco will earn a salary of $52.32 million—$10.32 million less than if he had played in states without an income tax.
But that doesn't tell the whole story, as  ATR acknowledges:
By choosing to remain a Raven, Flacco is now set to pay a combined marginal income tax rate of 51.98 percent. This overwhelming tax rate is composed of the federal, Maryland, and Baltimore County income tax rate, as well as the Medicare tax. And that's excluding his "jock tax" liability for away games – play the Patriots at Gillette Stadium, pay Massachusetts income tax on earnings for that game – and other taxes levied against him such as Maryland's property tax.
There's a reason so many top athletes make their offseason home in Florida or Texas, the most attractive of the nine states that don't have a state income tax. But that only shields their non-salary income, plus whatever income is earned in the state.
But, of course, it's not like those states don't need operating revenues. Rather than taxing income, they have extremely high sales and property taxes. So, looking only at income tax doesn't really tell us much.
(I'm going to give ATR the benefit of the doubt and assume they didn't apply the top marginal rate to all of Flacco's earnings, since it doesn't work that way.)
While it's always struck me as outrageous, most cities manage to tax a portion of visiting players' salary for the "work" there playing an away game. Since that means the state where the player actually lives and receives services doesn't get the money, the practice has become widespread.