Joe Miller Sues to Prevent 'Intent' Interpretation
Joe Miller is suing to ensure that only write-in votes that correctly spell "Lisa Murkowski" count rather than allowing voting officials to guess at voter intent.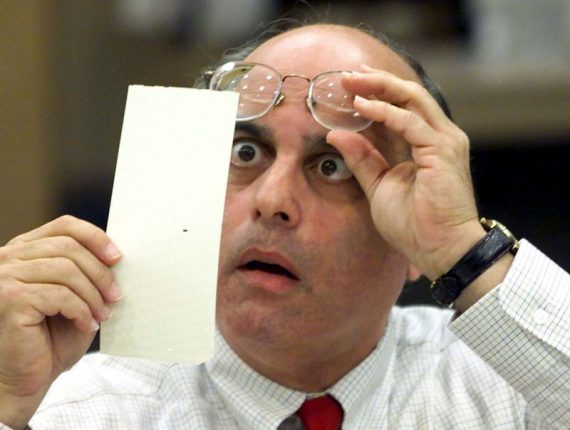 Joe Miller is suing to ensure that only write-in votes that correctly spell "Lisa Murkowski" count rather than allowing voting officials to guess at voter intent.
Votes that misspell Lisa Murkowski's name shouldn't count as the state today tallies write-in ballots in the U.S. Senate race, Senate candidate Joe Miller said in a federal lawsuit Tuesday. Miller is asking a judge to stop the state from making a judgment on a voter's intentions if the voter wrote in something other than "Murkowski" or "Lisa Murkowski." State law allows no leeway for other spellings, his lawsuit says.

[…]

The Murkowski campaign reacted to Tuesday's lawsuit by accusing Miller of trying to toss out legitimate votes for the eight-year incumbent. "They're trying to discount as many votes as possible from Alaskans," Murkowski campaign manager Kevin Sweeney said.

[…]

Lt. Gov. Craig Campbell, who oversees Alaska elections, has indicated that he will accept minor misspellings of Murkowski's name as long as the "voter intent" is clear. "The courts have been very clear for the last 25 years that voter intent is important," Campbell said in an interview this week with KENI radio host Mike Porcaro. "You do not want to disenfranchise voters over a technicality."

But Van Flein, Miller's lawyer, is arguing that nothing in state law allows for that kind of discretion. "The statute does not allow for the election board to weigh 'voter intent,' 'voter feelings,' or 'voter hopes,' " Van Flein wrote in a letter to Fenumiai.

Here's what the law says: "A vote for a write-in candidate, other than a write-in vote for governor and lieutenant governor, shall be counted if the oval is filled in for that candidate and if the name, as it appears on the write-in declaration of candidacy, of the candidate or the last name of the candidate is written in the space provided."

Miller's lawsuit argues the state waited until this week — "the eleventh hour" — to release a written policy saying it would weigh voter intent in the counting process.
While they may have waited to issue a written declaration, they've made it clear from almost the moment Murkowski announced her write-in bid.
But, while I'm not a lawyer, the law as written does seem to require the correct spelling.  The question is whether judicial rulings binding on Alaska require voter intent to be considered.
Aside from the legalities, I'm rather torn on the matter.  On the one hand, voter intent should be respected.  There's only one significant write-in candidate in the race and her name is distinctive.  So, for example, "LISA MURKOWSKY" or "LISA MURCOWSKI" are rather clearly votes for Lisa Murkowski and should count.   On the other hand, allowing voting officials to exercise discretion invites foul play and can undermine the legitimacy of the process, especially in a very close race.  And, frankly, voters should be informed enough to know how the name of the person they're sending to spend six years as 1/100th of the United States Senate is spelled.
My guess is that the issue will be moot because there will be enough correctly spelled votes for Murkowski to make her the winner outright.  She engaged in a long write-in campaign and spent a lot of money (which, incidentally, was donated to her by Republicans and then absconded with) doing things like handing out bracelets with her name on it for voters to wear into the booth.  And state officials handed out sheets with her name on it, too.   There's really no excuse for not properly spelling her name under these circumstances and people who took the time and trouble to show up at the polls and bother to write in someone's name are likely to have availed themselves on some device to help them remember.