Joe Miller's "Security Guards" Were Active Duty Military
The story about the private security guards who "arrested" a journalist at a Joe Miller campaign event just keeps getting stranger by the day.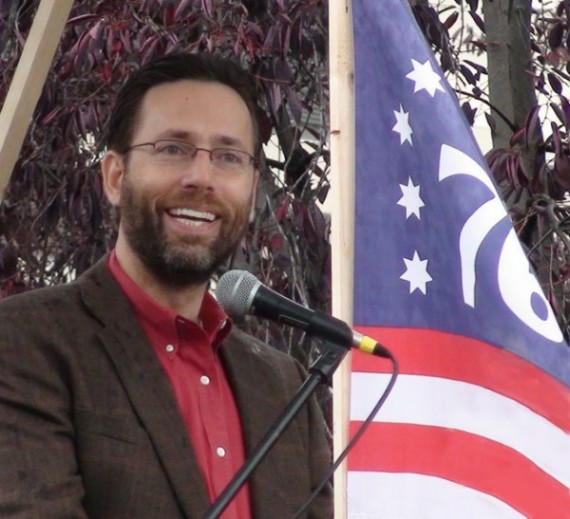 An interesting update to the story about the confrontation between an Alaska journalist and security guards working for Joe Miller's Senate campaign that Steven Taylor has been covering. It turns out that several of the "guards" were active-duty members of the U.S. military:
Meanwhile, the Army says that two of the guards who assisted in the arrest of the journalist and who tried to prevent two other reporters from filming the detention were active-duty soldiers moonlighting for Miller's security contractor, the Drop Zone, a Spenard surplus store and protection service.

The soldiers, Spc. Tyler Ellingboe, 22, and Sgt. Alexander Valdez, 31, are assigned to the 3rd Maneuver Enhancement Brigade at Fort Richardson. Maj. Bill Coppernoll, the public affairs officer for the Army in Alaska, said the two soldiers did not have permission from their current chain of command to work for the Drop Zone, but the Army was still researching whether previous company or brigade commanders authorized their employment.

The Army allows off-duty soldiers to take outside employment if the job doesn't interfere with their readiness, doesn't risk their own injury and doesn't negatively affect the "good order" and discipline of their unit, Coppernoll said.

"They've got to be up front with the chain of command," Coppernoll said. "The chain of command needs to agree they can do that without affecting the readiness and the whole slew of things that are part of being a soldier that they need to do first."
Even if the soldiers' employment was authorized, however, I agree with Glenn Greenwald that it's disturbing nonetheless:
If it's not completely intolerable to have active-duty soldiers handcuffing American journalists on U.S. soil while acting as private "guards" for Senate candidates, what would be?  This is the sort of thing that the U.S. State Department would readily condemn if it happened in Egypt or Iran or Venezuela or Cuba:  active-duty soliders detaining journalists while they're paid by politican candidates?

(…)

the fact that these guards are active-duty U.S. soldiers makes this entire incident far more disturbing.  Shouldn't American journalists of every stripe be vehemently protesting this incident?
Not just journalists either, as Steven noted in his post this morning the idea that a journalist, even one who is hostile to a candidate, can be detained by a private security force merely because the candidate doesn't want to answer questions is incredibly disturbing. It is the Palin/Angle/O'Donnell "avoid the media" strategy taken to an entirely different level, and it's something that everyone should be condemning regardless of political party.
I've been somewhat positive about Joe Miller in the past. He strikes me as different from the simplistic sloganeering of a Christine O'Donnell, and his clear refusal to emphatically state that Sarah Palin is qualified to be President indicated to me that he's got more of an independent mind than most of Palin's other acolytes. He went to West Point, and Yale Law School, so he's clearly an intelligent guy.  However, he needs to apologize for this rather than trying to justify it, and he needs to take whatever steps are necessary to make sure that it never happens again.