Joe Paterno Out in Wake of Child Rape Coverup
Penn State is cleaning house, including the legendary Joe Paterno.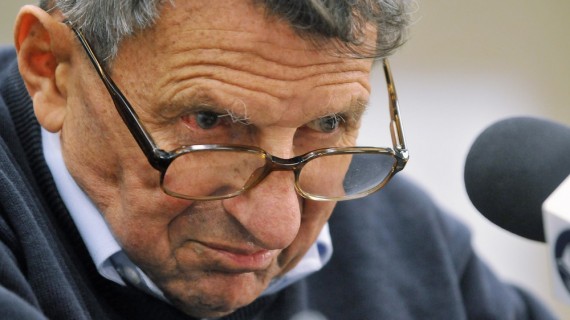 Being a mere figurehead racking up coaching wins with teams recruited and coached by others wasn't enough to send the legendary Joe Paterno packing at Penn State. Apparently, a decade-long coverup of a child sex scandal is.
NYT ("Penn State Said to Be Planning Paterno's Exit Amid Scandal"):
Joe Paterno's tenure as coach of the Penn State football team will soon be over, perhaps within days or weeks, in the wake of a sex-abuse scandal that has implicated university officials, according to two people briefed on conversations among the university's top officials.

The board of trustees has yet to determine the precise timing of Paterno's exit, but it is clear that the man who has more victories than any other coach at college football's top level and who made Penn State a prestigious national brand will not survive to coach another season. Discussions about how to manage his departure have begun, according to the two people.

Paterno was to have held a news conference Tuesday but the university canceled it less than an hour before it was scheduled to start.

At age 84 and with 46 seasons as the Penn State head coach behind him, Paterno's extraordinary run of success — one that produced tens of millions of dollars for the school and two national championships, and that established him as one of the nation's most revered leaders, will end with a stunning and humiliating final chapter.

[…]

Since Sandusky's arrest Saturday, Penn State — notably its president, Graham Spanier, and Paterno — have come under withering criticism for a failure to act adequately after learning, at different points over the years, that Sandusky might have been abusing children. Newspapers have called for their resignations; prosecutors have suggested their inaction led to more children being harmed by Sandusky; and students and faculty at the university have expressed a mix of disgust and confusion, and a hope that much of what prosecutors have charged is not true.

On Monday law enforcement officials said that Paterno had met his legal obligation in alerting his superiors at the university when he learned of the 2002 allegation against Sandusky. But they suggested he might well have failed a moral test for what to do when confronted with such a disturbing allegation involving a child not even in his teens. No one at the university alerted the police or pursued the matter to determine the well-being of the child involved. The identity of that child remains unknown, according to the Attorney General.

Paterno has not been charged in the matter, but his failure to report to authorities what he knew about the 2002 incident, in which Sandusky allegedly sexually assaulted a young boy at Penn State's football complex, has become a flashpoint, stirring anger among the board members and an outpouring of public criticism about his handling of the matter.

In recent days Paterno has lost the support of many board members, and their conversations illustrate a decisive shift in the power structure at the university. In 2004, for instance, Paterno brushed off a request by the university president that he step down.
I would be shocked if the university president, who announced his "full support" for the AD and vice president after they were indicted by a grand jury for perjury in the case, survives. It looks like the adults are taking charge of the situation and doing the right thing. It's a shame it didn't happen thirteen years ago.