Joe Scarborough and Mika Brzezinski Married
The morning show co-hosts tied the knot at a secret ceremony at the National Archives.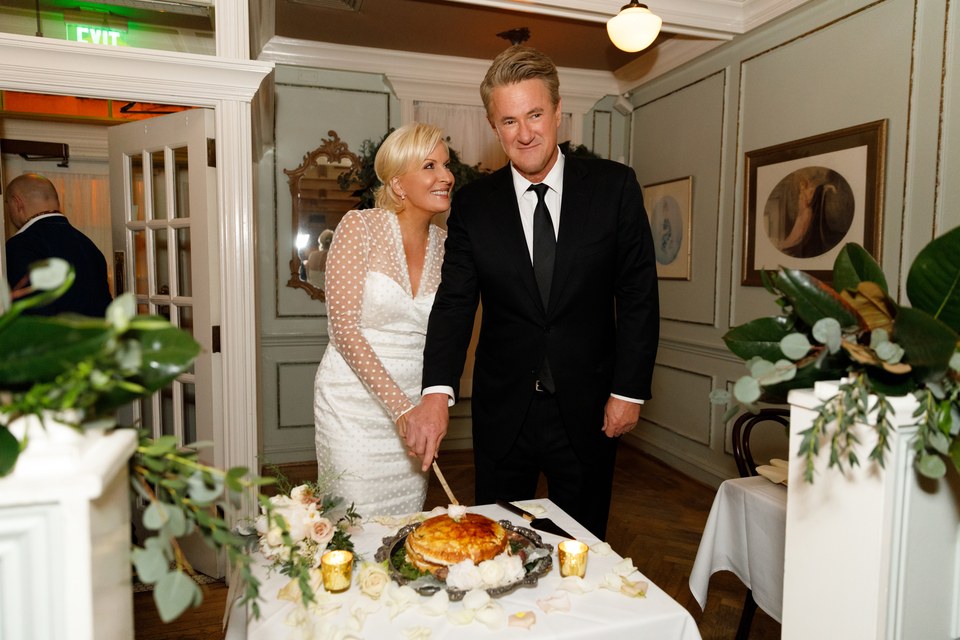 Emily Jane Cox reports for Vanity Fair ("'IT MAKES SENSE NOW': JOE SCARBOROUGH AND MIKA BRZEZINSKI TIE THE KNOT IN A SECRET WASHINGTON D.C. CEREMONY"):
At 5:40 p.m. on Saturday evening, Mika Brzezinski hurried out of a black S.U.V. a few dozen yards from the back entrance of the National Archives. An umbrella was popped open for her, and she walked into the historic library in order to get married to her longtime Morning Joe colleague and partner, Joe Scarborough, in front of the Constitution, the Declaration of Independence, and the Bill of Rights.

Part of the popularity of the Scarzinski relationship derives from the fact that, despite their prominent roles as hosts of perhaps the most influential news program in American politics, their romance has been handled with militant discretion. The couple, who got engaged last spring at the Hotel Du Cap in Antibes, France, never talk about their relationship on air, are seldom photographed together at social events, or spotted at restaurants, on vacation, at parties. This discipline has lent the duo an unexpected celebrity air, rendering them a sort of Branjelina of the political-media in-crowd—a credential more or less certified when Donald Trump offered to have them married at the White House during a visit in 2017. They declined the offer.

Their wedding was handled with similar secrecy. Washington was a post-Thanksgiving ghost town: Congress was out of session, the president was in Palm Beach, much of the city's permanent class was away for the holiday or at home in suburban Maryland or Northern Virginia. Most of the people working for the vendors did not know the identity of the betrothed until Saturday evening, and many of the reservations were made under a friend's name. The couple did not send out any formal invitations; they made about 14 phone calls to their family members and close friends, and none of the guests knew where the dinner was until Saturday evening. They chose this date because people with prying eyes would be out of town, but it would also work with their kids' school schedules (Scarborough has four children from two previous marriages; Brzezinski has two daughters from her first marriage). "We wanted it to be really small and simple and not what you expected from Mika and Joe," Brzezinski explained on Saturday. "Everything we do is exposed, and everything felt exposed every step of the way, so we want this to be private until it's over. We wanted to recognize it more quietly and have the people who are most important to us around us. And you know, our show is a cocktail party every morning."

Scarborough playfully interrupted. "Not a cocktail party. A coffee. We have three hours talking to our good friends every morning," explaining how a rotating cast of their friends make their way onto their set from 6 to 9 a.m. each weekday to help make sense of the news (Disclosure: as an MSNBC contributor, I appear on Morning Joe to talk about my reporting for Vanity Fair). "We made the decision a year ago to dramatically change our lives and have a low-key existence," he added. "The more time we can spend with our family, the happier we are."
The impending nuptials were hardly a surprise but the couple has gone out of their way to maintain their privacy about their relationship. The nature of their professional lives is that they live in a fishbowl. It's understandable that they'd want to carve out part of their lives for themselves.
Best wishes to Joe and Mika on their new life together.