John Bryson Resigns As Commerce Secretary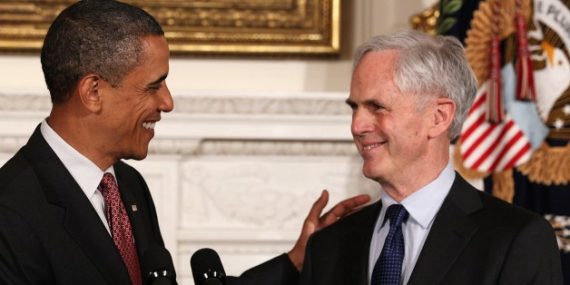 Just over a week after getting involved in a double hit & run incident in Los Angeles and then taking a leave of absence, Commerce Secretary John Bryson has resigned:
John Bryson resigned as Commerce Secretary, calling an end to the medical leave of absence he'd been on since a seizure caused his involvement in two car accidents in early June.

"I have come to the conclusion that I need to step down to prevent distractions from this critical mission," Bryson wrote in a letter to Commerce Department staff.

The 68-year-old former energy executive gave President Barack Obama his resignation letter late Wednesday and informed department employees of his action Thursday morning.

"I feel privileged to have been part of the progress we have made together for our businesses and workers as they 'build it here and sell it everywhere,'" Bryson said in his letter. "In my personal capacity, I will continue to do everything I can to support the president and America's businesses as they continue to advance innovation, U.S. competitiveness, and prosperity for our people in the months and years ahead."

Bryson "fought tirelessly for our nation's businesses and workers, helping to bolster our exports and promote American manufacturing and products at home and abroad," Obama said in a statement Thursday. "John has proven himself an effective and distinguished leader throughout his career in both the public and private sectors, from his success in the business world to his work leading on issues in the renewable energy industry."

The two will meet Thursday afternoon in the Oval Office, the White House said.

Rebecca Blank, Bryson's deputy, will continue to serve as acting commerce secretary.
This isn't at all surprising, really. In addition to an apparent medical situation, it would've been impossible for Bryson to remain in office while charged with two felonies. It will be interesting to see if Obama attempts to fill this position before the election, or simply leaves Blank in as Acting Secretary.