John Conyers, Congressman And Founder Of Congressional Black Caucus, Dies At 90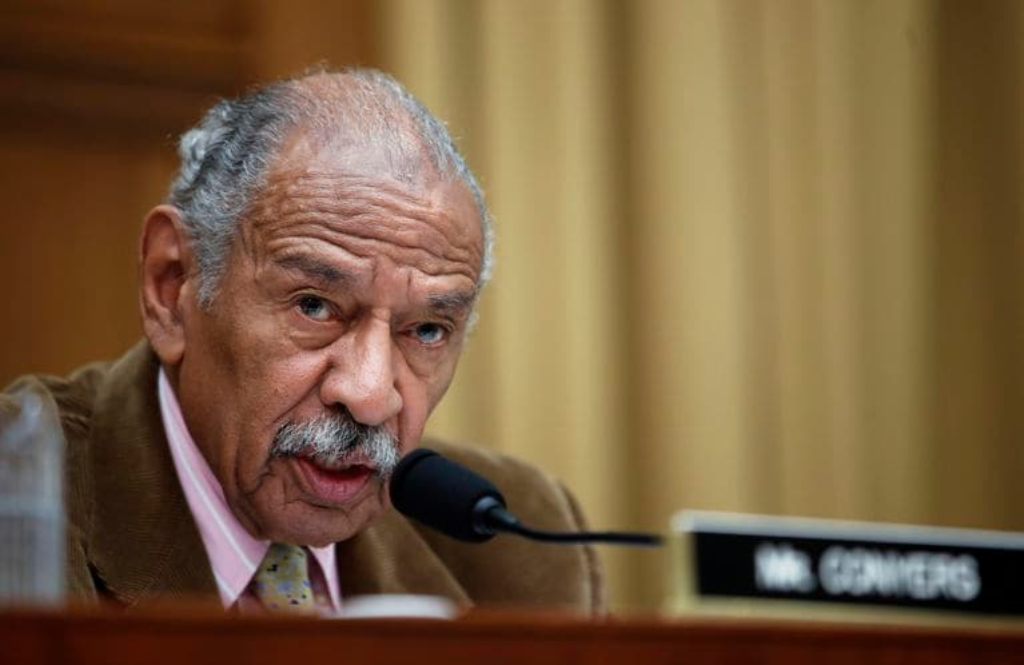 John Conyers, who represented a Congressional District that included most of the City of Detroit for fifty-three years, has died at the age of 90:
John Conyers Jr., who became the longest-serving African American in Congress, co-founded the Congressional Black Caucus and helped create a national holiday in the name of the Rev. Martin Luther King Jr. but whose career rapidly crumbled at 88 when he resigned amid sexual harassment allegations, died Oct. 27 at his home in Detroit. He was 90.

His spokeswoman Holly Baird confirmed the death. Additional details were not immediately available.

A liberal Democrat from what is now Detroit's 13th Congressional District, Mr. Conyers was first elected in 1964, becoming one of five African Americans in the House. His overwhelmingly Democratic constituents reelected him 26 times over a period spanning 10 presidents, from Lyndon B. Johnson to Donald Trump.

As the longest-serving member at the time of his resignation, Mr. Conyers earned the title "dean of the House of Representatives," and this job security allowed him to promote liberal, sometimes controversial causes that won him a national following.

He co-sponsored the Voting Rights Act of 1965, which prohibited discrimination at the ballot box. His fierce criticism of the Vietnam War led to clashes with Johnson and landed him on President Richard M. Nixon's "enemies list" of political opponents.

After the terrorist attacks of Sept. 11, 2001, Mr. Conyers voted against the USA Patriot Act because he said it would roll back civil liberties. He later suggested that President George W. Bush should be impeached, saying he misled the country ahead of the 2003 U.S. invasion of Iraq.

(…)

Mr. Con­yers had been an inspiration to African Americans from Detroit to the Deep South and had become, in effect, a member of Congress at large.

"In many districts around the country, black voters did not feel represented by their leaders, so they would reach out to African American congressmen like Con­yers," said Michael Fauntroy, who interned for Mr. Conyers in the early 1980s and is now an assistant professor of political science at Howard University.

Mr. Conyers, in turn, urged skeptical African Americans to get involved in politics. One of his early mottos was: "Register, vote, run for office. It's power that counts." To better harness that power and secure passage of legislation on poverty, racism, human rights, unfair tax policies and health care, Mr. Conyers and 12 other African American House members founded the Congressional Black Caucus in 1971.

Mr. Conyers strongly backed the Rev. Jesse Jackson's 1984 campaign for the Democratic presidential nomination and was an early supporter of candidate Barack Obama, who was then a Democratic senator from Illinois. Yet Mr. Conyers also could be caustic about fellow Democrats to demonstrate that he was not blindly loyal to anyone.

(…)

All along, Mr. Conyers was a master of the politics of symbolism. He hired civil rights activist Rosa Parks, who worked in his Detroit office for 20 years. He introduced numerous bills calling for reparations for the descendants of slaves, an issue that resonated among black people but did not gain traction in Congress. More successful was his 15-year struggle to recognize King, the civil rights defender.

Four days after King was assassinated on April 4, 1968, and with the support of his widow, Coretta Scott King, Mr. Conyers proposed the first of many bills calling for a federal holiday in his honor.
The proposal met resistance from Republicans, notably Sen. Jesse Helms (N.C.), who accused King of Communist sympathies and complained that only one other holiday, Columbus Day, was named after a person.

Mr. Conyers kept pushing, millions of people signed petitions and entertainer Stevie Wonder pitched in with the hit single "Happy Birthday." President Ronald Reagan in 1983 signed legislation setting aside the third Monday in January as Martin Luther King Jr. Day; the day was chosen because it was near King's Jan. 15 birthday.

In a 2008 interview, Mr. Con­yers called it "far and away the thing I am most proud of."
More from The New York Times:
John James Conyers Jr. was born in Detroit on May 16, 1929, a son of John and Lucille (Simpson) Conyers. His father was an executive of the United Auto Workers.
After high school, he worked as a spot welder in a Lincoln automobile plant and took night courses at Wayne State University. He enlisted in the Army in 1950, served in Korea as a second lieutenant and was discharged in 1954. He returned to Wayne State, earning a bachelor's degree in 1957 and a law degree in 1958.
From 1958 to 1961 he worked as a legislative aide to Representative John D. Dingell Jr., who in 2009 became the longest-serving member in the history of the House. He worked in state government and as a lawyer until running for Congress in 1964.

Mr. Conyers is survived by his wife, Monica, and sons, John and Carl.

A longtime bachelor, Mr. Conyers, at the age of 61, married Monica Esters, a 25-year-old former staff member, in 1990.

Monica Conyers had a short-lived political career of her own. She was elected to the Detroit City Council in 2005 and became its interim president in 2008. In 2009 she was convicted of taking a bribe and resigned. In 2010 she was sentenced to 37 months in prison. There was no suggestion that her husband was involved.

Mr. Conyers was known as a spiffy dresser. In January 2010, GQ called him one of the "District Dandies." This "clotheshorse," the magazine said, "knows a nailhead from a hopsack, digs double-breasteds, and favors patterned shirts and ties. He's a lifetime sartorial achiever."
In addition to his legislative achievements, Conyers also served at various times as the Chairman of the House Judiciary Committee and the House Oversight Committee. After the retirement of fellow Michigan Congressman John Dingell, Conyers became Dean of the House of Representatives, an honorary title given to the longest-serving member of the House at a given time. As noted, he was also one of 13 founding members of the Congressional Black Caucus, which now has 53 members, including 51 Members of Congress and two Senators. Presently, the CBC is made up entirely of Democrats although it is supposed to be multi-partisan, although that claim has had a controversial past. For example, Massachusetts Senator Edward Brooke, who was the first African-American Senator since Reconstruction, was not a member of the group and Senator Tim Scott, the first African-American Senator from a former Confederate state since Reconstruction, has chosen not to seek membership in the group.
Conyers's accomplishments and record, though, were somewhat diminished by the circumstances surrounding his decision to leave office. Two years ago, as the #MeToo movement was gripping the culture, Conyers became the subject of numerous allegations of inappropriate behavior toward female staff members and others. While he initially denied those reports, the sheer number of accusations made it hard to believe that Conyers was the victim of smears or blackmail. As a result, Conyers resigned in December 2017 rather than face an impending ethics investigation. It was an unfortunate end to what had been a productive career in politics.