John Dingell, Longest Serving Member Of Congress, Dies At 92
The longest-serving member of Congress in American history has passed away at the age of 92.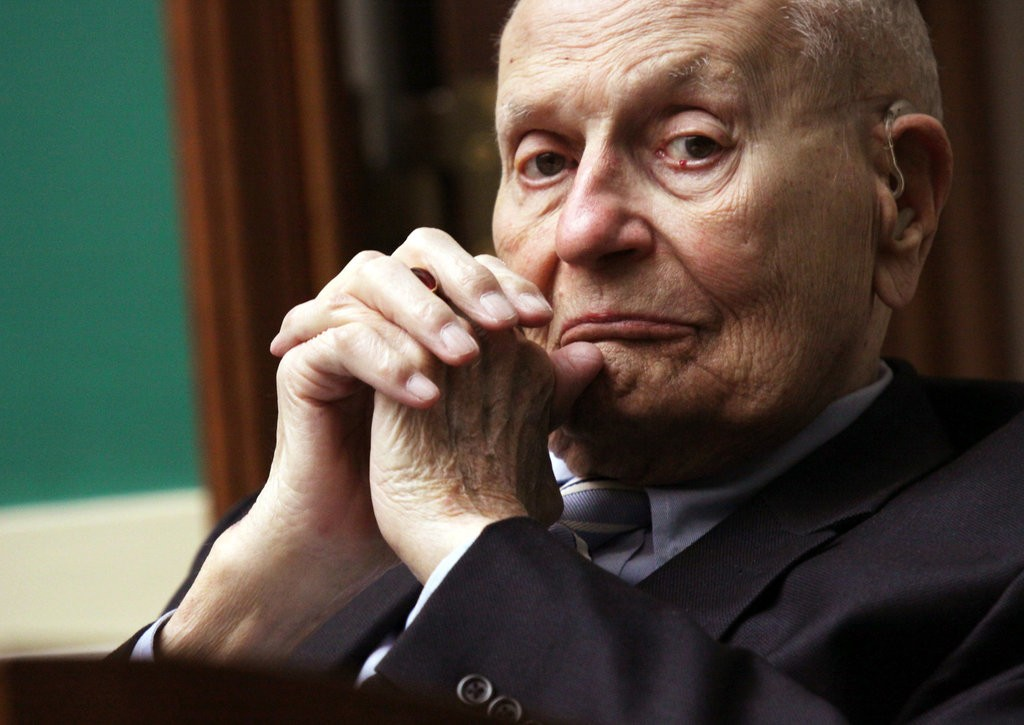 John Dingell Jr., who served in the House of Representatives from 1955 through his retirement after the 2014 midterm elections, has died at the age of 92:
John D. Dingell Jr., a powerful and tenacious Michigan Democrat who pushed landmark legislation, exposed corruption in government and became the longest-serving member of Congress in American history, died on Thursday at his home in Dearborn, Mich. He was 92.

His wife, Representative Debbie Dingell, announced the death in a statement.

Ms. Dingell, who won election to his seat after he announced his retirement in 2014, said this week that she was at home with Mr. Dingell, whose health had been failing.

Mr. Dingell (pronounced DING-gull) had represented what is now Michigan's 12th district, outside Detroit, since the Eisenhower administration, a 59-year run. But when he announced in 2014 at age 87 that he would not seek re-election that year, he said he was stepping down because he no longer recognized the institution he loved. Bitter partisanship, he said, was preventing the House from getting anything done.

"I find serving in the House to be obnoxious," he told The Detroit News.

Mr. Dingell, a physically imposing man of 6-foot-3, weighing 200 pounds and intimidating many with his booming voice, was one of the last of the old bulls, a small cadre of powerful Democratic House committee chairmen who had risen through the seniority system and wielded absolute control of their fiefs. Like the other old bulls, he used his position to protect his hometown interests — in his case, the automobile industry. Some called him the most powerful man in Washington who had never become president.

He joined the House on Dec. 13, 1955, filling the seat of his father, John Dingell Sr., who was first elected in 1932 and died in office after serving 22 years. With Ms. Dingell now occupying the seat, someone in the Dingell family has represented southeast Michigan for almost 90 years.

John Dingell Jr. became the longest-serving House member in February 2009, surpassing the record set in the early 1990s by Jamie L. Whitten, a Mississippi Democrat. He became the longest-tenured member in the history of all of Congress on June 7, 2013, when he passed the record set by Senator Robert C. Byrd, Democrat of West Virginia, who died in office in 2010.

"The story of John Dingell in Congress is the story of the hopes and dreams of the American people for the past 50 years," said former Senator Carl Levin, a Michigan Democrat, in a statement in 2005 honoring his friend and colleague. "John fought to pass Medicare — and he won. He fought to pass Medicaid — and he won. He fought for civil rights — and he won. He fought for the Endangered Species Act and the Clean Air Act — and he won."

Indeed, tenacity proved to be a distinctive feature of Mr. Dingell's political career, as did a forcefulness that earned him admirers as well as critics.

When he was chairman of the House Energy and Commerce Committee from 1981 to 1995, and again after the 2006 election put Democrats back in power, his unusually vast portfolio allowed him to shape policy affecting energy, the environment, health, telecommunications, transportation, financial services and consumer protection.

The committee handled nearly half of all bills before the House each year.

(…)

An avid hunter — he kept fish and game trophies in his office, including that of a 500-pound boar he reportedly killed with only a pistol — Mr. Dingell defended the right to bear arms and received an A+ rating from the National Rifle Association, of which he was a member. This put him at odds with many Democrats, particularly gun-control advocates from urban areas like Detroit, but hunting was important to his working-class constituents.

Similarly, he supported the Vietnam War until 1971, after many Democrats had stopped. And his voting record was largely anti-abortion, with the abortion rights group Naral giving him a 30 percent rating in 2012.

At the same time, Mr. Dingell appeased some liberals by supporting civil rights legislation, though he opposed expanding school desegregation to Detroit suburbs via mandatory busing. He supported equal rights for women and some environmental measures.

But his chief constituency was the auto industry, and Mr. Dingell was among its most stalwart champions. He viewed taking care of the industry as one of his primary legislative responsibilities. He advocated bailouts of General Motors and Chrysler and long staved off calls for tougher emissions and fuel economy standards.

"I am totally unapologetic about that," he told The New York Times in 1991. "I represent half a million people whose lives are controlled by the good fortune or bad fortune of the auto industry. I was sent down here to look after the welfare of that district and the people I serve."

The industry contributed substantially to his re-election campaigns. And he and his wife accumulated millions in General Motors holdings in the early 2000s through her affiliation with the company — she was an heir to the Fisher brothers, the founders of General Motors, and for many years a GM lobbyist.

This coziness with the industry played a role in his losing the chairmanship of the energy committee: In a devastating defeat for Mr. Dingell, a younger colleague, Representative Henry Waxman of California, toppled him in 2008. Opponents had argued that Mr. Dingell, then 82, was too protective of the industry and moving too slowly on related issues like climate change.

Still, Mr. Dingell had a strong record on other environmental matters. The League of Conservation Voters and other environmental organizations credited him with helping to pass the 1964 Wilderness Act, the 1969 National Environmental Policy Act, the Clean Air and Clean Water Acts of the 1970s, the 1980 Superfund law, statutes protecting marine mammals and bans on ocean dumping. (The Clean Air Act was passed only after Mr. Dingell had bottled it up for 10 years.)

"I've gotten more legislation passed on conservation and the environment than anybody else in this place," Mr. Dingell boasted in an interview with The New York Times in 2007. "I know how to build legislation from the center."
More from The Washington Post:
John David Dingell Jr. was born on July 8, 1926, in Colorado Springs into a family of Polish descent. He moved to Detroit as a boy and then to Washington when his father was elected to the House in 1932. He was a congressional page throughout his teenage years, and graduated from Georgetown Preparatory School in 1944.

After serving in the Army in World War II, he earned a bachelor's degree in 1949 and a law degree in 1952 from Georgetown University. He spent summers during school working as a park ranger in the Rocky Mountains and at Mount Rainier in Washington state, indulging in a love of the outdoors and hunting.

He clerked for a federal circuit court judge for a year after college and in 1954 landed a position in Michigan as the Wayne County prosecutor. He held that job only briefly before his father's death.

When Mr. Dingell was sworn into office in 1955, he pledged to continue working on issues that were important to his father.

He introduced legislation that created a Civil Rights Division in the Justice Department and became an indefatigable proponent of health-care reform, annually sponsoring the national health-care legislation that his father introduced in 1943. He presided over the House when Medicare was passed in 1965, and lent the gavel he had used that day to then-Speaker Nancy Pelosi (D-Calif.), who used it when the House passed the 2010 health-care overhaul.

Mr. Dingell's first marriage, to Helen Henebry, ended in divorce. Their daughter, Jeanne Dingell, died in 2015. In addition to his wife Debbie, survivors include three children from his first marriage, John D. Dingell III, Christopher Dingell and Jennifer Dingell; a brother; a sister; and three grandchildren.

In retirement, Mr. Dingell became a social-media star as he took to Twitter with self-deprecating jokes and of-the-moment commentary. "Staff has now informed me of what a Kardashian is," he tweeted in 2014, referring to the family famous for its tabloid appearances and reality TV shows. "I'm only left with more questions."

Mr. Dingell was widely regarded as one of the more inscrutable members of Congress. He was a hunter and a onetime board member of the National Rifle Association, as well as a fan of Kennedy Center ballet performances. He was a former park ranger who co-wrote the Endangered Species Act and the Marine Mammal Protection Act, but became one of conservationists' prime enemies for his fierce opposition to tightening fuel-efficiency standards.

"The ambiguity of our system is in a way summed up in Dingell, who handles it with great aplomb," Rep. Timothy E. Wirth (D-Colo.) said in a 1983 interview with The Post. "He is now the best legislator in the House. The reason for that is his remarkable capacity to live with ambiguity, which you have to do up here. . . . The world isn't simple, there are so many competing interests, each with a bit of the truth. If you try to stake everything out in terms of black and white, it will kill you."
It was clear in recent days that Dingell, who was tweeting as recently as a week ago, had fallen seriously ill in recent days and was near the end of his life. His wife, Congresswoman Debbie Dingell, who holds the same seat that he and his father did stretching back to 1933, missed the State of the Union Address to be with her husband and posted this on her own Twitter feed:
Friends and colleagues know me and know I would be in Washington right now unless something was up. I am home with John and we have entered a new phase. He is my love and we have been a team for nearly 40 years.

— Rep. Debbie Dingell (@RepDebDingell) February 6, 2019
I will be taking each day as it comes. We thank people for their friendship and support and ask for prayers and privacy during this difficult time.

— Rep. Debbie Dingell (@RepDebDingell) February 6, 2019
And Dingell himself posted a farewell to his Twitter followers the day before he died:
The Lovely Deborah is insisting I rest and stay off here, but after long negotiations we've worked out a deal where she'll keep up with Twitter for me as I dictate the messages. I want to thank you all for your incredibly kind words and prayers. You're not done with me just yet.

— John Dingell (@JohnDingell) February 6, 2019
As you might expect for someone who was raised in Washington while his father served in Congress, Dingell's involvement in politics and Congressional affairs predates his own election in 1955 after the sudden death of his father. While serving as a Congressional page, for example, he was on the House floor on December 8, 1941, when Franklin D. Roosevelt asked Congress to declare war on Japan in response to what he famously referred to as "a day which will live in infamy." Dingell spoke about that day in a 2012 interview with The National Journal. Once he was elected to Congress in 1955, he served in Congress under every President from Eisenhower to Obama and took part in some of the most ground-breaking Congressional votes in American history such as the passage of the Civil Rights Act of 1964, the Voting Rights Act, and innumerable other pieces of legislation. After leaving Congress to be succeeded by his wife, Dingell became, as noted above, something of a Twitter celebrity, with many sharp-witted and amusing barbs, many of them in recent years aimed at President Trump in particular.
In any case, while I've been criticial of Dingell in the past as a symbol of the issue of long-term incumbency, it's clear that he served his constituents well and that, as Dean Of The House Of Representatives from 1995 to 2015 and the longest-serving member of Congress overall from 2010 through his retirement, he cared deeply about the institution in which he served.