John F. Kennedy A Conservative? No, Not Really
Conservatives have their own Kennedy myth to compete with the myth of Camelot.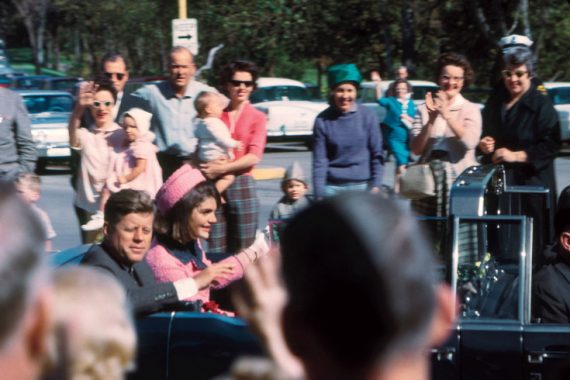 The 50th anniversary of President Kennedy's assassination has not surprisingly revived a great deal of discussion about Kennedy's Presidency, his assassination, and, inevitably, where he fits into the American political milieu. These remembrances include a theme that many on the right have repeated for at least the past thirty years ever since President Reagan sought to link his Presidency to Kennedy's in both the foreign policy and domestic policy arena that asserts that, although he was a member of the Democratic Party, John F. Kennedy was, and would today be considered, a conservative or perhaps at least a "moderate Republican." The latest example of this is Ira Stoll's new book JFK: Conservative, the central theme of which the author partly summarized in a piece at Time Magazine late last month:
Far from being a big-spending liberal, Kennedy was a conservative by the standards of both his time and today. While he increased military spending, overall he restrained federal outlays. His plan for economic growth emphasized not deficits but tax-rate cuts that he argued would eventually pay for themselves by increasing government revenue. He reduced tariffs in pursuit of free trade, and he took a hard line against communism abroad and at home.

In more candid and private moments, Kennedy's closest aides have acknowledged as much. At one closed-door Boston gathering of Camelot veterans, Theodore Sorensen said, "Kennedy was a fiscal conservative. Most of us and the press and historians have, for one reason or another, treated Kennedy as being much more liberal than he so regarded himself at the time … in fiscal matters, he was extremely conservative, very cautious about the size of the budget."

(…)

It's not only Kennedy's speeches that define him as a conservative, but also his actions in office. Kennedy had run in 1960 to the right of Richard Nixon on Cuba; as Nixon recalled it in his memoir, after their first televised presidential debate, "Kennedy conveyed the image — to 60 million people — that he was tougher on Castro and communism than I was." In the Cuban missile crisis, Kennedy ordered a blockade, disregarding the advice of more dovish advisers such as McGeorge Bundy, Adlai Stevenson and Robert Lovett.
Matthew Steinglass pushed back on the central thesis of Stoll's argument, the Kennedy tax cuts, as proof of Kennedy's conservatism:
Mr Stoll's second point is that Kennedy cut taxes on the rich. This is true. Kennedy cut the top marginal tax rate from 91% to 70%. He did so in order to run a larger budget deficit, because his economic advisers, including Arthur Okun and Walter Heller, believed this would provide a Keynesian stimulus to demand. Neither Kennedy nor his advisers believed in the subsequent supply-side theory that gained credence in the 1970s, which held that low marginal rates on the very rich were crucial to stimulate investment. One of his advisers, James Tobin, explicitly said the income-tax cut would provide a short-run economic stimulus but would do nothing to promote investment "except in the general sense that prosperity is good for investment."
The tax cut argument has always, of course, been a rather simplistic one that ignores both the historical realities of the early 1960s and the fiscal situation of the early 21st Century. Most prominently, as Daniel Larison points out, there's the fact that when Kennedy came into office in 1961 the top marginal tax rates were far, far higher than they are even today after the tax increase for high income earners that was part of the deal to permanently extend the Bush Tax Cuts for the vast majority of Americans. Comparing those tax rates to the rates that were in effect in 1961 is quite literally comparing apples and oranges and really boils down to an attempt to make a false comparison between Kennedy's position back then with the position of Democrats (and some Republicans) today. There's a huge difference between seeking to lower tax rates on "the rich" when those marginal rates are in excess of 70% and trying to raise them by only a few percentage points in an effort to address a looming fiscal crisis when the top marginal rate is only 35%. Yes, JFK supported cutting taxes back in the early 1960s, but then so did many members of his own party, as the fact that he was able to get his tax cut package through a Congress overwhelmingly controlled in both Houses by the Democratic Party. That doesn't mean, however, that, were he alive today, he'd be signing on to Grover Norquist's tax pledge and supporting calls to shut down the government rather than agreeing to any tax increase at all. Making that argument involves nothing less than drawing the kind of false historical analogies that only a blind partisan would make.
Similarly, as Steinglass notes, Kennedy's foreign policy was no different than most members of his own party at the time. In those years before the Vietnam War, when the Cold War was still very, very hot, in fact, the anti-Communist containment policies that Kennedy pursued were pretty much universally shared across the leading members of both political parties. Moreover, during the 1960 campaign, part of then Senator Kennedy's argument against Vice-President Nixon's campaign was the allegation that existed at the time that the United States was falling behind in the race to create a sufficient stockpile of missiles capable of striking the Soviet Union in the event of nuclear war, thus endangering our nuclear deterrent. In other words, Kennedy ran to Nixon's right on foreign policy to some extent, although it turned out at the time that existing intelligence, which Kennedy didn't have access to at the time, showed that the so-called missile gap was largely non-existent. This is also the same John F. Kennedy who went ahead with the Bay of Pigs invasion, stood up to the Soviets over the Berlin Wall, successfully stared Khrushchev down over the Cuban Missile Crisis, and expanded the U.S. involvement in South Vietnam that had started under the Eisenhower Presidency. While one might be tempted to call this a conservative foreign policy, the truth is that it was really just a continuation of the then-existing bipartisan consensus and that a President Nixon elected in 1960 most likely would not have acted any differently than President Kennedy did during his two and 3/4 years in office. Kennedy's foreign policy was, then, neither liberal nor conservative as we understand those terms today.
Cato Institute Vice-President Gene Healy further attacks Stoll's central thesis in a review of his book at The American Conservative , but he takes the critique in a different direction:
Stoll lays it on pretty thick: in his telling, JFK was a great president, a good man, and—no kidding—a good Catholic. Moreover, Kennedy's policies—his "tax cuts, his domestic spending restraint, his pro-growth economic policy, his emphasis on free trade and a strong dollar, and his foreign policy driven by the idea that America had a God-given mission to defend freedom"—show that he was, "by the standards of both his time and our own, a conservative."

It's a cramped, reductionist account of conservatism, one that collapses the entire political tradition into its neoconservative variant. But an even less charitable person than I could make the case that it's a fair approximation of "actually existing conservatism," and Stoll's thesis has already received a fairbitofpraisefrom commentators on the Right.

God help us. If our 35th president—fiscally profligate, contemptuous of civil liberties, and criminally reckless abroad—is a paragon of modern conservatism, conservatism is in even worse shape than I thought.
Healy then goes on to review Kennedy's record on both domestic/fiscal policy and foreign policy and, rather than taking the expected path of arguing that Kennedy's policies were not really as close to what is presently considered conservatism, he argues that there really isn't anything in Kennedy's record that conservatives should want to aspire to. At the same time, though, he does acknowledge that there are plenty of similarities between Kennedy's foreign policy and what today would be called neoconservatism:
It's a strange view that favors confrontation and foreign-policy "toughness" as ends in themselves, even at the risk of nuclear annihilation. But then Stoll has a lot of strange views on foreign policy. On Vietnam, where JFK had deployed some 16,000 troops by 1963, Stoll writes, "President Kennedy and the national security team he brought into office have been faulted for leading the country into the Vietnam War without clear objectives … a formal declaration of war [or] an exit strategy"; however, "that criticism should be discounted for [sic] the fact that South Vietnam fell to Communist North Vietnam only in April of 1975." (If you never end the war, you never have to ask a man to be the last man to die for a mistake.)
Of course, Healy's critiques about Kennedy's record are precisely the kinds of things that a conservative of Stoll's variety admires, so it's not entirely surprising that he'd try to claim the Camelot legacy for the right. I have to agree with Healy, though, that while Kennedy's actions may have been consistent with the views of the time they are hardly something that modern conservatism should seek to claim as its own unless it wants to return to the big government conservatism of the Bush years.
The weeks leading up to today's anniversary have seen other versions of the arguments that Stoll makes advances by others. Some have asserted, for example, that a modern JFK would be more at home in the Republican Party than the Democratic Party. Leaving aside the myriad differences between the Kennedy of 1961-1963 and the modern GOP as noted above, especially on domestic policy, this argument is absurd for other reasons. First of all, the Kennedy family was, is, and likely always will be loyally Democratic. The family alliance with the party started with Joe Kennedy Sr. and the fact that Irish Catholics in Boston allied themselves with Democrats from the time they arrived in the United States and it has continued to this day. The idea that Kennedy would have somehow split with his own party at some point after he left office is just absurd. Secondly, an argument like this ignores the likely possibility that, much like his brothers, Kennedy's own political views likely would have evolved over the years, especially when it came to issues like Civil Rights and poverty. It may be true, for example, that Kennedy might not have pursued something as grand as LBJ's "Great Society" had he survived and been re-elected in 1964, it's also unlikely that he would have been unmoved in his second term by the growing societal awareness of both issues that most likely still would have developed over the years of his second term from 1965 to 1969.
In the end, if you want to classify John F. Kennedy in terms of any form of contemporary politics, then perhaps the best place to put him would be among those such as Bill Clinton and others who formed the Democratic Leadership Council in the 1980s and ended up ending their party's time in the political wilderness that had started after the 1968 election. Indeed, it's quite possible that a second Kennedy term would have averted a great deal of the conflict that split the Democratic Party after his death (and the Vietnam War, of course) and led to the embarrassing spectacle of the 1968 Chicago Convention and the 1972 nomination of George McGovern. Placing Kennedy in that wing of the Democratic Party, though, doesn't make him a "conservative," and it certainly doesn't support any argument that he'd be more at home in the Republican Party. Indeed, if Kennedy were alive today, and if he were he'd be 96 years old, he'd certainly be as strong a supporter of President Obama as his brother was and his daughter is.
I don't necessarily blame Republicans for trying to claim a piece of the Kennedy legacy for themselves. Thanks to his tragic death and the legend that was created around his Presidency, he has entered the list of those Presidents that in some sense belong to the entire nation. Both parties, for example, try to claim Presidents like Washington, Jefferson, and Lincoln's legacies. President Reagan often spoke admiringly of Franklin Roosevelt, and Democrats often try to point out how far to the right the GOP has drifted by claiming the legacies of Republicans like Theodore Roosevelt, Ronald Reagan and George H.W. Bush, or at least comparing (negatively of course) the modern GOP to the way these men governed while in office. If you're going to do that, though, you need to be at least somewhat intellectually honest about it, and people like Stoll most certainly are not being intellectually honest.
H/T: Daniel Larison