John Hinckley Jr. Will Not Be Charged In Death Of James Brady
An entirely unsurprising decision from Federal Prosecutors in Washington, D.C.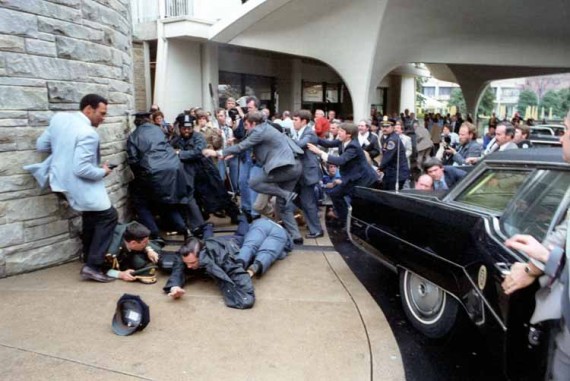 Last August, some thirty-three years after he was nearly fatally injured during the attempted assassination of President Reagan, former Reagan Press Secretary James Brady passed away at the age of 73. Several days later, the Medical Examiner in Northern Virginia, where Brady lived at the time of his death, ruled his death a homicide, apparently due to the fact that Brady had died due to medical conditions he had continued to suffer from as a direct result of the shooting. This opened the possibility, as remote as it seemed, that John Hinckley Jr., the man who shot Brady while attempting to kill Reagan, could be tried again for Brady's murder. Yesterday, though, Federal prosecutors announced that they would not seek additional charges against Hinckley due largely to the fact that his acquittal in the 1982 trial related to the shooting barred them from doing so:
John W. Hinckley Jr., who shot and wounded President Ronald Reagan and three others in 1981, will not face charges in the death last summer of James S. Brady, the former White House press secretary, federal prosecutors said Friday.

The Virginia authorities ruled that Mr. Brady's death in August was a homicide, putting Mr. Hinckley's legal fate into question while prosecutors considered whether to charge him with murder. Mr. Brady was paralyzed in the shooting outside a Washington hotel.

In a statement on Friday, the office of the United States attorney for the District of Columbia said that principles of criminal law would keep federal prosecutors from pursuing charges against Mr. Hinckley, now 59, who has been largely confined to St. Elizabeths Hospital in Washington since he was found not guilty by reason of insanity at his trial in 1982.

"The decision was made following a review of applicable law, the history of the case and the circumstances of Mr. Brady's death, including recently finalized autopsy findings," the office said.

Virginia officials, the prosecutors said, found that Mr. Brady's death was caused by a "gunshot wound of head and consequences thereof." Among the conditions linked to the wound and the resulting brain injury, officials said, was aspiration pneumonia.

In opting against charges, prosecutors relied in part on the legal doctrine of collateral estoppel, which would have prohibited jurors from concluding — or the authorities from even arguing — that Mr. Hinckley was mentally competent when he opened fire. "Hinckley would be entitled to a directed verdict that he was not guilty of the murder of Mr. Brady by reason of insanity," the United States attorney's office wrote.

Prosecutors also cited a rule that, at the time of Mr. Hinckley's trial, limited the time frame in which homicide cases could be pursued.

Mr. Hinckley's lawyer, Barry W. Levine, said there was "nothing about that decision that is surprising" and that any other conclusion would have been "a political splash."

"This prosecution, if brought, would be immediately dismissed," Mr. Levine said. "It is barred as a matter of law and a matter of fact."

In a written statement, Mr. Brady's family said it "respects the decision."

"We deeply appreciate the extraordinary outpouring of love and support since the Bear's passing," the family said, using a nickname for Mr. Brady. "We miss him greatly."
The arguments that the Federal Prosecutors relied on in deciding not to proceed forward are essentially the same ones that I discussed in my post on the matter back in August, as well as the additional arguments that Eugene Volokh raised in his post at the time. This isn't entirely surprising because these are rather well-established principles of law that are designed to ensure some sense of finality to Court decision and court proceedings. After all, it's entirely probable that someone who was seriously injured in an attempted shooting might eventually die of a condition that could at least tangentially be related to the injuries they suffered in the shooting. While it might seem that holding the suspect responsible for the consequences of their action no matter how long after the event they take to manifest, it's obvious that there has to be an end point after which charges cannot be brought. As Volokh notes, the long standing rule under the common law has been the so-called year-and-a-day rules, which has been repealed by some jurisdiction over the years but apparently remains good law in the Federal Courts. This rule says that a murder charge can only be maintained if death occurs within a year and a day after the events that form the basis for the charge. Since Brady died well after that, his death cannot be charged as murder relating to an incident that occurred in 1981. On some level this seems fair. At some point, even in a murder case, witnesses begin to forget or their story may change due to the passage to time, some of those witnesses may die or otherwise become unable to testify, evidence degrades, and the odds that the Defendant can get a fair trial becomes smaller and smaller. One could say that the "year and a day" rule is arbitrary, but that's true of any limiting statute, and he purpose of such statutes is to ensure some degree of finality for both the prosecution and the defense.
The other factor in this case, of course, is that Hinckley was actually tried in this case, under an indictment that included attempted murder charges for President Reagan, Brady, Secret Service Agent Timothy McCarthy, and D.C. Police Officer Delhanty. (See this article from the Toledo Blade from August 25, 1981, and this Christian Science Monitor article from the same day.) After a lengthy trial that included copious psychiatric evidence from the defense and prosecutors, as well as the physical evidence tying him to the attack, Hinckley was acquitted on all charges by reason of mental disease or defect. As the prosecutors note in their memo, any jury hearing a future case would be compelled to accept this finding and reach a similar conclusion. If it didn't, then any verdict would be reversed on appeal. Therefore, any effort to try Hinckley  second time would fail, and the prosecutors made the right decision here.  The case against John Hinckley ended 32 years ago, it would have been wrong to re-open it.