Jon Huntsman Enters Race For Utah Governor
Former Utah Governor Jon Huntsman is running to get his old job back.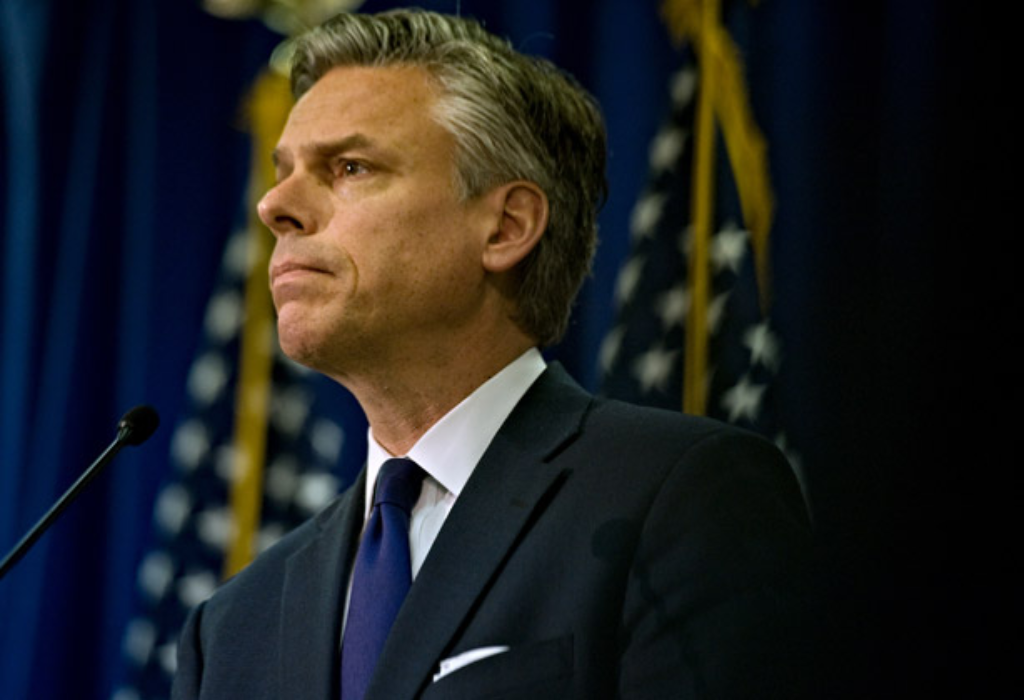 Jon Huntsman, the former Utah Governor, Presidential candidate, and diplomat, is reentering the world of politics, announcing today that he is entering the race for Governor of Utah:
Jon Huntsman, the former Utah governor, one-time presidential candidate and ambassador to China and Russia, announced Thursday he will run for governor again in 2020.

Huntsman, a Republican who most recently served as President Donald Trump's ambassador to Russia, made the announcement Thursday morning on KSL Radio.

"We are so very honored and humbled to announce my candidacy for governor of the greatest state in America," Huntsman said, sitting with his wife, former Utah first lady Mary Kay Huntsman, at a hotel in southwestern Utah.

Huntsman served as governor from 2005 to 2009. He was seen as a likely 2012 presidential candidate before resigning to become then-President Barack Obama's ambassador to China.

But Huntsman left Beijing in 2011 and ran for the GOP nomination anyway, failing to gain any real traction within the Republican primary. In the Trump administration, Huntsman served as ambassador to Russia for two years starting in October 2017.

Although he served in the Trump administration, Huntsman's public persona remained sanguine and drawn to moderation.

Huntsman had been mentioned as a top prospect within the Republican primary for governor. His entrance adds to the number of competitors in the field. Lt. Gov. Spencer Cox is running, as is Salt Lake County Counctilwoman Aimee Winder Newton and businessman Jeff Burningham.
More from The Salt Lake Tribune:
Former U.S. ambassador Jon Huntsman says he's grown weary of the national political scene, with its "theatrics," time-wasting and dearth of meaningful action.

Now, he's asking Utah's voters to return him to what he calls "the best job in the world" — working as governor.

"For a very long time, we've served our country in the top two diplomatic posts in the world. Now we feel it is time to give back to our home state again," Huntsman said on a campaign video posted Thursday morning. He's vying for a third term as governor in the 2020 election, a little more than 10 years since he last held the post. He previously served as governor from 2005 to 2009.

Rumors have been circulating for months that the former governor was considering another campaign — and for many, his decision to relinquish his ambassadorship in Russia after two years to move back to Utah last month served as confirmation of his political intentions.

News leaked Wednesday night that Huntsman would be kicking off his campaign Thursday, and he did with an early call-in to KSL radio and by launching his website and campaign materials. He's holding a speaking engagement at Southern Utah University in Cedar City later today.

(…)

Huntsman said on KSL that he believes Utah is nearing an "inflection point" — the growth the state is enjoying won't last forever, and he predicts difficult decisions will be necessary to stay ahead of the curve.
"We're going to have to be better, faster and smarter than anybody else," he said.

In an interview with The Salt Lake Tribune earlier this week, granted on the condition it be embargoed until his formal announcement, Huntsman said he wanted to reclaim the Utah governorship because it was the most honorable position he's held in his career and because he's eager to finish what he started during his previous terms.

"If you feel that you helped to get the state, in part, to where it is today, in areas around economic development, education, the environment and other areas, then … I have to conclude by saying we're not done," he said. "I think this state is just getting going."
There has been some suggestion that there might be some ill-will toward Huntsman on the part of Utah Republicans due to his decision in 2012 to leave the Governor's Office early to become former President Obama's Ambassador to China, but Huntmasn argues that his diplomatic experience is actually an advantage:
Furthermore, Huntsman argues, his experience abroad would be an asset if he were elected Utah governor, empowering him to advocate for the state on both domestic and international fronts.

"Who's best-positioned to address our place in the world, which is going to become more and more problematic?" he said. "Because we're competing not just against Nevada and Arizona and Colorado and California; we're competing against Singapore and Hong Kong and South Korea."
There have been some rumors in the Utah press, and among some observers of Utah politics that I've talked to over the past several months, that Huntsman was putting together what could end up being a campaign for Governor. There are no term limits for Governor in the Beehive State, but the current Governor, Gary Herbert, who became Governor when Huntsman resigned in 2009, indicated several months ago that he would not run for a third term, leaving the position, and the Republican nomination race, wide open.
There are currently two declared candidates in the race, including Spencer Cox, the Lt. Governor and a handful of other candidates. There had been some speculation that former Congressman Jason Chaffetz, who had resigned from Congress in 2017 might enter the race but he ruled out a run over the summer.
In predicting how the race might proceed, it's worth noting that the Utah GOP's nomination process is somewhat complicated in that it includes both a convention and a primary. The first step is a convention attended by delegates selected at caucuses at the local level earlier in the year. Ultimately, there are about 4,000 delegates chosen to attend the state conventions that are held in April of an election year. If a candidate obtains the votes of 60% of the delegates eligible to vote for them then there will be no primary and the winning candidate automatically becomes the nominee. If no candidate is able to obtain the 60% needed after either the initial ballot or a runoff held immediately afterward, then the top two candidates are forced into a primary. This is what happened to Mitt Romney in 2016, who fell just a bit short in the convention but came back to easily win the primary several months later. So far, there has been only limited polling of the race for the GOP nomination, but it did have some good news for Huntsman:
Early surveys have suggested the gubernatorial contest could be a showdown between Huntsman and Lt. Gov. Spencer Cox, both of whom are polling well ahead of other potential Republican rivals. A recent poll by the Salt Lake Chamber showed that Huntsman bested Cox when all voters were surveyed, while the lieutenant governor had the lead among Republicans. Democrat Zachary Moses has also entered the running.
What this suggests, of course, is that Cox may have an advantage at the state convention but that Huntsman would seem to have the advantage in a primary. Of course, this is all several months before any voting would take place so it's far too early to say exactly how things will proceed. Obviously, this being Utah whoever wins the Republican nomination will go on to win the General Election. In any case, Huntsman performed about as well as can be expected of an Ambassador under Donald Trump and he was quite popular in the state when he was Governor, so this could pose a good sign for him in 2020.