John Kelly Can't Control Donald Trump
John Kelly has only been White House Chief of Staff for a month, but it's already apparent that he isn't likely to last very long in that position.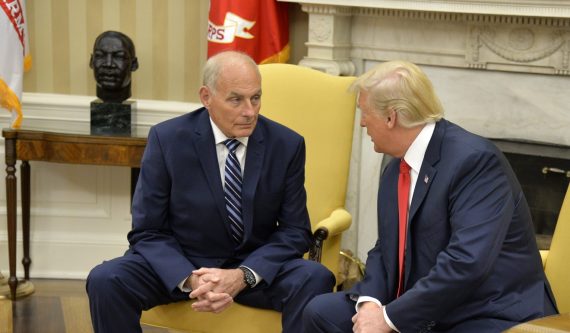 It's been just over a month since retired General John Kelly left his position as Secretary of Homeland Security to take over as White House Chief of Staff after the departure of Reince Priebus, and it's already becoming apparent that he's having trouble keeping his boss from engaging in behavior that is clearly undermining his Presidency and wrecking whatever agenda the White House trying to pursue:
WASHINGTON — President Trump was in an especially ornery mood after staff members gently suggested he refrain from injecting politics into day-to-day issues of governing after last month's raucous rally in Arizona, and he responded by lashing out at the most senior aide in his presence.

It happened to be his new chief of staff, John F. Kelly.

Mr. Kelly, the former Marine general brought in five weeks ago as the successor to Reince Priebus, reacted calmly, but he later told other White House staff members that he had never been spoken to like that during 35 years of serving his country. In the future, he said, he would not abide such treatment, according to three people familiar with the exchange.

While Mr. Kelly has quickly brought some order to a disorganized and demoralized staff, he is fully aware of the president's volcanic resentment about being managed, according to a dozen people close to Mr. Trump, and has treaded gingerly through the minefield of Mr. Trump's psyche. But the president has still bridled at what he perceives as being told what to do.

Like every other new sheriff in town Mr. Trump has hired to turn things around at the White House or in his presidential campaign, Mr. Kelly has gradually diminished in his appeal to his restless boss. What is different this time is that Mr. Trump, mired in self-destructive controversies and record-low approval ratings, needs Mr. Kelly more than Mr. Kelly needs him. Unlike many of the men and women eager to work for Mr. Trump over the years, the new chief of staff signed on reluctantly, more out of a sense of duty than a need for affirmation, personal enrichment or fame.

"It is inevitable that a guy who will not be contained and does not want to be handled or managed was going to rebel against the latest manager who wanted to control him," said Roger Stone, the longtime Trump adviser, who believes Mr. Kelly represents a kind of management coup by "the triumvirate" of two powerful retired generals — Mr. Kelly and Jim Mattis, the defense secretary — and one general who is still in the Army, the national security adviser, Lt. Gen. H. R. McMaster.

"Ultimately Donald Trump is his own man, and he's going to resist all the control and regimented systems Kelly is trying to impose," Mr. Stone said.

For the seven months of the Trump administration, the favorite parlor game in the West Wing has been guessing how long imperiled aides like Mr. Priebus would hang on before getting fired. But these days it is Mr. Kelly's state of mind, not Mr. Trump's, that concerns the beleaguered aides buoyed by the new chief's imposition of structure and clear lines of authority.

The question now is how long Mr. Kelly will stay, with estimates ranging from a month to a year at the most. White House officials say that Mr. Kelly has given no indication he intends to leave anytime soon. He has thrown himself into long-term planning of the administration's tax reform push, the president's Asia trip in November and scheduling for the next several months, they said. Mr. Kelly declined through a White House spokeswoman to comment for this article.

(…)

Mr. Kelly cannot stop Mr. Trump from binge-watching Fox News, which aides describe as the president's primary source of information gathering. But Mr. Trump does not have a web browser on his phone, and does not use a laptop, so he was dependent on aides like Stephen K. Bannon, his former chief strategist, to hand-deliver printouts of articles from conservative media outlets.

Now Mr. Kelly has thinned out his package of printouts so much that Mr. Trump plaintively asked a friend recently where The Daily Caller and Breitbart were.

Mr. Kelly has told his staff, time and time again, that his goal is to rationalize the chaos that has engulfed the management of the West Wing. Managing Mr. Trump is beyond his — or anyone else's — powers, he has said repeatedly.

While Mr. Trump still reaches out to allies outside the administration — especially old friends and associates like Corey Lewandowski, a former campaign manager; Richard LeFrak, a fellow developer originally from Queens; Mr. Bannon and a handful of others — more often than not it has been through the White House switchboard and not on his personal phone. And Mr. Kelly has usually listened in on the calls, according to two people with direct knowledge.

(…)

[H]ow long Mr. Kelly and the president, two men with such divergent approaches to the common goal of Mr. Trump's success, will be able to coexist is unclear.

Mr. Kelly has not been talking about it, apart from saying he is committed to stabilizing the staff in the White House.

But one associate who spoke to Mr. Kelly last month said the former commander had remarked that his current assignment was by far the hardest job he had ever had. His favorite gig, he jokes, was his first: Marine grunt.
At least initially, it seemed as though Kelly was succeeding in bringing order to a chaotic White House and in removing advisers who were seeking to pull the President in different directions from where he ought to be going. On the same day that he started his job, for example, Anthony Scaramucci, who had been hired to serve as White House Communications Director in the wake of the departure of Sean Spicer, who had served in that position and as White House Press Secretary since the start of the Administration, was dismissed from his position. While Scaramucci's dismissal appears to also have been due to the comments he made in an interview with The New Yorker's Ryan Lizza it was also quite apparent that getting rid of Scaramucci was part of Kelly's effort to gain control of the White House. Soon after that Steve Bannon, who had served as chief strategist during the final months of Trump's Presidential campaign and gone on to become a top White House aide who was able to gain access to the President without going through the Chief of Staff, was similarly and suddenly dismissed in what clearly appeared to be another move by Kelly to consolidate his control over the West Wing staff. Most recently, Sebastian Gorka, whose role in the West Wing was never clearly defined, was also dismissed as part of a Friday afternoon news dump that included other announcements such as the implementation of the ban on transgender soldiers in the military and the pardon of former Arizona Sheriff Joe Arpaio.
On the surface at least these and other changes that have taken place in the West Wing over the past month seem to be consistent with the initial assessments of Kelly that presented him as what The New York Times called a "beacon of discipline" and The Washington Post described as someone who won't suffer 'idiots and fools' for long. We saw the initial evidence of this, of course, in the dismissal of men like Scarmucci, Bannon, and Gorka and the implementation of more controlled access to the President than existed under previous Chief of Staff Reince Priebus. This report, though, as well as other events that have unfolded over just the first month of his tenure, make clear that Kelly's task is far more difficult than he likely imagined it would be when he accepted Trump's job offer.
Perhaps the best example of this, of course, came in the wake of the violence in Charlottesville that led to the death of one woman and injuries to more than a dozen others in the wake of a rally to 'protect' a statue of Confederate General Robert E. Lee that had been targeted for removal. Initially, Trump responded to the incident with a statement that blamed 'both sides' and failed to condemn the racism and hatred of the alt-right organizers of the rally that led to the violence. In the wake of the criticism of those remarks Trump, at the apparent urging of Kelly and others delivered a more measured response consisting of prepared remarks that bore the fingerprints of Kelly and others around him who clearly recognized the mistake that Trump had made. While that response was clearly too little, too late and at times seemed like Trump making a speech he didn't really want to, it initially at least appeared to calm the waters a little bit after the negative reaction to his initial comments. Whatever good they did, however, was undone the next day when Trump repeated the comment he had made initially making clear that they represent what he truly believes about what happened in Charlottesville. All of that happened at an event at Trump Tower that was supposed to be about infrastructure but which spiraled out of control when Trump opened the floor to questions from the press while several Cabinet officers, and Chief of Staff Kelly, looked on while clearly becoming more and more uncomfortable as the President went on.
In addition to all of this, of course, there have been other examples throughout the past month of the extent to which Trump remains very much a man incapable of being controlled or reined in by anyone, including a retired Marine General. He has continued to use his Twitter account to consistently undermine the White House's agenda on a wide variety of issues, and has displayed his continuing ability to be unable to go very long without being goaded by what he sees on the cable news shows that he appears to watch endlessly throughout the day and on the weekends. Additionally, as this report from the Times makes clear, it's become rather apparent that he is not entirely comfortable with Kelly's efforts to control access to the President and to control the information and news that flows to the President. For example, as the report above notes, Trump has apparently complained about the fact that the daily news digest that Kelly has prepared for him no longer includes the item from conservative sites such as The Daily Caller and Breitbart that he had become used to consuming since the beginning of his run for office in 2015. As a result, it seems clear that Kelly's efforts to run an efficient and competently functioning White House will inevitably continue to clash with a President who has become a creature of habit who is not going to change the person he's been for decades now.
In the end, all of this goes back to a fundamental truth about the Trump Administration. For months now, political analysts have wondered if one event or another will be the point at which Trump will pivot away from the way he's been acting and settle down to being President. This is the same question that people asked during the course of the Presidential campaign every time Trump the candidate said or did something controversial. Inevitably, of course, Trump did not pivot, and even the addition of a retired Marine General to the West Wing has led him to pivot this time around. That isn't entirely surprising, of course. Trump has been acting this way since he first burst onto the media scene some thirty years ago. At more than seventy years old, he's quite simply not going to change now and that means the Trump Administration isn't going to change. The problem with the Trump Administration wasn't Sean Spicer, Reince Priebus, Anthony Scaramucci, Steve Bannon, or Sebastian Gorka. The problem with the Trump White House is Donald Trump himself, and as long as he's there the problems are going to be the Administration's default position. Kelly can continue his efforts to try to change that, but they aren't going to succeed, and it's most likely inevitable that Kelly and Trump are going to clash going forward. The only real question is how long Kelly lasts before he either quits in frustration over not being able to do his job or Trump fires him.