John McCain Advocates Unprovoked War Against Syria
Arizona's senior Senator want's to bomb Syria.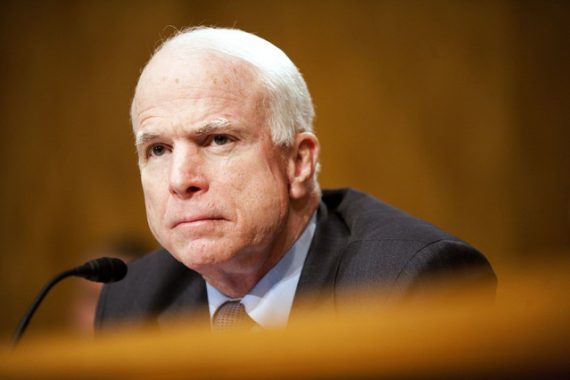 Senator John McCain is calling for the United States to lead an international effort to launch air strikes against Syria:
Later today, Sen. John McCain (R-AZ), the ranking Republican on the Senate Armed Services Committee, will become the first U.S. senator to publicly call for U.S. led air strikes to halt the violence and atrocities being committed by the regime of Syrian President Bashar al-Assad.

"After a year of bloodshed, the crisis in Syria has reached a decisive moment," McCain will say Monday afternoon in a speech on the Senate floor, according to excerpts obtained in advance by The Cable.

"What opposition groups in Syria need most urgently is relief from Assad's tank and artillery sieges in many cities that are still contested. Homs is lost for now, but Idlib, and Hama, and Qusayr, and Deraa, and other cities in Syria could still be saved," McCain will say. "But time is running out. Assad's forces are on the march. Providing military assistance to the Free Syrian Army and other opposition groups is necessary, but at this late hour, that alone will not be sufficient to stop the slaughter and save innocent lives. The only realistic way to do so is with foreign airpower."

(…)

"To be clear: This will require the United States to suppress enemy air defenses in at least part of the country," McCain will say. "The ultimate goal of airstrikes should be to establish and defend safe havens in Syria, especially in the north, in which opposition forces can organize and plan their political and military activities against Assad. These safe havens could serve as platforms for the delivery of humanitarian and military assistance — including weapons and ammunition, body armor and other personal protective equipment, tactical intelligence, secure communications equipment, food and water, and medical supplies. These safe havens could also help the Free Syrian Army and other armed groups in Syria to train and organize themselves into more cohesive and effective military forces, likely with the assistance of foreign partners."
It was just a few weeks ago that McCain was merely calling for the U.S. to arm the Syrian rebels, even though we have no real idea who these rebels are, who they're affiliated with, or what kind of vision they have for a post-Assad Syria and its relationships with its neighbors. Now, here he is essentially calling on the President of the United States to commit an unprovoked act of war against a nation that does not pose a threat to the national security interests of the nation. It's Libya all over again, except this time we know that the United Nations is never going to support such an effort. The Security Council can't even agree to condemn Syria's actions without Russia and China exercising their veto. Does anyone really think we'd get anything resembling UNSCR 1973 passed this time? Of course not, this would be a wholly unilateral unsanctioned action by the United States and/or NATO. Where, I have to wonder, is the justification for such an attack? Certainly there isn't any version of Just War Theory that would consider it acceptable.
Even putting aside those (inconvenient for the likes of McCain no doubt) moral questions, though, there are several practical issues surrounding the kind of operation McCain advocates, largely because Libya and Syria are very different countries with different geographies, and different military's. What would we do, for example, if an American pilot was force to bail over the Bekaa Valley in Lebanon and ended up in the hands of Hezbollah? What would Israel if Hezbollah responded to Western military action by launching rockets into Libya? Before you do this, there are several things worth thinking about:
This type of air campaign would be far more complex and difficult than advocates acknowledge, because tactical air strikes would first require establishing an NFZ and neutralizing air defense capabilities through larger strikes. Regime forces and the opposition are primarily clashing in densely packed urban areas. In contrast to Libya, there are no front lines to police, few tank convoys to destroy on desert highways and no offensives by rebel armies for which an air campaign would clear a path. Civilian casualties would inevitably result from a bombing campaign against ill-defined targets in urban areas with extremely limited human intelligence.
Then, as Daniel Larison notes, there is the small fact that any action we take against Syria will have no legal sanction whatsoever, and would technically be a violation of international law (to the extent such a thing even exists). Doesn't ceding the moral high ground when it comes to something like taking unprovoked military action against another country mean anything? Well, I know it doesn't mean anything to people like John McCain, who doesn't seem to have met a military action he doesn't approve of, but it ought to mean something at some point it seems to me. Beyond the fact that we most assuredly have the capability to do it, what right do we have to attack Syria?
Finally, there's the lovely question of unintended consequences. We still don't know what Libya is going to turn into, although it certainly doesn't look like it's going to turn into some kind of model of Arabian Democracy. In Syria, the prospects for what is likely to happen after the Assad regime falls are grim indeed. There are unresolved ethnic conflicts that have been largely suppressed while the Assad regime has been in power, there's the fact that Iran will no doubt be very interested in influencing what happens next in Damascus, and there is, of course, Lebanon right on the doorstep of both Syria and Israel. The number of things that could go wrong here is immeasurable. Why we would risk any of it by intervening in a conflict that we clearly don't fully understand is beyond me.
Senator McCain's call for action is likely to be repeated by others, perhaps even by some of the candidates for President. That's too bad, because the further we get pushed down the path to war, the more likely it is that we'll actually end up in one when we really don't need to be.