John McCain: Neither Waterboarding Nor Any Other Form Of Torture Led To Bin Laden
John McCain thoroughly dismantles the argument that Osama bin Laden's capture vindicates the use of so-called "enhanced interrogation techniques."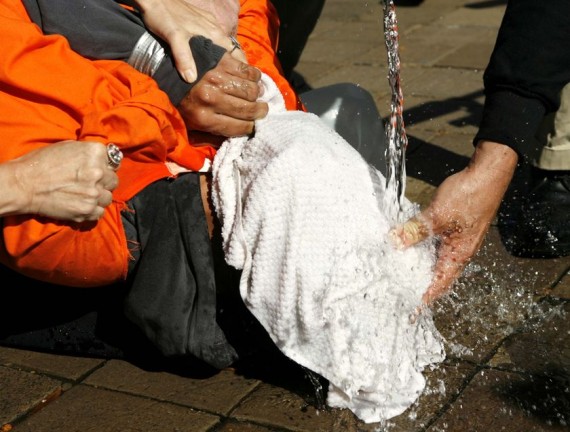 Senator John McCain, who whatever you else might say about him has been consistent and forthright in his opposition to the use of waterboarding of and other forms of "enhanced interrogation techniques" by the United States, and today, he's out with twin broadsides that pretty much dismantle the arguments from former members of the Bush Administration and their apologists that the use of these techniques played a key role in finding Osama bin Laden, and that this fact somehow justifies their use.
In both a Washington Post Op-Ed and a speech today on the Senate floor, McCain completely dismantled the argument that torture led to Osama bin Laden:
"With so much misinformation being fed into such an essential public debate as this one, I asked the Director of Central Intelligence, Leon Panetta, for the facts. And I received the following information:

"The trail to bin Laden did not begin with a disclosure from Khalid Sheikh Mohammed, who was waterboarded 183 times. We did not first learn from Khalid Sheikh Mohammed the real name of bin Laden's courier, or his alias, Abu Ahmed al-Kuwaiti — the man who ultimately enabled us to find bin Laden. The first mention of the name Abu Ahmed al-Kuwaiti, as well as a description of him as an important member of Al-Qaeda, came from a detainee held in another country. The United States did not conduct this detainee's interrogation, nor did we render him to that country for the purpose of interrogation. We did not learn Abu Ahmed's real name or alias as a result of waterboarding or any 'enhanced interrogation technique' used on a detainee in U.S. custody. None of the three detainees who were waterboarded provided Abu Ahmed's real name, his whereabouts, or an accurate description of his role in Al-Qaeda.

"In fact, not only did the use of 'enhanced interrogation techniques' on Khalid Sheikh Mohammed not provide us with key leads on bin Laden's courier, Abu Ahmed; it actually produced false and misleading information. Khalid Sheikh Mohammed specifically told his interrogators that Abu Ahmed had moved to Peshawar, got married, and ceased his role as an Al-Qaeda facilitator — which was not true, as we now know. All we learned about Abu Ahmed al-Kuwaiti through the use of waterboarding and other 'enhanced interrogation techniques' against Khalid Sheik Mohammed was the confirmation of the already known fact that the courier existed and used an alias.

"I have sought further information from the staff of the Senate Intelligence Committee, and they confirm for me that, in fact, the best intelligence gained from a CIA detainee — information describing Abu Ahmed al-Kuwaiti's real role in Al-Qaeda and his true relationship to Osama bin Laden — was obtained through standard, non-coercive means, not through any 'enhanced interrogation technique.'

"In short, it was not torture or cruel, inhuman, and degrading treatment of detainees that got us the major leads that ultimately enabled our intelligence community to find Osama bin Laden. I hope former Attorney General Mukasey will correct his misstatement. It's important that he do so because we are again engaged in this important debate, with much at stake for America's security and reputation. Each side should make its own case, but do so without making up its own facts.
That was from today's floor speech. In the Op-Ed, McCain went on to make the most important point about this debate:
As we debate how the United States can best influence the course of the Arab Spring, can't we all agree that the most obvious thing we can do is stand as an example of a nation that holds an individual's human rights as superior to the will of the majority or the wishes of government? Individuals might forfeit their life as punishment for breaking laws, but even then, as recognized in our Constitution's prohibition of cruel and unusual punishment, they are still entitled to respect for their basic human dignity, even if they have denied that respect to others.

All of these arguments have the force of right, but they are beside the most important point. Ultimately, this is more than a utilitarian debate. This is a moral debate. It is about who we are.

I don't mourn the loss of any terrorist's life. What I do mourn is what we lose when by official policy or official neglect we confuse or encourage those who fight this war for us to forget that best sense of ourselves. Through the violence, chaos and heartache of war, through deprivation and cruelty and loss, we are always Americans, and different, stronger and better than those who would destroy us.
I made a similar point last week, and the extent to which many on the right seem to have thrown the question of morality over the side in this debate is really quite disturbing, although it may not be surprising. The fact that something "works" (and the question of whether torture is a reliable method of intelligence gathering is something that doesn't even to be worthy of debate on the right anymore) is irrelevant to the question of whether it's right or wrong. There are a whole host of interrogation techniques we could undertake if we wanted to:
It may be theoretically possible that we could break a suspected terrorist by placing him a room with his child while a CIA operative put a loaded gun to the child's head, threatening to kill them unless the suspect revealed what they knew. We could revive the medieval torture processes of the Inquisition. Those methods might even prove highly effective in getting a particularly difficult person to crack. That doesn't mean we should do those things, however, and the fact that the debate has suddenly moved into "ends justify the means" territory should concern anyone who believes in the rule of law.
I've never been much of a McCain fan, but on this one issue, perhaps because of his own real life experiences, he's been on the nose from the beginning. It's unfortunate that the rest of his fellow Republicans seem so caught up in bloodlust that they either aren't listening or don't care.