Joint Chiefs Chairman: An Israeli Attack On Iran Would Be Unsuccessful And Counterproductive
General Martin Dempsey, the Chairman of the Joint Chiefs of Staff, sent a message to Israel last week.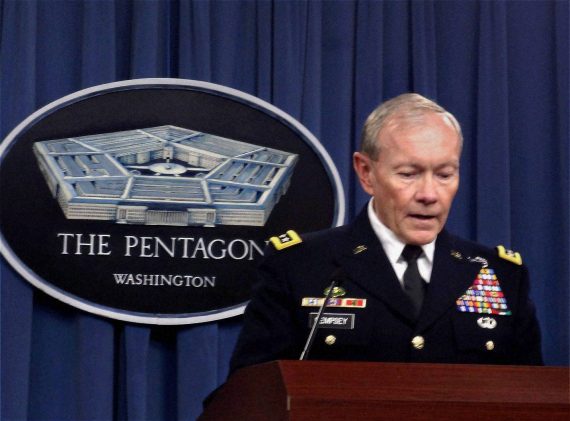 General Martin Dempsey, the Chairman of the Joint Chiefs Of Staff, said in a speech that an Israeli attack on Iran would not end Iran's nuclear program and would likely lead to a wider war:
An Israeli attack on Iran would delay but probably not stop its nuclear programme, the most senior US military officer has claimed. General Martin Dempsey reinforced Washington's opposition to unilateral Israelmilitary action as he made clear that US military chiefs were equally wary of getting ensnared in Syria.

(…)

Distancing himself from any Israeli plan to bomb Iran, Dempsey said such an attack would "clearly delay but probably not destroy Iran's nuclear programme".

He added: "I don't want to be complicit if they [Israel] choose to do it."

Dempsey said he did not know Iran's nuclear intentions, as intelligence did not reveal intentions. What was clear, he said, was that the "international coalition" applying pressure on Iran "could be undone if [Iran] was attacked prematurely". Sanctions against Iran were having an effect, and they should be given a reasonable opportunity to succeed.
If nothing else, this is another demonstration of the apparent conflict that has developed between the United States and Israel over Iran that I noted earlier. Many will no doubt criticize General Dempsey's worth as impolitic, and perhaps that's true. However, based on all the available evidence we have (which is admittedly far less substantial than the evidence and analysis he has access to), he happens to be absolutely correct. For years now, experts have been warning that an attack on Iran, whether by Israel alone or in conjunction with the United States would lead to a wide variety of unintended consequences ranging from the danger of worldwide terror strikes by Iran's allies in Hezbollah and Hamas, massive spikes in the price of oil, and the danger that the whole Middle East could be plunged into war. Earlier this year, The New York Times took note of a wargaming exercise in which a number of high-profile experts participated in designed to determine how an attack on Iran might play itself out.  As I noted at the time, the general conclusion from that exercise that there was an extremely high risk that a one-off attack on Iran's nuclear program would both fail to succeed in seriously damaging the country's nuclear program and lead to a wider crisis that could potentially develop into war and terror attacks. Another wargaming scenario played out last year reached similar conclusions. Dempsey no doubt has access to analysis that is even more well-informed than this, and it's quite obviously influencing his opinion on this matter.
Hawks such as Michael Ledeen are denouncing Dempsey's remarks, predictably, but Lawrence Rafferty raises an excellent point:
Do we really want to back or assist in an Israeli attack when the majority of Israeli defense chiefs are reportedly against it?  If the Chairman of the Joint Chiefs states that sanctions against Iran are working, why would anyone want to attack first and ask questions later?  Are these calls for attacks in Israel and the United States politically motivated and out of touch with the intelligence and military realities?  When United States Senator Joseph Lieberman and former Ambassador to the United Nations John Bolton make claims that it is necessary to attack Iran, should we believe them, or the Joint Chiefs of Staff or the former head of the Mossad?  USA Today & Radio Free Europe

How accurate was the track record of hawks like Senator Lieberman and Ambassador Bolton prior to attacking Iraq because of its alleged weapons of Mass Destruction program?  Why do politicians want to send in the military, even before the military thinks it should be involved?  Could the upcoming election be part of the reason for these calls for war?
Election year politics assuredly has something to do with this. There is, after all, political benefit to be derived from rhetorical attacks against the Iranians and "standing by Israel," but when you're talking about Lieberman, McCain, and at least some of the people advising Romney on foreign policy I think there's also the belief that war really is the only and best option we have against Iran. That was certainly the position of Vice-President Cheney, who reportedly urged President Bush to launch a strike against Iran during the final years of his Administration, advice which Bush wisely rejected.
Jeffrey Goldberg agrees with Dempsey but thinks that his public statements aren't the way to convince the Israelis to hold off from an attack:
Dempsey is right: An Israeli attack would be premature and potentially ineffective. But the way to convince the Israelis that the Obama Administration is serious about stopping Iran is not to make statements that reinforce Prime Minister Netanyahu's belief that Israel stands alone on the issue. That makes an attack more likely, not less. Of course, Gen. Dempsey could be privy to information that we don't have — which is to say, he knows that it is too late to stop Netanyahu and Barak from launching an attack before November, and is simply trying to protect American forces in the Gulf from the fallout.
Goldberg goes on to say that he doesn't think an attack  before November is probable, and in fact that the Israelis are coming to the conclusion that the window of opportunity is closing very rapidly. Of course, if that's true then wouldn't that make it more possible that the Israelis would attack sooner? It seems like Dempsey is concerned about just that possibility, and that's why he chose to speak out so emphatically. Given his position, one can assume that he's not merely expressing his opinion, but the opinion of the Obama Administration itself.