Jon Gnarr, Reykjavik Mayor, Joke Candidate
A comedian's farcical run for mayor of Reykjavik ended in victory. It's as if Stephen Colbert's 2008 presidential bid had worked. Or Al Franken got elected to the Senate!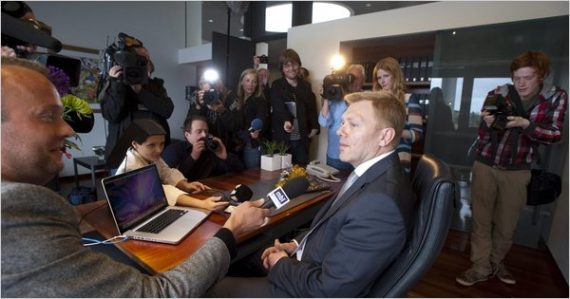 A comedian's farcical run for mayor of Reykjavik ended in victory.
A polar bear display for the zoo. Free towels at public swimming pools. A "drug-free Parliament by 2020." Iceland's Best Party, founded in December by a comedian, Jon Gnarr, to satirize his country's political system, ran a campaign that was one big joke. Or was it?

Last month, in the depressed aftermath of the country's financial collapse, the Best Party emerged as the biggest winner in Reykjavik's elections, with 34.7 percent of the vote, and Mr. Gnarr — who also promised a classroom of kindergartners he would build a Disneyland at the airport — is now the fourth mayor in four years of a city that is home to more than a third of the island's 320,000 people.

In his acceptance speech he tried to calm the fears of the other 65.3 percent. "No one has to be afraid of the Best Party," he said, "because it is the best party. If it wasn't, it would be called the Worst Party or the Bad Party. We would never work with a party like that."

With his party having won 6 of the City Council's 15 seats, Mr. Gnarr needed a coalition partner, but ruled out any party whose members had not seen all five seasons of "The Wire."

A sandy-haired 43-year-old, Mr. Gnarr is best known here for playing a television and film character named Georg Bjarnfredarson, a nasty, bald, middle-aged, Swedish-educated Marxist whose childhood was ruined by a militant feminist mother.

While his career may have given him visibility, few here doubt what actually propelled him into office. "It's a protest vote," said Gunnar Helgi Kristinsson, a political science professor at the University of Iceland.

In one of the first signs of Europe's financial troubles, Iceland's banks crashed in 2008, plunging the country into crisis. In April, voters were further upset by a report that detailed extreme negligence, cronyism and incompetence at the highest levels of government. They were ready for someone, anyone, other than the usual suspects, Professor Kristinsson said.

"People know Jon Gnarr is a good comedian, but they don't know anything about his politics," he said. "And even as a comedian, you never know if he's serious or if he's joking."
It's as if Stephen Colbert's 2008 presidential bid had worked.  Or Al Franken got elected to the Senate!
But as Mr. Gnarr settles into the mayor's office, he does not seem to be kidding at all.

The Best Party, whose members include a who's who of Iceland's punk rock scene, formed a coalition with the center-left Social Democrats (despite Mr. Gnarr's suspicion that party leaders had assigned an underling to watch "The Wire" and take notes). With that, Mr. Gnarr took office last week, hoping to serve out a full, four-year term, and the new government granted free admission to swimming pools for everyone under 18. Its plans include turning Reykjavik, with its plentiful supply of geothermal energy, into a hub for electric cars.

"Just because something is funny doesn't mean it isn't serious," said Mr. Gnarr, whose foreign relations experience includes a radio show in which he regularly crank-called the White House, the C.I.A., the F.B.I. and police stations in the Bronx to see if they had found his lost wallet.
He's probably as qualified as your average mayor.   Or, indeed, some prominent candidates for national office I could think of.