Jon Huntsman, Mitt Romney, And Serving Your Country
When did serving your country become something political opponents attacked you for?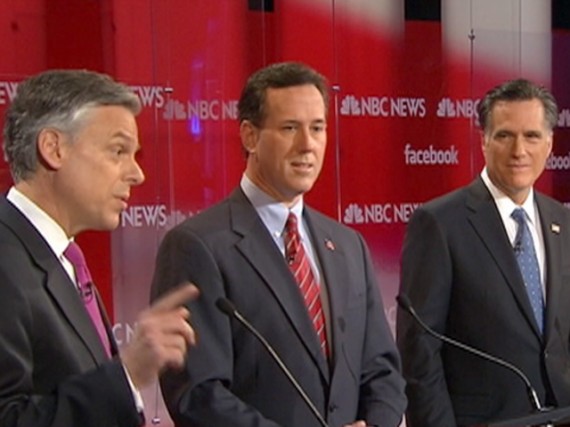 One of the most interesting moments in this morning's NBC debate came when Jon Huntsman brought up something that had occurred the night before in the ABC News Debate. In that debate, Mitt Romney openly and rather surprisingly harshly attacked Huntsman for accepting a position as Ambassador to China under President Obama:
Manchester, N.H. • Presidential candidate Mitt Romney slammed rival Jon Huntsman on Saturday for serving as President Barack Obama's ambassador to China, an uncharacteristic move for the former Massachusetts governor who has typically steered his zingers at Obama.

Romney, who has a solid lead in the New Hampshire polls, attacked Huntsman during the second-to-last debate before Tuesday's primary after the ex-Utah governor touted his experience serving abroad and explained why starting a trade war with the country was dangerous.

"I'm sorry, governor, you were, the last two years, implementing the policies of this administration in China," Romney said at the ABC News-Yahoo debate at Saint Anselm College. "The rest of us on this stage were doing our best to get Republicans elected across the country and stop the policies of this president from being put forward."

Huntsman responded in Mandarin Chinese: "He doesn't really understand the situation" and then continued on in English, "What he is calling for would lead to a trade war. It makes for easy talk and a nice applause line, but it's far different from the reality in the U.S.-China relationship."
Early on in this morning's debate, Huntsman chose to bring the issue up again:
Republican presidential candidate Jon Huntsman again defended his service as an ambassador to China in the Obama administration in a Sunday morning debate, saying that he put "country first" and that the criticism he has sustained reflected attitudes which divide the country.

"I was criticized last night by Governor Romney for putting my country first," Huntsman said in the NBC/Facebook debate from New Hampshire. "He criticized me while he was out raising money for serving my country in China, yes, under a Democrat, like my two sons are doing in the United States Navy. They're not asking who — what political affiliation the president is. I want to be very clear with the people here in New Hampshire and this country: I will always put my country first. And I think that's important to them."

(…)

Romney continued to criticize Huntsman when it was brought up again this morning.

"I think we serve our country first by standing for people who believe in conservative principles and doing everything in our power to promote an agenda that does not include President Obama's agenda," Romney said. "I think the decision to go and work for President Obama is one which you took. I don't disrespect your decision to do that. I just think it's most likely that the person who should represent our party running against President Obama is not someone who called him a remarkable leader and went to be his ambassador in China."

Huntsman then said that attitude was was U.S. was divided.

"This nation is divided… because of attitudes like that," Huntsman said. "The American people are tired of the partisan division. They have had enough. There is no trust left among the American people and the institutions of power and among the American people and our elected officials. And I say, we've had enough, and we have to change our direction in terms of coming together as Americans first and foremost and finding solutions to our problems."
Here's the video:
Huntsman clearly seemed to have the a good portion of the audience on his side by the end of the exchange, but Romney was repeating a criticism that has come from conservatives virtually from the time that Huntsman's name first started surfacing as a possible Presidential candidate. The very fact that Huntsman had accepted a position from Barack Obama, it seems, was enough for some people to cross him off their list notwithstanding the fact that he had been the successful two-term Governor of the most conservative state in the country.  The fact that he cut taxes, brought jobs to the state, and reformed health care without a mandate didn't matter to these people. Huntsman had gone to work for the enemy, therefore he was persona non grata.
It is, as I've noted before, a rather shocking departure from the bipartisanship that we used to see when it came to foreign policy. After he lost the 1940 election, for example, Wendell Wilkie spent two years in a Europe at war as President Roosevelt's personal ambassador. The fact that Wilkie was a Republican and Roosevelt a Democrat didn't matter, Wilkie was serving his country. Similarly, Henry Cabot Lodge Jr., who had been Richard Nixon's running mate in the 1960 Presidential election, served as Ambassador to Vietnam for Presidents Kennedy and Johnson from 1963 to 1967, and then Ambassador to West Germany under LBJ for the last year of his Presidency. Separate parties, former adversaries even, but working together for the good of the nation. There are plenty of other examples of this kind of bipartisanship on foreign policy peppered throughout American history that establish that Wilkie and Lodge weren't doing something exceptional, rather something expected. As Huntsman has put it elsewhere, the President asks you to serve, you serve even if it means crossing party lines. There's something admirable about that.
When did things change? Even recently, former Presidents Bush (41) and Clinton worked together on relief projects for the Indonesian tsumani, and were able to heal whatever wounds were left over from the 1992 election. Is it because Barack Obama is the President, then? Would Huntsman have been treated differently if he'd accepted an appointment from a President Hillary Clinton instead? As with so much else about the way c0nservatives have reacted to the Obama Presidency, I have to think that just might be part of it. Although I don't think we should have any illusions about how the GOP would have reacted to a Clinton Presidency, not much differently is my guess.
Whatever the cause, though, it strikes me that this is a poisonous, ultimately destructive way to look at politics. Huntsman's service in Beijing is something he should be complemented for, not the subject of condemnation. When the position of Ambassador to China was offered to him, he had just been re-elected with 78% of the vote. He could have stayed in Salt Lake City and quietly built up a political machine for a 2012 Presidential bid, raising money as he (correctly) points out Romney was doing during this period. Instead, he served his country. Isn't that supposed to be a good thing?
Mitt Romney pandered to the worst part of the Republican base this weekend, I hope he's proud of himself.