Jon Huntsman: Suck-up
Presidential wannabe Jon Huntsman wrote some embarrassing letters about President Obama and the Clintons.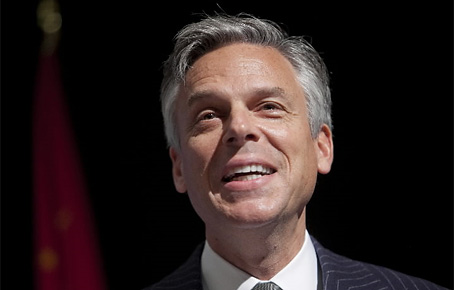 Dark horse presidential wannabe Jon Huntsman's most obvious problem got a whole lot worse with the release of his correspondence to President Obama.
Daily Caller ("Jon Huntsman's love letters"):
Jon Huntsman, President Obama's outgoing ambassador to China, is considering running against his boss in 2012 as a Republican. But two handwritten letters from Huntsman obtained by The Daily Caller raise the question of why he's not campaigning for Obama instead.

"You are a remarkable leader," Huntsman wrote to Obama in an Aug. 16, 2009 note, underlining the word "remarkable," "and it has been a great honor getting to know you."

[…]

In an Aug. 10, 2009 letter to former President Bill Clinton, Huntsman was similarly effusive. "I have enormous regard for your experience, sense of history and brilliant analysis of world events. Please save some time for me when I'm next in New York," Huntsman said.

In that same letter, Huntsman, who plans to leave his post in Beijing April 30, had kind words for Secretary of State Hillary Clinton as well. "I must report that Sec. Clinton has won the hearts and minds of the State Dept. bureaucracy — no easy task. And after watching her in action, I can see why. She is well-read, hard working, personable and has even more charisma than her husband! It's an honor to work with her," Huntsman wrote.
National Journal editor-in-chief Ron Fournier quipped, "That giant sucking sound? Jon Huntsman's POTUS 'campaign' after this."
We knew, of course, that Huntsman worked for Obama and that this would be awkward during a campaign to unseat Obama. But, if words of praise for his former boss while under his employ were going to doom him, he didn't have a shot, anyway. And, maybe, getting this out there now will make it "old news" by the time the primaries roll around. Maybe.
As a Republican who's long since grown tired of extreme partisanship, praise for the good qualities of Obama and the Clintons doesn't bother me. One can think they're talented, decent individuals and yet oppose their policies and think they should therefore be replaced. In an ideal world, in fact, that would be the nature of campaigns.
My first reaction, though, may be far more damaging to Huntsman:  "What a suck-up!" Seriously, what kind of brown-noser writes effusive notes of this manner to his boss? It's just embarrassing, dude.