Jon Stewart Not a Moderate!
Don't confuse moderation in tone with moderation in beliefs.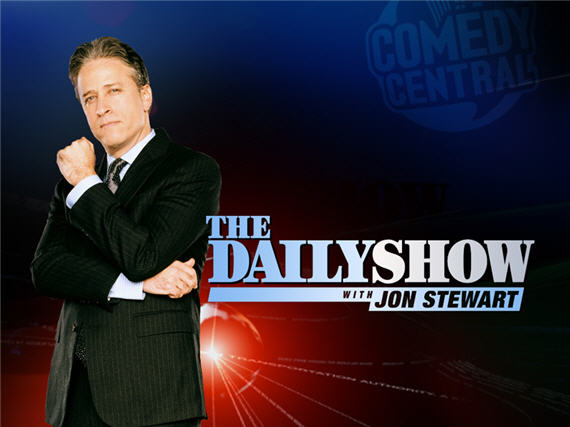 Via John Sexton, I see that a Steven Crowder thinks he has busted Jon Stewart's claims to moderation:
John adds, "Jon Stewart is more popular than ever. His ratings are even rivaling Fox. Maybe he ought to just admit he has an agenda, really the same one as MSNBC, albeit with a different method of making the same point."
The problem with all this is that Stewart has never hidden that he's a liberal Democrat. His bosses saying that he "wears it on his sleeve" isn't an admission, it's a refutation; to wear something on one's sleeve is the exact opposite of trying to hide it. He's never made any bones about liking and agreeing with Rachel Maddow and liking Bill O'Reilly despite strongly disagreeing with him. At the same time, he's strongly criticized ideological allies, notably Keith Olbermann, for over-the-top rhetoric.
The problem in this situation is one we run into all the time with commenters at OTB: confusing moderation in tone with moderation in beliefs. The "Rally to Restore Sanity" wasn't a call for everyone to adopt centrist policy positions but rather to quit screaming at one another. In the episode announcing the rally, he unveiled the motto "Take it down a notch for America" and offered protest signs with messages such as "I disagree with you, but I'm pretty sure you're not Hitler."
At the rally itself, he closed with a serious speech which began,
I can't control what people think this was. I can only tell you my intentions. This was not a rally to ridicule people of faith. Or people of activism or to look down our noses at the heartland or passionate argument or to suggest that times are not difficult and that we have nothing to fear. They are and we do. But we live now in hard times, not end times. And we can have animus and not be enemies.

Unfortunately, one of our main tools in delineating the two broke. The country's 24-hour politico pundit panic conflict-onator did not cause our problems, but its existence makes solving them that much harder. The press can hold its magnifying glass up to our problems and illuminate problems heretofore unseen, or it can use its magnifying glass to light ants on fire, and then perhaps host a week of shows on the sudden, unexpected dangerous-flaming-ant epidemic. If we amplify everything, we hear nothing.

There are terrorists and racists and Stalinists and theocrats, but those are titles that must be earned. You must have the resume. Not being able to distinguish between real racists and tea partiers, or real bigots and Juan Williams and Rich Sanchez is an insult — not only to those people, but to the racists themselves, who have put forth the exhausting effort it takes to hate. Just as the inability to distinguish between terrorists and Muslims makes us less safe, not more.
Having watched most every episode of Stewart's program the last two or three years, I'd say he lives up to that credo. Is he fair and balanced? No. He's a comedian who views the world through a very liberal lens. He skewers extreme rhetoric on both sides of the aisle but, yes, he goes after conservatives more. He's been known to build straw men in order to knock them down. Also, he uses words that have to be bleeped out a lot.
As to his guest selection, whether he has a general rule against conservative "pundits," I couldn't say. But he's certainly had conservatives on and treated them fairly. Among the guests for the 2011 season thus far: Tim Pawlenty, T. Boone Pickens, Michael Steele, Ed Gillespie, Donald Rumsfeld, Rand Paul, Bret Baier, Mike Huckabee, and Phillip K. Howard. He's had more Democratic politicians, I'd wager, but they've been heavily skewed to the Obama administration, which makes them very good "gets." And most of the guests are actors, authors, and the like.