Judge May Block Pennsylvania Voter ID Law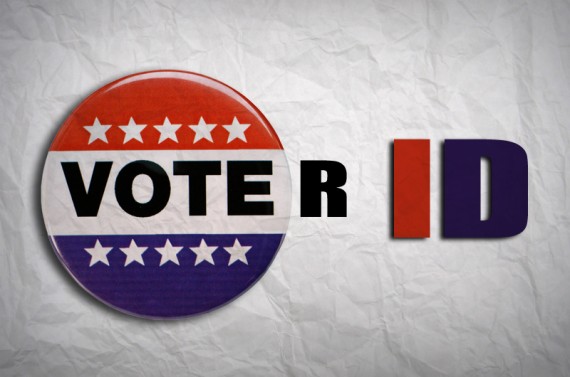 When we last discussed Pennsylvania's controversial Voter ID law, the case challenging it had been sent back to the trial court by the Pennsylvania Supreme Court for a hearing on the question of whether or not an injunction should be granted barring the law from being enforced during the upcoming election. As I noted at the time, the manner in which the Supreme Court laid out the parameters of what the trial court was to determine appeared to make it very likely that an injunction would be granted unless the attorneys for the government could establish that authorities would be able to accommodate voters unable to obtain a proper form of identification before Election Day. Yesterday, a hearing was held in the matter and when it was over the Judge hearing the case dropped a pretty significant hint indicating that he's likely to grant an injunction:
HARRISBURG – With just six weeks until the presidential election, a judge raised the possibility Tuesday that he would move to block Pennsylvania's controversial voter ID law.

"I'm giving you a heads-up," Commonwealth Court Judge Robert E. Simpson Jr. told lawyers after a day's testimony on whether the law is being implemented in ways that ensure no voters will be disenfranchised. "I think it's a possibility there could be an injunction here."

Simpson then asked lawyers on both sides to be prepared to return to court Thursday to present arguments on what such an injunction should look like. There is no hearing Wednesday because of Yom Kippur.

Simpson gave few if any further clues to what he may decide. But his comments provided a dramatic end to a day of testimony in a protracted and widely watched fight over the law, which requires voters to present photo identification at the polls.

(…)

Lawyers fighting the law said they would ask Simpson on Thursday to block it from taking effect until there can be a full trial on its merits.

"The only proper course here is to enjoin the law," said David Gersch, one of the attorneys for individual plaintiffs as well as civil-rights and civic groups such as the NAACP and League of Women Voters.

Alfred W. Putnam Jr., representing the Corbett administration, countered that officials had done all they could to ensure that every voter who needed a photo ID card can get one.

The latest effort was a step – formally announced Tuesday in court as the hearing began – to again relax requirements for residents seeking one of the state-issued photo IDs.

"The question raised is, is it too hard to get?" Putnam said in court of the voter ID cards. "And the answer is, it is not too hard to get."

Under the new plan, which went into effect immediately, all voters will be able to apply for the voting-only picture ID by making one trip to a Department of Transportation licensing center, PennDot Deputy Secretary Kurt Myers testified later in the hearing as he detailed the new plan. He said the plan was implemented to address justices' concerns about possible voter disenfranchisement.

Myers testified that voters will now be able to go to a PennDot licensing center and apply for a voting-only ID without first having to apply for the state's nondriver ID, with its more stringent proof-of-identity requirements. Applicants also will no longer have to show proof of residence, though they will still be required to give their Social Security number.

If a voter ID application cannot be processed immediately, because of a problem matching either a person's voter registration or Social Security information, PennDot will still take a voter's photo and issue a card. The card will then be mailed to the voter at a later date, Myers testified.
Is that enough to qualify for the "liberal access" that the state legislature mandated in the law? Well, it strikes me as about as accommodating as the process can get and I'm not sure what they could do that would make it easier to get a card. At this point, though, with less than six weeks to go until Election Day, I suspect that the Judge may conclude that this process is insufficient to meet that requirement in the short amount of time between now and Election Day. What that means for the future of the law, of course, is an entirely different question.
This news comes on the same day as a new Washington Post poll showing that nearly three-quarters of all Americans support Voter ID laws:
Overall, there is high, strong and cross-party support for such laws, even though a slim majority of Americans say they have heard "not much" or "nothing" about the issue. Support dips among those who say they have heard more about new photo identification requirements but remains the majority position.

About half of those polled see voter fraud — people voting who are not eligible to do so or voters casting multiple ballots — as a "major problem" in presidential elections. One in three see it as a "minor problem." The numbers are nearly as high when it comes to concern about eligible voters being denied their rights.

Asked to trade off the two, slightly more Americans are concerned with fraud than with voter suppression, although stark partisan and racial differences emerge. Two-thirds of Republicans see voter fraud as a bigger problem; nearly as many Democrats are primarily concerned with denying eligible voters access to the ballot box.

In the poll, African Americans are the most likely to see voter suppression as a major problem and the most likely to see support for the laws as an effort to boost one party over the other. Nearly six in 10 African Americans sense that support for the laws stems from partisan politics.

While 44 percent of Americans perceive partisan politics at play in the support of such laws, far more, 57 percent, see a genuine interest in fair elections as a big motivator.

A challenge for opponents of the ID laws is that a slim majority of Americans see politics behind the opposition, with fewer sensing it is motivated by a real interest in clean vote counts.
Legal challenges notwithstanding, we're likely to see more of these types of laws in the years to come.