Judge Orders John W. Hinckley Jr. Freed
Thirty five years after trying to kill President Reagan, John W. Hinckley Jr. is close to being a free man.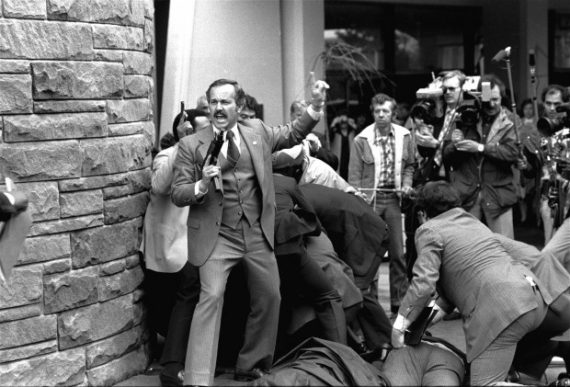 A Federal District Court Judge has ordered President Reagan's would-be assassin freed from the mental hospital where he has lived for the thirty five years since the shooting:
WASHINGTON — John W. Hinckley Jr., who tried to assassinate President Ronald Reagan in 1981, will be allowed to leave a government psychiatric hospital, a federal judge ruled on Wednesday.

Judge Paul L. Friedman of the United States District Court for the District of Columbia wrote in his opinion that Mr. Hinckley no longer posed a danger to himself or others. The release should begin no sooner than Aug. 5, the judge said.

Mr. Hinckley, 61, will be "permitted to reside full time in Williamsburg, Va., on convalescent leave," the court ruled.

But Judge Friedman put restrictions on Mr. Hinckley. He will have to work or volunteer at least three days a week, and if he fails to show up, his absence must be reported to the authorities. He must live with his mother for at least the first year and carry a cellphone that tracks his movements.

The judge forbade Mr. Hinckley from speaking to or contacting the news media, and he can drive unaccompanied only within a 30-mile radius of Williamsburg, although he can also drive by himself to monthly hospital appointments in the Washington area.

On March 30, 1981, Mr. Hinckley opened fire with a revolver outside the Washington Hilton hotel, where Reagan had just addressed labor leaders. He wounded the president; his press secretary, James S. Brady; a Washington police officer; and a Secret Service agent. Mr. Brady suffered permanent brain damage and eventually died from his injuries in 2014.

The assassination attempt was the culmination of Mr. Hinckley's obsession with Jodie Foster, which arose from her role as a child prostitute in the 1976 film "Taxi Driver," in which a disturbed man plots to assassinate a presidential candidate. Mr. Hinckley began to identify with the main character in the film, Travis Bickle, played by Robert De Niro.

After Ms. Foster entered Yale University, Mr. Hinckley moved to New Haven to be close to her and left notes, letters and poems at her dormitory. Failing to win her affections, Mr. Hinckley stalked President Jimmy Carter and was eventually arrested on firearms charges. After the 1980 election, Mr. Hinckley stalked the newly elected President Reagan in an attempt to impress Ms. Foster.

Judge Friedman ordered that Mr. Hinckley have no contact with Ms. Foster, or any member of Reagan's family, Mr. Brady's family or those of his other victims. He is not allowed to be in the same area as current presidents, vice presidents, members of Congress or other senior members of an administration, and he is not allowed to have Facebook, Twitter or other social media accounts without the unanimous consent of his treatment team.
More from The Washington Post:
John W. Hinckley, Jr., will be released from a government psychiatric hospital more than 35 years after he attempted to assassinate president Ronald Reagan and shot three others outside the Washington Hilton on March 30, 1981, a federal judge ruled Wednesday.

Hinckley, 61, no longer poses a danger to himself or others and will be freed to live full-time with his mother in Williamsburg, Va., effective as soon as Aug. 5 subject to dozens of temporary treatment and monitoring conditions, U.S. District Judge Paul L Friedman of Washington wrote.

If Hinckley adheres to all restrictions, they could begin to be phased out after 12 to 18 months, removing him from court control for the first time since he was confined to St. Elizabeth's hospital after the shooting, according to the order.

Hinckley lived at hospital full time until the 1990s, when he was permitted supervised visits with family members that gradually have been extended to 17 days a month at the home of his 90-year-old mother in a gated golf course development.

"After thirty-four years as an impatient at St. Elizabeth's Hospital, and in view of the foregoing findings, and the successful completion of over 80 … visits to Williamsburg over the last 10 years, the Court finds that Mr. Hinckley has received the maximum benefits possible in the in-patient setting," Friedman wrote in a 103-page opinion. "The court finds by the preponderance of the evidence that Mr. Hinckley will not be a danger to himself or to others if released on full-time convalescent leave to Williamsburg under the conditions proposed."

If Hinckley relapses or violates the terms of his release, he could be returned to St. Elizabeth's, the judge ordered.

The order limits Hinckley to a 50-mile radius of Williamsburg, Va., requires him to turn over information about his mobile phone and vehicles he will be driving, and bars him from tampering with the browser history of his computer, uploading any content to the internet, or accessing social media without unanimous approval of his treatment team. It does not order him to wear an ankle-monitoring device.

The ruling ends the institutionalization of the one of the nation's most notorious mental health patients, whose case marked a watershed in the criminal justice system's handling of mental illness and gun violence. His case came at a crossroads of presidential history, violence and celebrity, with extraordinary footage of the attack on the 40th President beamed into the homes of Americans in television news accounts.

Hinckley was 25 when he wounded Reagan, press secretary James Brady, U.S. Secret Service agent Tim McCarthy and D.C. police officer Thomas Delahanty with six exploding "Devastator" bullets from a .22-caliber pistol. All survived the attack but Brady was left paralyzed by a shot to his head and spent years before his death in 2014 advocating for gun control.

Hinckley said he shot Reagan to try to impress Hollywood actor Jodie Foster, an object of his obsession after repeated viewing the film, "Taxi Driver."

[Reagan Wounded by Assailant's Bullet; Prognosis Is 'Excellent'; 3 Others Shot]

After an eight-week trial, a federal jury in Washington found Hinckley not guilty by reason of insanity in June 1982 of all 13-counts against him, setting off a sharp public backlash. The federal government and 38 states subsequently rewrote laws to raise the standard of proof required for the insanity defense, which is now rarely used and is even more rarely successful.

Over the decades, the federal court has received reports on the state of Hinckley's mental health, and the Secret Service continued to watch him closely as he spent more time outside the hospital, tracking him on more than 200 occasions in 2013 and 2014, according to information presented in court last year.

Since 2003, Hinckley's longtime attorney, Barry Wm. Levine has argued to lift Hinckley's confinement citing evaluations by St. Elizabeth's officials that he no longer posed a threat.

(…)

"Mr. Hinckley recognizes that what he did was horrific. But it's crucial to understand that what he did was not an act of evil. It was an act caused by mental illness," Levine said. "He is profoundly sorry and he wishes he could take back that day, but he can't. And he has lived for decades recognizing the pain he caused his victims, their families, and the nation."

Bill Miller, a spokesman for U.S. Attorney Channing D. Phillips of Washington, said the office was reviewing the judge's opinion and had no comment.

The Secret Service did not immediately comment.

(…)

On March 20, 2015, hospital officials recommended Hinckley's full-time release. Prosecutors did not oppose it outright, but sought tighter monitoring and reporting requirements and contingency planning for his family's support, warning than having "no plan B" could lead to a relapse.

Assistant U.S. Attorney Colleen M. Kennedy argued over seven days of hearings that Hinckley should "have no expectation of privacy" regarding his use of the internet or wireless devices. Prosecutors insisted that Hinckley, who plays the guitar, paints and expressed an interest in photography, not publicly display or perform his work.

Friedman barred Hinckley from performing music in public, or from exhibiting or publishing any material without explicit approval from his treatment team. While the judge's new order continues to require Hinckley to carry a trackable phone and keep a daily log, it does not order him to wear a tracking device, sticking to a position Friedman took last year when he sided with hospital officials who "adamantly" opposed such a tracker, calling it "stigmatizing… for no reason" given Hinckley's low risk of flight.

"Mr. Hinckley has gone bowling, attended several lectures, attended outdoor musical concerts, and joined a local community center to exercise and take classes offered," Friedman noted in his order, adding that Hinckley was recently offered a paid job at a church and "also has made significant strides towards developing friendships in the community and displayed improved self-initiative."
The Justice Department has the option of appealing this decision to the Circuit Court of Appeals for the D.C. Circuit, but it's unclear at this point if they will do so. As it stands, such an appeal most likely does not stand a very good chance since it would require the appeals court to find that Judge Friedman's factual findings about Hinckley's treatment and condition, which are detailed in the more than 200 page opinion embedded below, are clearly incorrect or that he has abused his discretion in some other way. It is incredibly rare for appellate courts to make this kind of ruling, and even less common for appellate judges to overturn the factual findings of a District Court Judge. This is especially true in this case given the fact that Friedman has exercised jurisdiction over Hinckley's case for the better part of the past twenty years, something which likely makes Friedman far more familiar with Hinckley's treatment than the appellate court. In any case, as of right now the Justice Department has not announced its intentions regarding appeal and still has some time before it has to make a decision, although they would presumably move for a stay of the ruling while they consider the matter.
From the moment that Hinckley was found not guilty be reason of insanity at his trial for the attempted assassination of President Reagan and the attempted murder of three others, there was always the possibility that this day would come. At the time, and even under the law as it has changed since that day, if Hinckley ever reached the point where his psychiatrists believed that he was no longer a threat to himself or others then the legal justification for continuing to hold him in the mental facility would no longer exist and it would arguably be a violation of Hinckely's rights to continue to hold him under such circumstances. This doesn't necessarily mean that he is completely 'cured,' of course, and it does appear from glancing through the Judge's Opinion, which I've embedded below, it does appear that he will be required to continue to meet with doctors in the coming years for the purpose of judging how well he is adjusting to life outside the hospital and whether or not their has been a setback. No doubt, this will be an area of particular concern in coming years given the fact that Hinckley's mother is 90 years old, obviously not long for the world, and possibly not entirely able to monitor and control him going forward. Hinckley does have two siblings who are also apparently involved in his post-treatment care, but it's not clear if they have the same responsibilities as his mother presently does. Given the fact that Hinckley himself is only 61, though, some arrangements will have to be made for his later life.
This day has also been seemingly inevitable in recent years as Hinckley has been slowly but surely been given more freedom to live and move beyond the walls of St. Elizabeth's at the recommendation of his doctors. It started with allowing him to spend short amounts of time with his parents outside the facility and, since then, has gradually expanded to allowing him some limited time alone outside the facility and, most recently, allowing him to spend the majority of the month with his mother in Williamsburg, which is located nearly three hours driving time away from the hospital in Washington, D.C. As noted above, there have been a few occasions where he's had setbacks that basically involved not staying within the boundaries of where he told officials he was going to be, but for the most part this unsupervised time away appears to have gone relatively smoothly. Given that, and assuming continued progress on his part, it was inevitable that the day would likely come when Hinckley would be freed. At this point, the only question is whether or not he is able to live up to the conditions of his release and put together something resembling normalcy for the remainder of his life. If he can, then Judge Friedman's decision will have been vindicated. If not, then one can only hope that any relapse is noted in time to get him back into treatment as needed.
Under current law, of course, Hinckley's case would be treated quite differently. Primarily, that's because his acquittal in 1982 led to massive changes to the way that criminal insanity is treated under the law that have made it far more difficult for criminal defendants to successfully assert insanity as a defense in a criminal trial. Prior to Hinckley's acquittal, for example, the law in Federal Courts and in most states provided that when a Defendant invoked an insanity defense, the burden would shift to the prosecution to prove beyond a reasonable doubt that the Defendant was sane at the time of the criminal offense. In 1984, though, Congress adopted the Insanity Defense Reform Act, which shifted the burden to require the defense to prove insanity with, at the very least, "clear and convincing evidence." Similar laws were also passed at the state level. Additionally, the definition of what constituted legal insanity to provide that the defense must show that the defendant did not know that his act was wrong and/or did not understand the 'nature and quality' of his actions. What this means is that the insanity defense has largely been limited to defendants who are so mentally ill as to have been essentially deluded at the time they acted. Additional reforms include limiting the use of psychiatric testimony at criminal trials to prevent doctors from expressing an expert opinion on matters that are supposed to be within the purview of the jury and creating a finding that essentially amounts "guilty but insane" that provides that a Defendant who is eventually cured like Hinckley would not have to released into the public. With all these reforms, it's unlikely that Hinckley would have been acquitted under the law as it was reformed because of his acquittal, but, of course, that's not relevant to Hinckley's case and he continues to be judged under the law as it existed in 1982. Based on that, it's hard to say that Judge Friedman is wrong here, notwithstanding the fact that there it does feel like there is something deeply wrong with the idea that a Presidential attempted assassin is essentially now a free man.
Here's the opinion:
United States v. John W Hinckley Jr by Doug Mataconis on Scribd