Jussie Smollett Charges Dropped for No Apparent Reason
One of the most bizarre cases in recent memory gets . . . much more bizarre.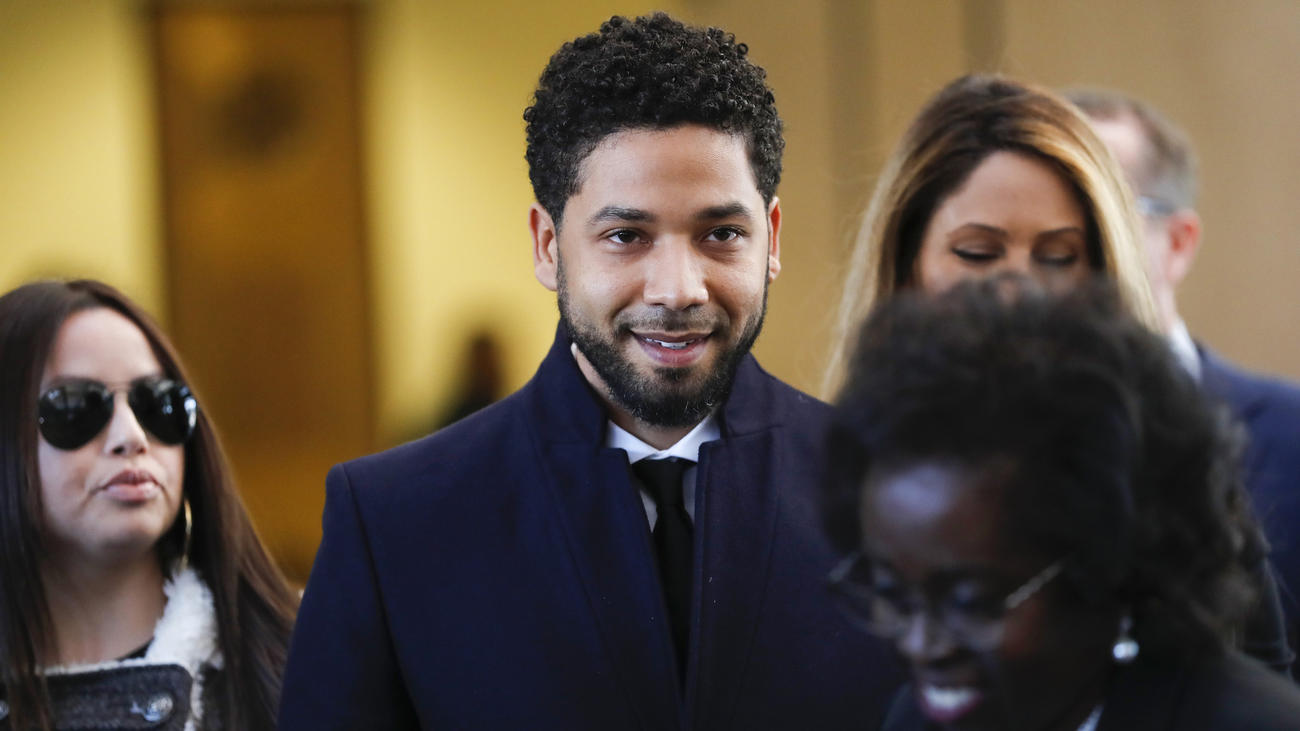 AP ("Prosecutors abandon criminal case against Jussie Smollett"):
In an astonishing reversal, prosecutors on Tuesday abruptly dropped all charges against Jussie Smollett, abandoning the case barely five weeks after the "Empire" actor was accused of lying to police about being the target of a racist, anti-gay attack in downtown Chicago.

The mayor and police chief blasted the decision and stood by the investigation that concluded Smollett staged a hoax. A visibly angry Mayor Rahm Emanuel called it "a whitewash of justice" and lashed out at Smollett. He asked, "Is there no decency in this man?"

Smollett's attorneys said his record had "been wiped clean" of the 16 felony counts related to making a false report that he was assaulted by two men. The actor insisted that he had "been truthful and consistent on every single level since day one."

"I would not be my mother's son if I was capable of one drop of what I was being accused of," he told reporters after a court hearing. He thanked the state of Illinois "for attempting to do what's right."

It was not immediately clear what prompted the decision to dismiss the case. In a statement, the Cook County prosecutors' office offered no detailed explanation. The city will keep the $10,000 in bail money that Smollett paid to get out of jail after his arrest.

"After reviewing all of the facts and circumstances of the case, including Mr. Smollett's volunteer service in the community and agreement to forfeit his bond to the City of Chicago, we believe this outcome is a just disposition and appropriate resolution to this case," the statement from spokeswoman Tandra Simonton said.

Typically, a minimum condition of dropping cases is some acceptance of responsibility. Outside court, neither Smollett nor his legal team appeared to concede anything about his original report.

Defense attorney Patricia Brown Holmes said Smollett was "attacked by two people he was unable to identify" and "was a victim who was vilified and made to appear as a perpetrator."

Authorities alleged that Smollett, who is black and gay, knew the men and arranged for them to pretend to attack him.

Among the unanswered questions was whether prosecutors still believe Smollett concocted the attack or whether new evidence emerged that altered their view of events.

Emanuel, who is in his final weeks in office after two terms, said the city saw its reputation "dragged through the mud" by Smollett's plan to promote his career. The hoax, the mayor said, could endanger other gay people who report hate crimes.

"Now this casts a shadow of whether they're telling the truth, and he did this all in the name of self-promotion," he said.

Police Superintendent Eddie Johnson stood by the department's investigation and said Chicago is "is still owed an apology."

"I've heard that they wanted their day in court with TV cameras so that America could know the truth. They chose to hide behind secrecy and broker a deal to circumvent the judicial system," Johnson said at a graduation ceremony for new police cadets.

Chicago's top prosecutor, Cook County State's Attorney Kim Foxx, recused herself from the investigation, citing conversations she had with a Smollett family member.
That may be the worst-written article in the history of the AP wire. It's a confusing jumble that doesn't answer any questions.
One would think the mayor and police chief would know why charges in a high-profile case were dropped. But, apparently, they do not. Emanuel seems to think it's somehow Smollet's fault. But it's the prosecutor, not the accused, who decides whether charges are dropped.
And why is it that, if charges have been dropped without Smollet pleading guilty to any lesser offense, paying a fine, or . . . something . . . the city gets to keep the bail money?
The Chicago Tribune report ("Mayor Emanuel blasts prosecutors' decision to drop charges against 'Empire' actor Jussie Smollett: 'This is not on the level'") at least answers the last question:
Calling it "a whitewash of justice," Mayor Rahm Emanuel tore into the decision, emphasizing repeatedly that a grand jury had chosen to bring 16 counts of disorderly conduct against Smollett.

"From top to bottom, this is not on the level," Emanuel told reporters at an afternoon news conference.

Why the state's attorney's office made the sudden about-face wasn't immediately clear. The office issued only a one-sentence statement.

But in an interview Tuesday afternoon, First Assistant State's Attorney Joseph Magats, who took charge of the case after State's Attorney Kim Foxx stepped aside because of a conflict of interest, said the office reached a deal with the defense in recent weeks to drop the charges if Smollett performed community service and forfeited his $100,000 bond.

"The bottom line is, we stand behind the investigation, we stand behind the decision to charge him," Magats told the Tribune. "The fact that (Smollett) feels that we have exonerated him, we have not. I can't make it any clearer than that."

Yet a short time before, Smollett's attorney, Patricia Brown Holmes, said the defense reached no deal with prosecutors. Smollett agreed to forfeit his bond "so he could go on with his life and get this over with," she said.

Smollett had to post 10 percent of the bond — $10,000. Ordinarily, that money would be returned to him or his attorneys.

For unclear reasons, Judge Steven Watkins ordered the public court file sealed.
Dave Schuler, my go-to guy on matters of celebrity gossip the Windy City, wonders, "What the heck just happened?" His best guess:
Before we conclude that Smollett's case is, like Schrödinger's cat, simultaneously dead and alive, I think there's an interpretation that explains the decision to drop charges. Under Illinois statute the state's ability to seek damages and penalties is quite limited, in all likelihood far less expensive than pursuing the case would be. Is it possible that the decision not to pursue the charges is actually a cost-saving measure?
His commenters have other guesses, including that Smollett has agreed to seek mental health treatment.
I'm baffled by the whole thing but am incredibly leery of sealed rulings in criminal proceedings involving adult defendants. While I seldom agree with Rahm Emanuel on much of anything, I agree with him that this whole thing stinks to high heaven.