Just Like Old Times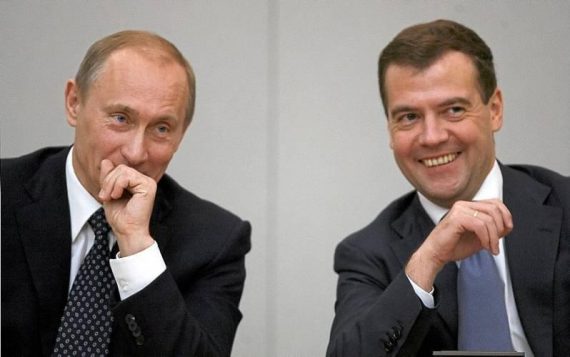 With former Russian Prime Minister Vladimir Putin back  as President, former Russian President Dimitri Medvedev is back as Prime Minister:
(Reuters) – Russia's lower house of parliament confirmed former president Dmitry Medvedev as prime minister on Tuesday, completing a job swap with Vladimir Putin that has sparked protests against the two leaders' grip on power.

The approval vote, comfortably won by Medvedev as Putin looked on, ignored growing concern in the country that keeping power in the hands of the same men who have led Russia for the past four years will bring political and economic stagnation.

Police led away more than 20 people, including two opposition leaders, when they broke up a peaceful protest near the Kremlin hours before the vote, after detaining more than 700 on the previous two days to keep a lid on dissent.

The vote in the State Duma, the lower house, was held under tight security, with camouflage-clad riot police guarding the building near Red Square and police trucks and buses parked nearby.

Medvedev stood and nodded his gratitude to Duma deputies and then shook hands with Putin. The president smiled and applauded the outcome of the vote, one day after he was sworn in as president for a six-year term.

"I thank you for showing your trust in me," Medvedev told the assembly. "I am absolutely sure that if we work together we can achieve results."
Could you guys perhaps try to be a little less brazen the next time you do this?