Justice Ginsburg Sees "Sharp Disagreement" In Court's End-Of-Term Rulings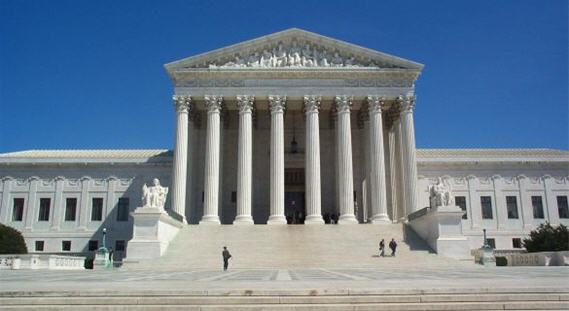 In what some are taking as a hint of what we may be seeing from the Supreme Court in the next two weeks or so, Justice Ruth Bader Ginsburg told a group last night what she foresees for after the Court's term comes to an end:
With a wry smile, JusticeRuth Bader Ginsburg laid waste Friday to all those rumors about the fate of the Affordable Care Act in the Supreme Court.

"Those who know don't talk. And those who talk don't know," she quipped Friday night at a conference hosted by the American Constitution Society at the Capital Hilton.

Ginsburg said she was responding to a "steady stream of rumors and fifth-hand accounts" about the court's deliberations on the law.

Careful not to tip her hand on the court's ruling — expected in the next two weeks — Ginsburg described the oral arguments in the case as unprecedented for the number of "press conferences, prayer circles, protests and counterprotests" that occurred on the courthouse steps.

Although she offered no insight into the tightly held decisions of her colleagues, Ginsburg did indicate that many of the court's decisions over the next two weeks — which are also expected to include an FCC indecency ruling — might be close.

The 21 remaining decisions, she said, were "many of the most controversial cases" that the court reviewed this term.

"It is likely that the sharp disagreement rate will go up next week and the week after," she said.
There's really not much here to disagree with, or that even gives us an indication of what way the Court may rule on some of these cases. Whichever way the Court rules on these cases, one side or the other will disagree and, in some cases, will make it an election issue. Nonetheless, between now and the end of June we'll be getting decisions not just on the Affordable Care Act case, but also on a major FCC indecency case, the case challenging Arizona's immigration law, and the case that asks whether Congress can make it a Federal crime to lie about having received a military honor. Hold on to your hats. it's going to be interesting.