Justice Ginsburg Won't Resign Because Obama Couldn't Appoint A Good Replacement
Once again, Justice Ginsburg is telling people she has no plans to resign, but her explanation is a bit different this time.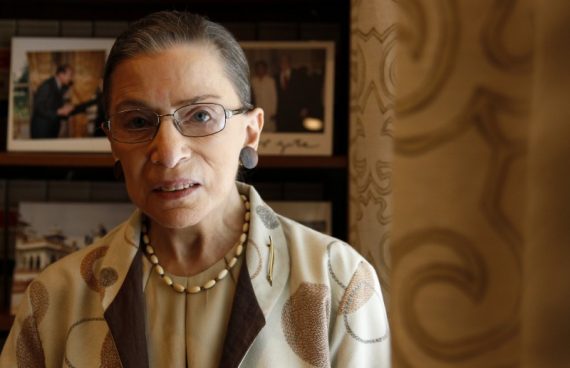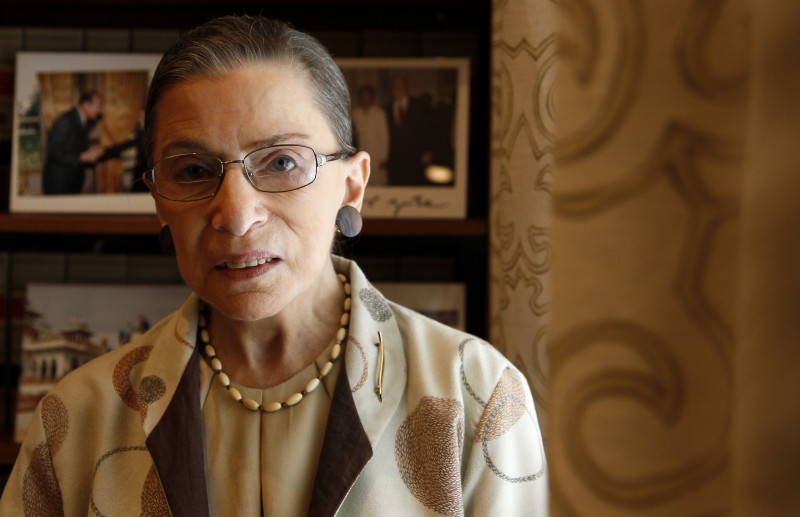 Justice Ruth Bader Ginsburg must feel at times as she has a big target on her back, and the arrows being sent her way are coming from people on her side of the political aisle. Specifically, those arrows take the form of calls on people from the left side of the spectrum calling on Ginsburg to resign from office so that President Obama could appoint her successor. Even though she had said after Elena Kagan's nomination that she had no plans to resign, there were several calls for her to step aside prior to the 2012 election so that the President could appoint her successor before then, an idea that the Justice quickly shot down. The talk resumed after the President won re-election and, each time, Ginsburg made clear that she has no plans to step aside as long as she's able to continue doing her job. The calls have continued this year, including one from a Law School Dean that was published on her birthday and another set of calls by others on the left for Ginsburg to step aside before the midterm elections.  Throughout all of these calls, which have bordered on the disrespectful on more than one occasion, Ginsburg has generally responded with curt denials of any intention to resign any time soon, but in a new interview she goes into far more detail about why she doesn't believe that it is the right time for her to step aside:
Supreme Court Justice Ruth Bader Ginsburg is pushing back against suggestions that she should soon retire, saying President Barack Obama would be unable to get a justice like her through the Senate.

"Who do you think President Obama could appoint at this very day, given the boundaries that we have?" the 81-year-old justice told Elle Magazine in an interview excerpt released Tuesday. The wide-ranging interview portrays Ginsburg — seen as a member of the court's liberal wing — as attuned to the dynamics in Congress and some of the greater political and social discussions in the U.S.

In the interview, she suggested that Senate Republicans would likely block any potential nominee like her.

"If I resign any time this year, he could not successfully appoint anyone I would like to see in the court," the oldest member of the high court said. "[A]nybody who thinks that if I step down, Obama could appoint someone like me, they're misguided," later adding that she can "do the job full steam."
In some respects, Ginsburg's comments mirror those that were made by Chief Justice Roberts last week when he said that neither she nor Justice Antonin Scalia could get confirmed in the current political climate. Just as that is most likely true, it is also true that it would be quite difficult for the President to get a Ginsburg-like nominee through the Senate before he leaves office. Even if Democrats retain control of the Senate, Republicans would still be able to utilize the filibuster and other procedural maneuvers to block the nomination of a controversial nominee long enough for it to become the kind of political problem that forces a President to withdraw a nominee. It's true, as Noah Rothman and others note, that Senate Democrats faced with such a situation could attempt to amend Senate rules once again to eliminate the filibuster for Supreme Court nominations just as they did for other Judicial appointments, although there's at least some indication that Harry Reid might have a hard time getting that through his own caucus. Incidentally, all of this would have been true if Ginsburg had resigned before the 2012, or last year, or at the end of the Court's term this year. If Republicans win the Senate in November, of course, then the prospect of the President being able to replace Ginsburg with anyone like her will be completely non-existent.
To the extent that Ginsburg cares about who replaces here then, her assessment here is largely correct. However, it's likely that these same conditions will exist after President Obama leaves office. Even if we end up with a Democratic President and Senate in 2017, for example, Republicans are still likely to be just as aggressive in opposing a nominee like Ginsburg as they would be now. Additionally, if the GOP does take the Senate this year they could hold onto it in the 2016 elections even if a Democrat is elected President, which would hamstring a future Democratic President in much the same way that it would hamstring Obama. More importantly, of course, if a Republican is elected President in 2016 then Ginsburg's calculus will have proven incorrect. She has said in the past that she believes that a Democrat will be elected President in 2016, and she's probably right about that. There are no certainties in politics, though, and Ginsburg may find herself in much the same position that other liberal Justices have when they ended up stepping aside while a Republican was in the White House, the most notable of those in recent memory of course being Thurgood Marshall.
In the end, Justice Ginsburg will retire when she is ready to or when she feels that she can no longer do her job, as will the other Justices who are approaching the age where we'd typically see judicial retirements. Until that day comes, both she and her fellow Justices deserve some level of respect that includes not being hectored on a regular basis to leave the job to which they were appointed for life. Ginsburg has said she's not retiring any time soon and, barring health issues that will hopefully not arise, she's going to live up to that promise, especially since she's already hired law clerks not only for the Court's 2014 term, but also for its 2015 term. Perhaps its time that her fellow Democrats stopped bugging her about it.