Kagan Set To Be Least Popular Supreme Court Nominee To Be Confirmed
Elena Kagan may be smiling because her confirmation is assured, but she doesn't have as much public support as previous nominees.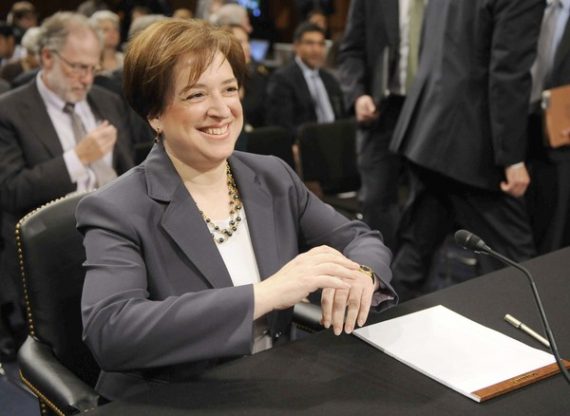 While Elena Kagan heads into the final votes on her nomination to the Supreme Court with victory assured, a new Gallup poll shows that she does so with the lowest approval rating of any recent nominee:
PRINCETON, NJ — More Americans want the Senate to vote for rather than against Elena Kagan's nomination to the Supreme Court, but the percentage in favor is less than a majority. Support for Kagan's confirmation remains essentially the same as it was before her June confirmation hearings.

Typically, support for nominees does not change much after their hearings. Instead, Gallup usually finds increases in the percentage of Americans opposed and decreases in the percentage with no opinion. The percentage without an opinion on the Kagan nomination was the same before and after her hearings, which may indicate these were not widely followed by the average American.

The Senate Judiciary Committee will vote on Kagan's nomination next week, with the full Senate voting later this summer. Kagan is expected to be confirmed, given the Senate's large Democratic majority.

Among the general public, a majority of self-identified Democrats, 68%, favor Kagan's confirmation, compared with 43% of independents and 21% of Republicans. A majority of Republicans, 60%, are opposed.

If confirmed, Kagan would be the first successful nominee in recent years whose nomination was backed by less than a majority of Americans in the final poll before the Senate confirmation vote (or, in the case of Harriet Miers, before her nomination was withdrawn).
This is somewhat surprising because, other than a ginned-up, phony, controversy over military recruitment while she was Dean of Harvard Law School and the usual suspects on issues like abortion, Kagan is a fairly uncontroversial nominee for someone picked by a Democratic President. Is she my idea of an ideal Supreme Court Justice ? No, but Barack Obama won the White House and, as others have reminded us in this context, elections have consequences. Absent evidence of some Bork-like disdain for fundamental Constitutional principles or a Harriet Miers situation, neither of which seem to exist here, there isn't any reason why the President shouldn't get his nominee confirmed.
So, what explains the poll numbers ?
For the most part, I think we're looking at Obama's own job approval problems being subjected on his nominee. It's not something that will have any political consequences since Kagan is basically guaranteed to be confirmed, but it does show yet again just how partisan Supreme Court nominations have become.