Kansas Goes Birther, May Keep Obama Off The Ballot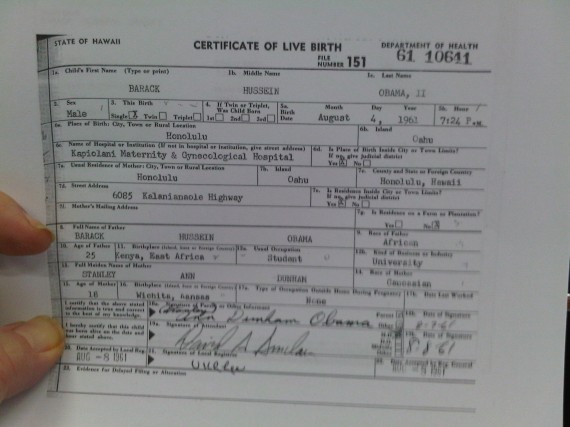 Barack Obama has about as much chance of winning Kansas as Mitt Romney has of winning the District of Columbia, but it would appear that some officials in Kansas think he doesn't even belong on the ballot at all:
Three of the state's top elected Republicans on Thursday determined they lacked sufficient evidence of President Barack Obama's birth records to decide whether to remove the Democratic nominee from the November ballot in Kansas.

The State Objections Board comprised of Secretary of State Kris Kobach, Attorney General Derek Schmidt and Lt. Gov. Jeff Colyer postponed until Monday action on a complaint filed by a Manhattan resident pending review of a copy of Obama's birth certificate from Hawaii.

"I don't think it's a frivolous objection," Kobach said. "I do think the factual record could be supplemented."

Requests were to be sent to officials in Hawaii, Arizona and Mississippi in an attempt to secure copies of the president's birth records. Obama released a copy of his birth certificate last year, but detractors persist in advancing "birther" arguments that the Democrat lacked standing.

(…)

Joe Montgomery, who filed the ballot challenge with the all-Republican panel, said the president's father held British and Kenyan citizenship, making Obama ineligible to run for the nation's highest office.

Montgomery pointed to a handful of U.S. Supreme Court cases to support his claim a presidential candidate must be a "natural born citizen" from two American citizens.

"As for Mr. Obama's citizenship, there are many doubts," he said. "Doing the right thing can be hard and unpopular."

A legal representative of Obama submitted a letter arguing the complaint had no merit.
The argument that a "natural born citizen" must be someone must be born of two American citizens has absolutely no legal merit. It has been rejected by every Court that has heard the one, including a Federal Judge in Georgia who sanctioned infamous birther lawyer Orly Taitz $20,000 for filing frivolous pleadings. The Constitution does not define "natural born citizen" in the manner that Montgomery claims. Furthermore in the case United States v. Wong Kim Ark, the Supreme Court ruled that a person born in the United States of two people who happened to be citizens of China was a United States citizen by birth, and the 14th Amendment defines a citizen as "[all persons born or naturalized in the United States." The idea that Barack Obama is not a natural born citizen is, in other words, utter nonsense. The fact that some of the highest elected officials in the State of Kansas don't accept this is quite disturbing.
And, if they need proof of Obama's birth in Hawaii, I direct their attention to the birth certificate above.