Karl Rove Suddenly Discovers That The National Debt Is A Problem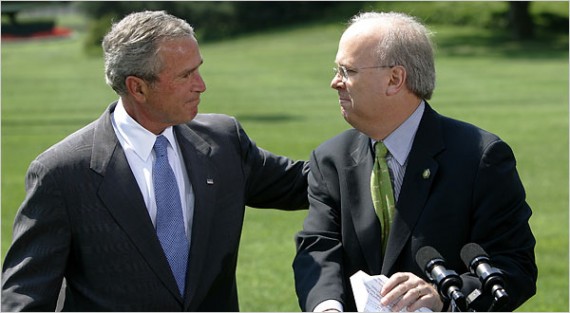 After working for nearly eight years for a President who saw the National debt go from $5,727,776,738,304.64 to $10,626,877,048,913.08 (source), Karl Rove has suddenly discovered that the National Debt is a problem:
For Karl Rove, now the debt's a problem.

Crossroads GPS, the nonprofit co-founded by the former Bush White House political adviser that keeps its donors secret, announced today that it  will spend $7 million attacking President Barack Obama for failing to tackle the growing national debt.

Against a backdrop of a ticking stopwatch, a narrator warns that Obama is adding $4 billion in new debt every day.

Rove, of course, experienced first-hand a sharp increase in the national debt. The day his former boss, George W. Bush, was sworn in as president in 2001, the national debt was $5.7 trillion. When Bush (and Rove) left the White House, the debt had grown to $10.6 trillion, an 86 percent increase, according to the U.S. Treasury Department.

(…)

Now the deficit matters to Rove and Crossroads.

"While Europe is in the throes of debt-fueled economic crisis, President Obama keeps spending and charging more on the nation's maxed-out credit cards," said Steven Law, president of Crossroads GPS.
Karl, were you asleep between 2001 and 2009? Rove isn't alone, of course, with but a few exceptions, Republicans completely ignored the irresponsible fiscal policies of the Bush years. Which is why it's so hard for those of us who were complaining back then to believe them now.