Kavanaugh First Supreme Court Justice With All-Female Roster Of Law Clerks
A Supreme Court first by the newest Justice.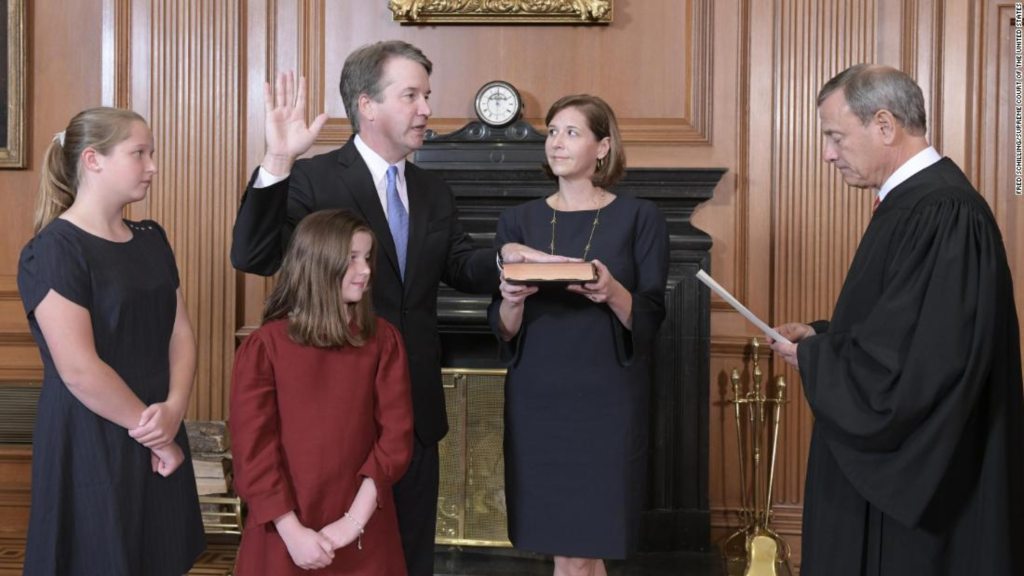 Newly sworn-in Justice Brett Kavanaugh has accomplished a first for the Supreme Court that is actually worthy of praise:
WASHINGTON — Justice Brett M. Kavanaugh, confirmed to the Supreme Court amid fiery accusations of sexual misconduct against women, arrived Tuesday for his first day on the bench with an unprecedented all-female class of law clerks.

As a result, more than half of the Supreme Court's law clerks this year will — for the first time in American history — be women.

Former colleagues of Justice Kavanaugh have described a longstanding reputation of promoting women in law. During his 12 years at the United States Court of Appeals for the District of Columbia Circuit, the majority of Justice Kavanaugh's law clerks were women — 25 of 48 — and during his confirmation hearings he testified that he graduated more of them to clerkships at the Supreme Court than any other federal judge.

Supreme Court clerkships — among the most coveted credentials in American law — offer young lawyers unusual influence over the court's proceedings. There are about 36 law clerks each term, and they offer recommendations on which cases to hear, help prepare the justices for oral arguments and draft major portions of the opinions and dissents.

The clerks often graduate into prolific careers in government, academia and major law firms; eight throughout history have gone on to serve on the Supreme Court, including Justice Kavanaugh, who served as a law clerk from 1993 to 1994 for Justice Anthony M. Kennedy, whom he is replacing.

Justice Kavanaugh's first Supreme Court clerks graduated from top law schools and worked as clerks for conservative federal judges. One worked for Justice Kavanaugh on the appeals court; the other three worked for prominent appeals court judges appointed by Republican presidents.
The Times article quoted above goes on to profile each of the four women who will serve as Justice Kavanaugh's clerks for his first term on the nation's highest court. As can be expected, they all graduated from Top 25 law schools, with two of them coming from Kavanaugh's alma mater at Yale and Harvard and the other two coming from Stanford and the University of Virginia. Each of them had also clerked for Judges on one of the Circuit Courts of Appeal, including one who had previously served as one of Kavanaugh's clerks when he served on the Court of Appeals for the District of Columbia.
While women have served as clerks for Supreme Court Justices for many years now, this is the first time that all of a Justices four clerks have been female in the Court's history and leaving aside everything that has happened over the past three weeks, it strikes me that Justice Kavanaugh does deserve some credit for taking this step. Any type of Federal Judicial Clerkship is generally something that opens plenty of doors for young lawyers, and a Supreme Court Clerkship opens even more elite doors within the legal profession. The people who have held these positions have gone on to work at the nation's top law firms, or to careers in government and politics that give them a tremendous amount of influence at a relatively young age. Opening those doors for young women is a good thing that can only benefit the legal profession and the nation. Additionally, it's worth noting that these clerks have no small degree of influence over the Justices they serve with in that they give recommendations regarding what position a Justice should take on accepting the thousands of petitions seeking review that the Court receives in a given year. The final decision is up to the individual Justice, of course, but as Justice Scalia admitted in interviews before he passed away, the clerks play a huge role in this process simply because the volume of petitions for review is so large that it becomes impossible for the Justices themselves to sort them all out while also attending to their other duties. Additionally, several retired Justices have noted that they have often modified their positions on specific cases based on the discussions they inevitable have with their team of clerks. What impact these young women have on Justice Kavanaugh will remain to be seen.