Keith Olbermann's MSNBC Exit: Yet More Speculation
The speculation on Keith Olbermann's abrupt departure from MSNBC's top-rated show continues. Was he fired? Did he quit? Did the Comcast overlords push?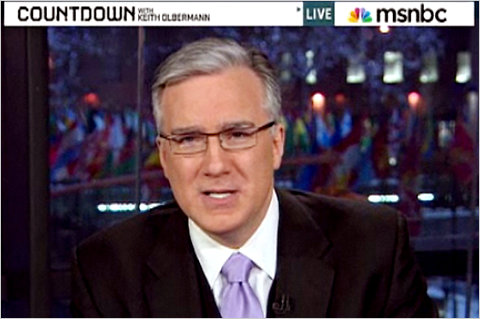 The speculation on Keith Olbermann's abrupt departure from MSNBC's top-rated show continues.  Was he fired?  Did he quit?  Did the Comcast overlords push?
Bill Carter reports for NYT that the network isn't saying and that Olbermann has been paid not to say:
For the last several weeks, Mr. Olbermann and the network have been in negotiations to end his successful run on MSNBC, according to executives involved in the talks who requested anonymity because the talks were confidential. The deal was completed on Friday, and Mr. Olbermann made the announcement on his final "Countdown" hours later.

Friday's separation agreement between MSNBC and Mr. Olbermann includes restrictions on when he can next lead a television show and when he can give interviews about the decision to end his association with the news channel.

The executives involved in the discussions confirmed that the deal carries limitations for Mr. Olbermann in terms of when he can next work on television, though he will be able to take a job in radio or on any forum on the Internet. The deal also prohibits the host from commenting publicly on the deal, the executives confirmed.
Interestingly,
The decision was completed one year to the day from the last time NBC decided to end a relationship with an on-air star: Conan O'Brien. Mr. O'Brien agreed in the deal not to start up a new television show for nine months, and not to grant interviews for five months. The executives involved in the discussions with Mr. Olbermann said his agreement was not dissimilar to Mr. O'Brien's.
Dominic Patten and Sharon Waxman, writing at something called The Wrap, say Olbermann has plans to create a "media empire."
But the sudden departure has a history, and the timing does not rule out a preemptive MSNBC move. The gadfly commentator first told the network last April that he wanted to leave and began negotiating his exit then, according to an individual with knowledge of the situation.

Olbermann abandoned the notion of leaving at that time but revived his plans in recent weeks with new representation from the talent agency ICM.

With two years left on his $7 million a year contract, Olbermann was seeking a full exit package but he really has his eye on creating his own media empire in the style of Huffington Post, according to the individual. That way, Olbermann would control his own brand and, in his view, potentially earn far more as an owner.
Good luck with that. Olbermann is a huge brand — certainly moreso than Arianna Huffington, David Frum, or Tucker Carlson. Or even Tina Brown. But it's going to be hard to top $7 million a year running a website.
But Patten and Waxman undercut the "months of planning" story later in the report:
The departure of Olbermann, who recently left his long time talent agent Jean Sage to work with a troika at ICM, came so abruptly that MSNBC was still running promos for him and his show an hour after he signed off for the last time.
My initial headline that he was "fired" was perhaps a bit forward leaning, reading between the lines of the statements made by Olbermann and MSNBC chief Griffin.  Additionally, it seems odd to me that a network would pay someone to stop hosting their top rated show if it was the talent's decision.  It may be months before the real story is known.