Ken Burns Blocking BIPOC Filmmakers?
Is he bogarting all the good documentaries?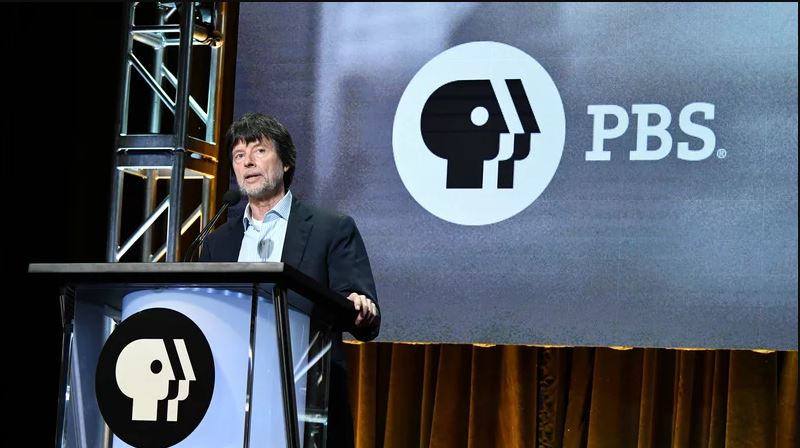 The documentarian has been a staple of public broadcasting for four decades. Some say that is a major problem.
NPR ("Filmmakers Call Out PBS For A Lack Of Diversity, Over-Reliance On Ken Burns"):
Nearly 140 documentary filmmakers have signed onto a letter given to PBS executives, suggesting the service may provide an unfair level of support to white creators, facing a "systemic failure to fulfill (its) mandate for a diversity of voices."

Titled "A Letter to PBS From Viewers Like Us," the missive references Ken Burns, arguably one of PBS' biggest non-fiction stars and creator of popular projects like Baseball, Jazz, The Civil War and an upcoming six-hour program called Hemingway. Citing data from the filmmaker's website, it says Burns has created about 211 hours of programming for PBS over 40 years, through an exclusive relationship with the service that will last until at least 2022.

Such an arrangement leaves less room for filmmakers of color, who may struggle to gain similar funding or promotional support. And while PBS has created an initiative to elevate newly emerging filmmakers of color, such initiatives can also create a false narrative that non-white artists are predominantly lacking in experience, the text adds.

"How many other 'independent' filmmakers have a decades-long exclusive relationship with a publicly-funded entity?" the text asks. "Public television supporting this level of uninvestigated privilege is troubling not just for us as filmmakers but as tax-paying Americans."

The letter, sent to PBS President Paula Kerger and former ombudsman Michael Getler on Tuesday, was co-signed by several high-profile filmmakers — some of whom produce programs for PBS — including Oscar-nominated director Garrett Bradley (Time), Oscar-winning director Laura Poitras (Citizenfour) and Emmy winning editor and director Sam Pollard (MLK/FBI). (Note: Getler died in 2018, and PBS now has a public editor, Ricardo Sandoval-Palos.)
Leaving aside their unfortunate lack of Google skills, this seems at first blush like a bizarre complaint. Burns has produced 211 hours of programming for PBS since 1981. That's 5.275 hours a year. If they want to get mad at someone, it should be Big Bird; he's gotten far more airtime.
Further, PBS rightly argues, they've been about inclusion for a long time:
PBS has released a statement with data pushing back on the letter's assertions, saying 35 percent of the 200 hours of non-fiction programming planned for primetime this year was produced by diverse filmmakers. According to a spokesman, over the past five years, PBS has aired 58 hours of programming from Burns and 74 hours of projects by Henry Louis Gates, Jr., an African American scholar, director, executive producer and host of programs like The Black Church and Finding Your Roots.
Still, some of the claims are worth consideration:
Filmmaker Grace Lee, a member of Beyond Inclusion who signed the letter, wrote about these issues in an attention-getting essay for the Ford Foundation that was reprinted in Current magazine, noting, "PBS must end its overreliance on Ken Burns as 'America's storyteller.'"

[…]

But Lee, a producer for the PBS series Asian Americans, says the issue reaches beyond any individual filmmaker.

"It's not about Ken Burns, it's about this public television system living up to its mandate," she adds. "On Asian Americans, we got five hours to tell 150 years of American history. Ernest Hemingway, one man, gets six hours of documentary in prime time … This kind of disparity is something that I wanted to call attention to."
It's hard to argue that Hemingway, great as his work is, was as important as two hundred-odd years of Asian-American contributions. Presumably, though, PBS decisionmakers believed that a six-hour Ken Burns miniseries on Hemingway would be more likely to draw more viewers than a feature on Asian-Americans by a niche filmmaker. Whether this is based on legitimate market research or self-fulfilling prophecy is worth considering, though.
For his part, Burns is saying the right things:
The Emmy-winning documentarian Ken Burns said Thursday that he supports the goals of a group of nonfiction filmmakers who have criticized PBS over a lack of diversity and an "over-reliance" on his work.

"I wholeheartedly support the objectives of the letter writers," Burns said in an interview. "I think this is hugely important, and one of the reasons we've been in public television has been a commitment to inclusion and diversity."

"But can we do better? Of course we can. Can PBS do better? Of course they can," Burns added.

[…]

In the interview, Burns said he and his colleagues at his production company, Florentine Films, would work to address issues of diversity and inclusion in the documentary filmmaking community. (The full interview with Burns and Novick about "Hemingway" will be published in the coming days.)

He added that most of the money his company raises for television projects comes from "outside sources," not PBS.

"I'm just very proud that it [PBS] does it as well as anybody else," Burns said. "The fact that it's still not good enough? It just means we all have room for improvement."
Burns and PBS seem like odd targets here. Burns' "Baseball" documentary, for example, did a lot to renew public interest in the greatness of the Negro League players, many of whom were heavily featured. But he's arguably the network's biggest star—certainly its most famous documentarian—so going after him gets attention.