Ken Mehlman is Gay and I Don't Care
The guy who ran George W. Bush's campaign and the Republican National Committee has realized after only 43 years that he likes dudes.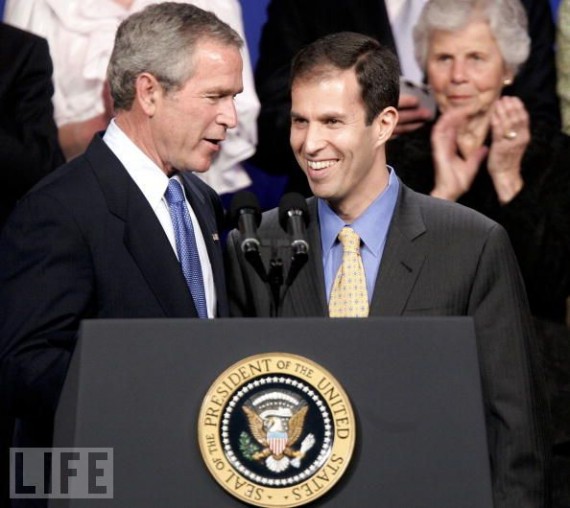 The big news overnight, judging from blogger reaction, is that former RNC chair Ken Mehlman has come out of the closet after 43 years.
Marc Ambinder ("Bush Campaign Chief and Former RNC Chair Ken Mehlman: I'm Gay"):
Ken Mehlman, President Bush's campaign manager in 2004 and a former chairman of the Republican National Committee, has told family and associates that he is gay.

Mehlman arrived at this conclusion about his identity fairly recently, he said in an interview. He agreed to answer a reporter's questions, he said, because, now in private life, he wants to become an advocate for gay marriage and anticipated that questions would arise about his participation in a late-September fundraiser for the American Foundation for Equal Rights (AFER), the group that supported the legal challenge to California's ballot initiative against gay marriage, Proposition 8.

"It's taken me 43 years to get comfortable with this part of my life," said Mehlman, now an executive vice-president with the New York City-based private equity firm, KKR. "Everybody has their own path to travel, their own journey, and for me, over the past few months, I've told my family, friends, former colleagues, and current colleagues, and they've been wonderful and supportive. The process has been something that's made me a happier and better person. It's something I wish I had done years ago."

Privately, in off-the-record conversations with this reporter over the years, Mehlman voiced support for civil unions and told of how, in private discussions with senior Republican officials, he beat back efforts to attack same-sex marriage. He insisted, too, that President Bush "was no homophobe." He often wondered why gay voters never formed common cause with Republican opponents of Islamic jihad, which he called "the greatest anti-gay force in the world right now."

Mehlman's leadership positions in the GOP came at a time when the party was stepping up its anti-gay activities — such as the distribution in West Virginia in 2006 of literature linking homosexuality to atheism, or the less-than-subtle, coded language in the party's platform ("Attempts to redefine marriage in a single state or city could have serious consequences throughout the country…"). Mehlman said at the time that he could not, as an individual Republican, go against the party consensus. He was aware that Karl Rove, President Bush's chief strategic adviser, had been working with Republicans to make sure that anti-gay initiatives and referenda would appear on November ballots in 2004 and 2006 to help Republicans.

Mehlman acknowledges that if he had publicly declared his sexuality sooner, he might have played a role in keeping the party from pushing an anti-gay agenda.

"It's a legitimate question and one I understand," Mehlman said. "I can't change the fact that I wasn't in this place personally when I was in politics, and I genuinely regret that. It was very hard, personally." He asks of those who doubt his sincerity: "If they can't offer support, at least offer understanding."
NYT ("Former G.O.P. Leader Says He Is Gay"):
There had been speculation about his sexuality, but Mr. Mehlman had in the past denied that he was gay.

For the last few months, Mr. Mehlman has been quietly working as a strategist and fund-raiser for the American Foundation for Equal Rights, which supports a legal challenge to Proposition 8, the California ballot measure that banned same-sex marriage.

Mr. Mehlman was in Mr. Bush's inner circle in both presidential campaigns and ran his campaign in 2004, when the party courted Christian conservatives who oppose same-sex marriage. But Mr. Mehlman, in his work as chairman of the Republican National Committee and as head of Mr. Bush's campaign, tended to personally avoid social issues.

He was a leading figure in the Bush White House in pushing for the party to try to appeal to black and Hispanic voters.

"I and others worked very hard to expand the party to communities that had previously not been as amenable to the Republican message," Mr. Mehlman said. "Obviously, I look back and wish I was in the place I am today and been able to do that with the gay community."

Mr. Mehlman's announcement makes him apparently the most prominent Republican official to come out.
Considering that Ken Mehlman's name hasn't crossed my mind in quite some time, I find it hard to get too terribly excited about his turn-ons.  But the revelation is just one more bit of evidence that:  1) there are a lot of very confused gays out there and 2) some of them are Republican.
Granting that being heterosexual is less complicated, given  its wide cultural acceptance, I continue to be baffled by middle aged men "realizing" that they're gay.   Either women turn you on or they don't.  Most of us figure that out by junior high.
UPDATE: As the day wears on, it's becoming much murkier whether Mehlman is just now realizing he's gay or just now willing to admit it publicly. See, for example, Michael Calderone's "How Ken Mehlman's 'open secret' stayed hidden."
Ken Mehlman says he only recently concluded that he's gay. The media seems to have reached that conclusion years ago.

The Washington Post's Howard Kurtz is one of several journalists to quickly follow up on Mehlman's announcement Wednesday by saying it's been an "open secret" in Washington for years. "This is no longer really a media climate that tolerates open secrets," wrote Politico's Ben Smith shortly after the news broke.

But just because everyone "knows" something doesn't mean they actually know it.

Jake Tapper, who covers the White House for ABC News, told The Upshot that "there's a significant difference between an open secret and a widely held suspicion."

The suspicion, rather than direct knowledge that Mehlman is gay, has been alive in elite media and political circles for more than a half decade.In 2005, Tapper penned a GQ profile of Mike Rogers, a gay activist willing to out political figures who support policies infringing upon gay rights. Rogers has long targeted Mehlman, the former head of the Republican National Committee who also ran President Bush's re-election campaign. (More on Mehlman's record of opposing gay rights here).

Back then, Mehlman wouldn't deny being gay when Rogers called him, according to the GQ article. But Steve Schmidt, a friend and former Bush official, insisted to Tapper that Mehlman wasn't gay. Later that year, "Meet the Press" moderator Tim Russert — a consummate insider, who likely heard similar rumors — pressed Mehlman on gay rights, and asked if he believed "homosexuality is a choice." Mehlman said he didn't know.

It wasn't until May 2006 that Mehlman first answered the question, telling the Daily News that he wasn't gay. Mehlman also joked that stories suggesting the opposite "did a number on my dating life for six months."

Still, not everyone was convinced. Comedian Bill Maher famously outed Mehlman on CNN's "Larry King Live" six months later.