Kentucky Clerk Sued For Refusing To Issue Licenses For Same-Sex Marriages
A County Clerk in Kentucky is being sued because she thinks she can refuse to do her job and still keep that job.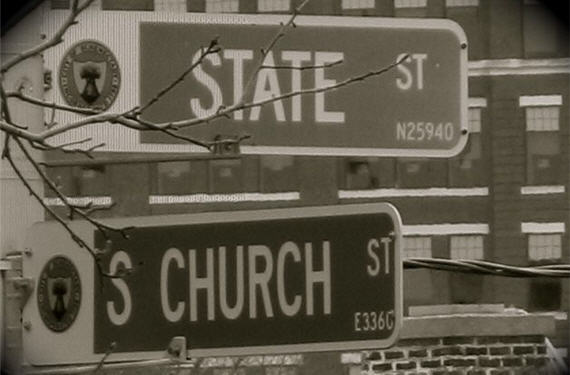 A County Clerk in Kentucky is being sued over her refusal to issue marriage licenses in the wake of the Supreme Court's decision in Obergefell v. Hodges:
The American Civil Liberties Union of Kentucky filed a lawsuit Thursday on behalf of four couples who were denied marriage licenses by the Rowan County clerk in the wake of the U.S. Supreme Court's historic decision legalizing same-sex marriages.

Democrat Kim Davis is among a handful of clerks who have refused to grant licenses to any couples in order to avoid handing them out to gays and lesbians. The suit alleges four couples in Rowan — two same-sex and two straight — who have sought marriage licenses are having their 14th Amendment rights violated as a result.

"We certainly respect the religious beliefs and whatever conscientious choices these clerks make, but it can't infringe on their job duties and it can't infringe on the constitutional rights of the citizens that they're there to serve," said attorney Dan Canon, one of the lawyers who is representing the four couples.

Davis could not be reached for comment, but in previous interviews with The Courier-Journal she said her "deep religious convictions" forbid her from giving out licenses to same-sex couples and that she decided not to issue them to any couples in the county. She also has suggested those seeking a marriage license obtain one in a neighboring county.

The couples named in the suit filed by the ACLU are April Miller and Karen Roberts; Shantel Burke and Stephen Napier; Jody Fernandez and Kevin Holloway; and L. Aaron Skaggs and Barry W. Spartman.

"We have been citizens of Rowan County since the beginning of our relationship and love being members of this community," Skaggs said in a statement. "So it only makes sense that we would want and should be granted our right to be recognized as a loving couple having freedom to marry here at home."

Gov. Steve Beshear, a Democrat, had defended the state's ban on same-sex marriage, but after the High Court's ruling on June 26, he issued an executive order telling all state agencies and clerks to comply with it.

Casey County Clerk Casey Davis, a Republican, said late Wednesday evening on MSNBC that the governor should provide "some sort of relief" for clerks who have moral objections to the Supreme Court's ruling. He also likened Beshear's order to putting county clerks in "prison."

"I did not take an oath that said I would lay my personal feelings down to do this job nor will I ever do that," Casey Davis said on air. "As a matter of fact I said I would do this job to the best of my ability, so help me God, and the best of my ability does not go beyond what my conscience will allow me to do."
We've seen this before, of course. Even before the Supreme Court handed down its decision, North Carolina's legislature passed, over the Governor's veto, a law that purports to allow court clerks in the Tarheel State to exempt themselves from performing the clerical duties of their job for same-sex couples if they have a religious objection to same-sex marriage. That law is constitutionally suspect, to put it nicely, but it will take someone actually challenging the actions of a clerk purporting to act pursuant to it to get that matter before a Court. Last week, the Attorney General of Texas, backed up by Senator Ted Cruz, told County Clerks in the Lone Star State that they could effectively ignore the Supreme Court's ruling in Obergefell if they had religious objections to same-sex marriage. Attorney General Paxton's advice, of course, has no legal merit whatsoever, and any Clerk in Texas who actually follows it is probably setting themselves up for the same kind of lawsuit we see in this case.
In Kentucky, though, both the Governor and the Attorney General,, who had previously defended the state's ban on same-sex marriage all the way to the Supreme Court itself, said in the immediate aftermath of the ruling last month that state and county officials in Kentucky were obligated to comply with it, and that failure to do so would likely subject them to lawsuits such as the one filed in this case. In other words, Davis was warned about this and decided to do what she did anyway. Had she decided that her religious conviction were as strong as she claims them to be and quit her job rather than comply with the law, that would be one thing. She'd reveal herself to be kind dumb in my opinion, but at least she would have been honest. Instead, she is arguing that she should be permitted to keep her job but not perform all the of duties required of her. That's not "religious liberty," it's a demand for a special entitlement and it ought to be rejected.
As for the lawsuit itself, this would seem to me to about as close to a slam dunk as one can get in the legal world. The Supreme Court's ruling is exceedingly clear, same-sex couples cannot be denied marriage licenses. The argument that the "religious liberty" of a county clerk or other government employee is being violated if they are required to do the job they were hired for, which now includes performing clerical related to marriage for same-sex couples, is utterly absurd. These marriage are not religious in any sense of the word. In most cases, the granting of the license isn't even the final step of the marriage in any case since many people get their license in order to have a ceremony performed by a minister or some other authorized party. All the clerk is doing is making sure that the forms are filled out correctly, that any required documents have been provided, and that the license fee is paid. This is the clerical act of a government functionary, not a religious act by any rational stretch of the imagination. By refusing to grant licenses in this case, Davis is violating the civil liberties of the Plaintiffs for no valid reason. Any competent attorney is going to explain to Davis that she is going to lose if she fights this case, and that she could end being personally responsible for fines and legal fees if the county doesn't choose to defend her. I suppose she could continue fighting this and eventually find a new career as a faux martyr, but it seems to me like that's a fairly expensive way to make oneself a media star among the far right.
Here's the lawsuit: