Kentucky Secretary Of State To Challenge Mitch McConnell In 2014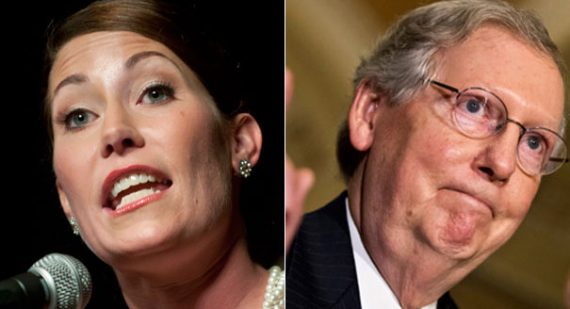 After something of an odd search that focused for a time on actress Ashley Judd, it appears that Democrats finally have their challenger to Senate Minority Leader Mitch McConnell in next year's midterms:
Kentucky Secretary of State Alison Lundergan Grimes announced Monday that she's challenging Senate Minority Leader Mitch McConnell, giving Democrats their top recruit in the race.

"I'm here today to tell you that I have met with my supporters, we have had a great conversation and determined and decided that we can next make the best move, the best difference in the Commonwealth of Kentucky by running for the U.S. Senate," Grimes said at a news conference Monday afternoon.

Grimes's decision to run is a boon for Democrats in their chances of defeating McConnell. Even though she's a political novice, she's generally seen as the most formidable of the remaining Democratic candidates still considering a run. Her father, Jerry Lundergan, is a well-connected former state party chairman and maintains close ties to the Clintons, and Grimes undoubtedly will tap in to that family's network during the campaign.

The pol has been considering the race since actress Ashley Judd announced in March that she wouldn't challenge McConnell. While Grimes has been mum for weeks about her intentions, she had been the subject of a heavy lobbying campaign in Kentucky and Washington, where Democrats — including Senate Majority Leader Harry Reid — had privately urged her to launch a bid.

Grimes addressed that delay during the news conference, saying she was doing her "due diligence" on the race before she made a decision.

"Make no mistake, members of the media, this due diligence was not reluctance, it was not hesitancy," she said, "but rather a deliberate gathering of all the necessary facts to make a decision that's not to be taken lightly."

McConnell released a statement on Grimes's entrance to the race less than 10 minutes after she finished her news conference, tying her to President Barack Obama and "Washington liberals."

"Accepting the invitation from countless Washington liberals to become President Obama's Kentucky candidate was a courageous decision by Alison Lundergan Grimes, and I look forward to a respectful exchange of ideas," he said. "The next sixteen months will provide a great opportunity for Kentuckians to contrast a liberal agenda that promotes a war on coal families and government rationed health care with someone who works everyday to protect Kentuckians from those bad ideas."
Chris Cilliizza is already calling this the "nastiest Senate race in the country," and given McConnell's position as Minority Leader and prominent opponent of the President's agenda, you can be sure that national Democrats will be paying a lot of attention to this race over the next 16 months. At the same time, though, McConnell has amassed a nearly $9 million war chest, will likely raise even more now that he has an opponent, and is running in a state that has had a long recent history of voting Republican statewide even while sometimes electing Democrats to statewide offices in the state government.
Political analyst Harry Enten, for example, thinks that Grimes will have her work cut out for her:
Before Grimes announced, I did the historical math on how candidates in a similar position to McConnell have done. Since 1982, when the new wave of polarization took hold, there have been eight midterm elections. These make for some daunting numbers for Grimes, on three counts:

1). McConnell is running when the other party controls the White House. The opposition party successfully defended 18 of 19 seats in 1982; 11 of 12 in 1986; 17 of 17 in 1990; 13 of 13 in 1994; 13 of 16 in 1998; 11 of 14 in 2002; 16 for 16 in 2006; and 18 for 18 in 2010. That's just eight out of 125 races, or 6%, when a seat has flipped to the White House party in a midterm. Most of those were when the president had an approval rating well into the 60s. Obama's approval rating right now is in the mid 40s.

2). McConnell is running in a state where his party did better in the presidential election than it did nationwide: 74 out of 77 candidates won in this same scenario in a midterm.

3). McConnell is running with everything said above and is an incumbent: 62 out of 63 candidates have won, given this situation, over the past 30 years. The only one who did not was Lauch Faircloth, who was a one-term incumbent. He was much further to the right than McConnell, who fits ideologically with his state fairly well.
Nate Silver also sees a difficult road ahead for Grimes:
In many ways, Ms. Grimes faces a challenge similar to that faced earlier this year by Elizabeth Colbert Busch, the Democrat who challenged Representative Mark Sanford in a special election in South Carolina's First Congressional District: to defeat a vulnerable Republican opponent — Mr. Sanford because of his past scandals and Mr. McConnell because of his mediocre popularity — on solidly Republican terrain.

Ms. Colbert Busch lost that race, and Ms. Grimes, too, will have a hard time overcoming Kentucky's Republican gravity. The McConnell campaign will probably attempt to tie her to Mr. Obama, who remains highly unpopular in the state.

That strategy was already on display in a statement Mr. McConnell released moments after Ms. Grimes announced her candidacy. It read in part, "Accepting the invitation from countless Washington liberals to become President Obama's Kentucky candidate was a courageous decision by Alison Lundergan Grimes, and I look forward to a respectful exchange of ideas."
And now, the knives come out. It's far too early to predict how this race will turn out, but right now one has to give the advantage to Senator McConnell.