Kenyan Runner Eliud Kipchoge Breaks The Two-Hour Marathon
A new record, but unfortunately it won't be recognized.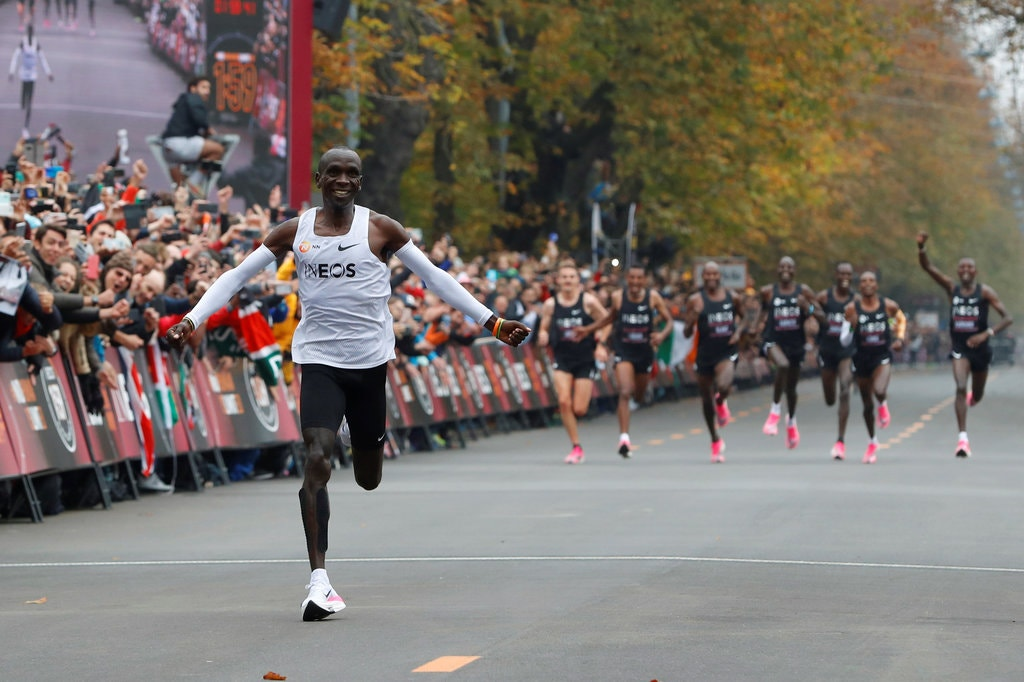 Kenyan distance runner Eliud Kipchoge became the first person to break the two-hour marathon, but his record isn't going to count:
VIENNA — On a misty Saturday morning in Vienna, on a course specially chosen for speed, in an athletic spectacle of historic proportions, Eliud Kipchoge of Kenya ran 26.2 miles in a once-inconceivable time of 1 hour 59 minutes 40 seconds.

In becoming the first person to cover the marathon distance in less than two hours, Kipchoge, 34, achieved a sports milestone granted almost mythical status in the running world, breaking through a temporal barrier that many would have deemed untouchable only a few years ago.

Kipchoge, an eight-time major marathon winner and three-time Olympic medalist, pounded his chest twice as he crossed the finish line in Vienna's leafy Prater Park, where the majority of the run had unfolded on a long straightaway of recently paved road, with roundabouts on either end.

Cheered on by a thick crowd of spectators, he was lifted into the air by members of his team, including the 41 professional runners who had acted as pacesetters during the run.

For Kipchoge, the feat merely burnished his credentials as the world's greatest marathoner.

"Together, when we run, we can make this world a beautiful world," Kipchoge said after finishing.

For all its magnitude, the accomplishment will be regarded largely as a symbolic one. The eye-popping time, which was 10 seconds quicker than the 1:59:50 time Kipchoge and his team had set out to achieve, will not be officially recognized as a world record because it was not run under open marathon conditions and because it featured a dense rotation of professional pacesetters.

What the event lacked in officially sanctioned gravitas, though, it seemed determined to make up for with theater and grandiose proclamations.
It's too bad that Kipchoge's achievement won't be officially recognized, but he has proven that a marathon can be run in under two hours. Presumably, he should be able to do it in a sanctioned event as well.