Kevin Drum's 20th Blogiversary
One of the OG blog pundits has reached a big milestone.

Kevin Drum, the erstwhile Calpundit, celebrated his 20th anniversary of blogging yesterday. His comment is sufficiently short that I'll share it in full:
That's right, I've been blogging for 20 years: first on my own; then for the Washington Monthly; then for Mother Jones; and now back on my own again. This is longer than I spent on my allegedly "real" career in the high tech industry from college graduation through 2001.

But I haven't yet achieved my primary blogging goal: persuading someone to change their mind. Someday it'll happen!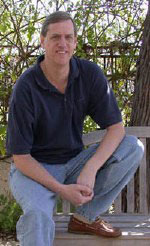 While likely true in the grand scheme of things—it's just really hard to get people to change their minds on hard-held opinions—it's almost certainly false in actuality. Indeed, while I can't point to a particular instance, I'm sure he changed my mind on more than one occasion.
We've only met in person once, at a New Year's Eve party hosted by one of the Juicebox Mafia (probably Matt Yglesias but possibly Ezra Klein or Julian Sanchez) sometime in the mid- to late-aughts. But I've read his stuff and interacted with him virtually for most of the 20 years he's been blogging. The photo at right is how I remember him from the very early days.
Kevin was one of the handful of "reasonable liberals" that conservative bloggers were reading back in the days when blogging was more communal. He never seemed to take political disagreements personally, simply presenting his case using facts and, before too long, various charts, spreadsheets, and other visual aids that would become a trademark. That's a style that's inviting to those who disagree and thus most likely to make them open to persuasion.
For a whole host of reasons, I don't read and cross-talk with other bloggers nearly as much these days. Kevin's is one of the handful of sites that I still have bookmarked an check in on from time to time. He's been fighting a thus-far-incurable form of cancer since 2014 but seems to be persevering through it. I very much hope he has another two decades to share his thoughts on the world—and photos of his cats—with us.