Kilgore Wants out of the US
Texas has an unusually named (and, well, unusual) candidate for the GOP nomination for governor.
I was looking at some news about the upcoming Texas primaries, when I spotted something interesting on the Republican primary ballot: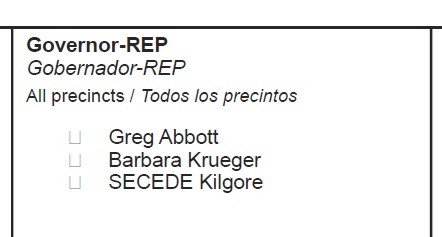 As an elections nerd who finds ballots far more interesting that the vast majority of people, I am amused and intrigued when candidates try to draw attention to themselves on the ballot itself, which can only be done in the US by changing one's name (in some other countries it can also be done with logos and party names).
In this case, Mr. Kilgore did draw some attention to himself as his call to SECEDE (nice that he shouts it) led me to this story from the Fort Worth Star-Telegram: A Texas candidate calls for a 'Texit' secession, biblical law, executions — but no wall .
Kilgore, 52, is well-known to Texas voters. In 2012, he changed his legal middle name to SECEDE.

He still believes in executing adulterers and LGBT Texans and anyone else out of step with his decidedly Old Testament view of society.

But that's not his primary point in this campaign. SECEDE Kilgore version 3.0 calls for a new, independent Republic of Texas that will punish abortion as felony murder, close public schools and do away with Social Security.
Well, then.
In other words, as Patch.com puts it, Abbott Faces No Serious Primary Challenge For Texas Governorship.