Killing Terrorist Leaders Prolonging War on Terror?
Targeting terrorist leadership may be counterproductive.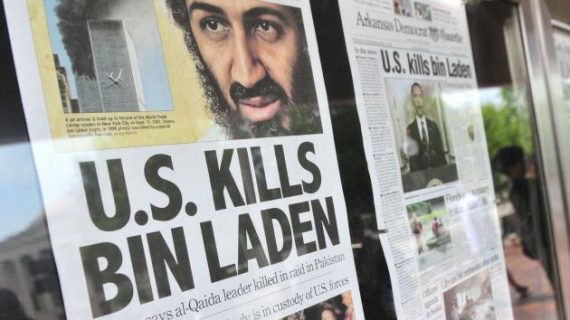 John Arquilla argues that our strategy of targeting terrorist leadership doesn't work—and may even be counterproductive—in a networked environment.
Remote-controlled weapons, the hot new tools of war, have had the perverse effect of shoring up an old pattern of strategic thought about going after enemy leaders. Wildly popular with the Air Force, there are now more pilots in cubicles than there are in cockpits. Their primary purpose: act swiftly and on the basis of good, timely intelligence to strike with great precision at terrorist leaders. Thus the longstanding strategic concept of counter-leadership targeting — "decapitation" was the less euphemistic term of an earlier era — has been revivified. The problem, though, is that when the principal foe is a network, the importance of any individual leader is low because these organizations are capable of a high degree of self-direction. Drones have played key roles in the killing of about 20 of al Qaeda's "No. 3s" over the past decade, but in a network everybody is No. 3.

This focus on taking out the leaders of essentially leaderless networks (that is, interconnected cells that are highly self-organizing and at least semi-autonomous) has led to serious difficulties in the field. For example, many intelligence operatives and military servicemembers who plan and conduct drone operations have found that, all too often, the occasional strike from the sky inflicts damage that the networks can work around and quickly repair. In the meantime, the connections that the killed "leader" had are no longer discernible. Which means, in practical terms, that the slow attrition of drone campaigns, though it may hurt the enemy, does even more harm to the counter-terrorists' store of knowledge about these networks. The more damage done in this slow-paced manner — there have been just over 400 drone strikes over the past decade, an average of 3-4 per month — the less is known. This phenomenon is a curious aspect of "netwar" — the term that my longtime research partner David Ronfeldt and I use to describe how networks fight, and how to fight networks.

[…]

Shortly before leaving office, Leon Panetta reaffirmed the traditional view when he said that loss of leaders had put al Qaeda "on the verge of strategic defeat." This is outmoded thinking. One need only look to the many fronts on which al Qaeda is operating today — even in Iraq, where we are gone, the terrorists are back, and the country is burning — to see that the global war on terror has morphed into terror's war on the world. If one side is closer to "strategic defeat" after a decade of this first great war between nations and networks, it is the nations. Networks are simply not dependent on a few key leaders — as even the death of Osama bin Laden has shown.
So, what's his alternative?
For David Ronfeldt and me, this means operating in concentrated bursts of action, striking networks not at a single "decisive point" — they don't have such — but rather at several points at once — what we call "swarming." Far better to go after al Qaeda by doing a lot more surveillance, for longer periods, prior to attacking. Then, when the network node or cell has been sufficiently illuminated, it can be eliminated in a series of simultaneous strikes that give the enemy little or no chance to hide or flee.
This makes sound strategic sense. Interestingly, given the longstanding "war" vs. "law enforcement" debate on counterterrorism, it's pretty much the approach the FBI takes to organized crime.
Politically, however, this is easier said than done. We've been at war a long time and being able to announce "progress" in the form of killed or captured senior leaders is excellent for maintaining troop morale and public support. Ironically, it may contribute to needing to sustain those much longer than would otherwise have been necessary.