Kim Jong Un Ordering Executions While Drunk?
Kim Jong Un seems to share his father's taste for alcohol.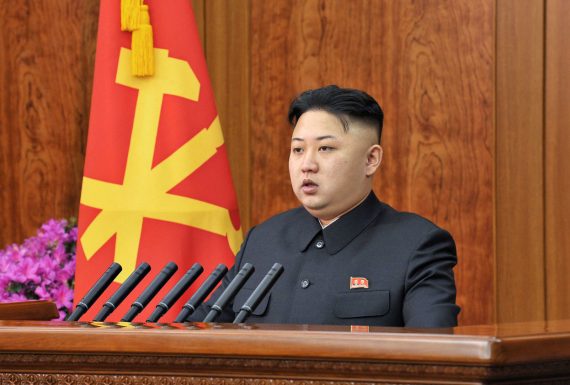 The execution of Jang Soong-thaek, Uncle of North Korea's young leader Kim Jong-Un, longtime member of the Kim family inner circle, and quite arguably the second most powerful person in the DPRK next to Kim himself, has led many to wonder what exactly is going on inside that country. Was Jang involved in some kind of attempted coup, or otherwise threatening Kim's hold on power as the country's official news agency's press release seemed to suggest? Was it an effort by Kim to send some kind of message to the Chinese by getting rid of the person who was essentially their chief contact in the North Korean government as some "experts" have suggested? Was it a sign that Jang had outlived his usefulness to Kim as a bridge to the military and party leadership and thus had to be removed to make sure he didn't become a rival for power? There seems to be enough evidence available to outside observers to support any of these theories, but now there's a new one, namely that Kim ordered the executions when he was completely hammered, at least when he ordered the death of two of Jang's closest aides:
The North Korean leader Kim Jong-un was "very drunk" when he ordered the recent execution of two aides close to his uncle Jang Song-thaek, reports say.

According to the Japanese newspaperYomiuri Shimbun, the pair questioned an order from the dictator to hand over control of a business to the military. Sources told the newspaper Kim was "upset" when they said they needed to check with "Director Jang" first.

The leader's uncle, who was removed from power and killed as part of a recent high-profile purge, was head of the ruling Workers' Party administrative department.

His close aides, first deputy director Ri Ryong-ha and another deputy Jang Su-gil, were among the first prominent figures to be executed in late November.

According the Yomiuri's source, Kim was "very drunk" when he ordered they be killed.

The paper said that it was intelligence from the first two deaths that made the South Korean government aware Jang's own execution was "inevitable". "Those who were close [to the two aides] were surprised by their execution, and made phone calls to their friends living abroad, and the South Korean government [spy agency] wiretapped their phone conversations,2 the newspaper said.

In all, at least eight people from Jang's circle were executed in the purge – alongside the director himself.
While he was alive, it was fairly common knowledge that Kim's father Kim Jong Il had a taste for all kinds of expensive Western goods, including top shelf liquor and champagne, so it's not too surprising to learn that this may have been passed down from father to son. All the same, the idea of a guy with nuclear weapons who has unlimited control of a nation with at least a handful of nuclear weapons is, to say the very least, quite concerning.