Klein Over Vilsack in a Knockout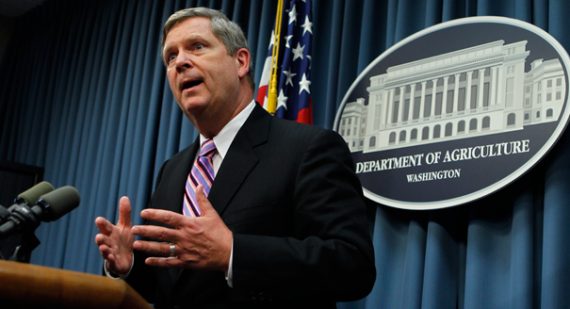 Friday, Ezra Klein lauded Ed Glaeser's new book, The Triumph of the City, and concludes, "The overarching theme of Glaeser's book is that cities make us smarter, more productive and more innovative. To put it plainly, they make us richer. And the evidence in favor of this point is very, very strong."
Tom Vilsack, the United States Secretary of Agriculture, apparently took personal umbrage to this statement of the obvious, taking it as "a slam on rural America." So, he agreed to a telephone conversation in which Klein eviscerated his feeble arguments.
A taste:
EK: You keep saying that rural Americans are good and decent people, that they work hard and participate in their communities. But no one is questioning that. The issue is that people who live in cities are also good people. People who live in exurbs work hard and mow their lawns. So what does the character of rural America have to do with subsidies for rural America?

TV: It is an argument. There is a value system that's important to support. If there's not economic opportunity, we can't utilize the resources of rural America. I think it's a complicated discussion and it does start with the fact that these are good, hardworking people who feel underappreciated. When you spend 6 or 7 percent of your paycheck for groceries and people in other countries spend 20 percent, that's partly because of these farmers.

EK: My understanding of why I pay 6 or 7 percent of my paycheck for food and people in other countries pay more is that I'm richer than people in other countries, my paycheck is bigger. Further, my understanding is that a lot of these subsidies don't make my food cheaper so much as they increase the amount of it that comes from America. If we didn't have a tariff on Brazilian sugar cane, for instance, my food would be less expensive. If we didn't subsidize our corn, we'd import it from somewhere else.
Essentially, Vilsack justifies subsiding farmers on the basis that rural America is the storehouse of our values, for which he has no evidence. And he's befuddled when confronted with someone who doesn't take his homilies as obvious facts.
Nobody argues that America's farmers aren't a vital part of our economy or denies that rural areas provide a disproportionate number of our soldiers. But the notion that country folks are somehow better people or even better Americans has no basis in reality.