Kyle Rittenhouse Judge Allows Those He Killed to be Called 'Rioters' Not 'Victims'
Pretrial rulings strengthen his self-defense claims.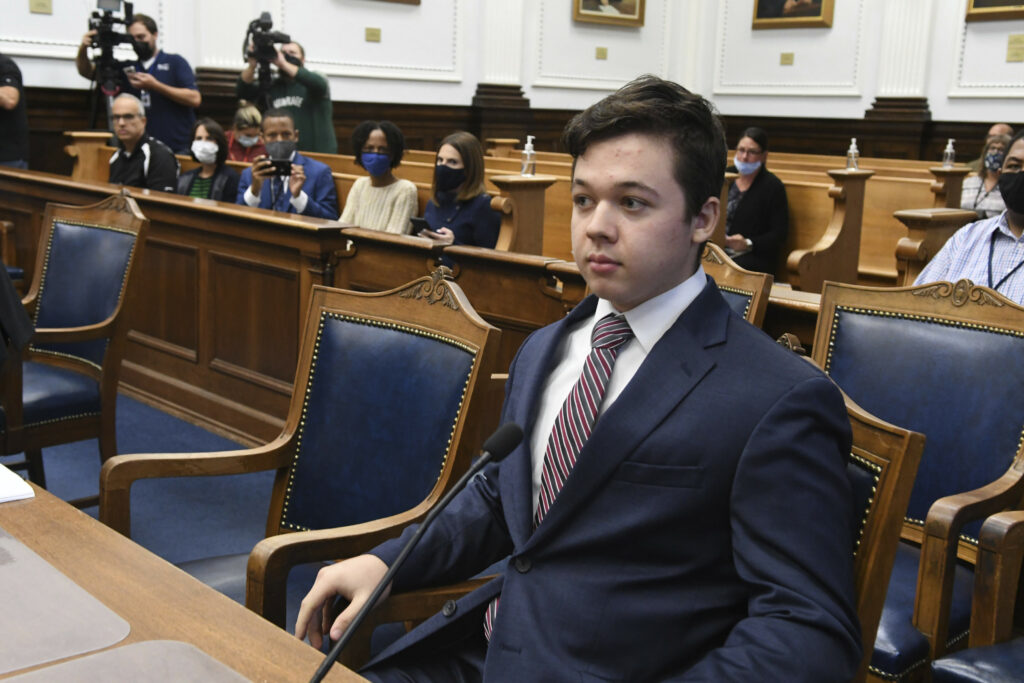 Chicago Tribune ("Men shot by Rittenhouse can be described as 'rioters' and 'looters' but not 'victims,' judge rules ahead of trial"):
Kyle Rittenhouse's lawyers can refer to the men he shot as "rioters" and "looters," but prosecutors still may not call them "victims" at any time during the teen's upcoming murder trial, a judge ruled Monday.

Circuit Judge Bruce Schroeder cautioned the defense team against using pejorative terms during opening statements, but he said they could use them in their closing arguments if the evidence suggested the men engaged in criminal acts.

"He can demonize them if he wants, if he thinks it will win points with the jury," Schroeder said.

Rittenhouse has pleaded not guilty to the charges and says he acted in self-defense when he fatally shot Joseph Rosenbaum and Anthony Huber and wounded Gaige Grosskreutz in August 2020.

Then 17 and living in Antioch, Rittenhouse fired the shots while patrolling downtown Kenosha with an AR-15-style rifle amid the turmoil surrounding the shooting of Jacob Blake, a Black man, by a white police officer. Despite not being old enough to openly carry a gun, Rittenhouse volunteered as an armed security guard after businesses had been burned and vandalized during demonstrations held the previous night.

Schroeder earlier had ruled the three men cannot be referred to as "victims" during the trial because it would be prejudicial to Rittenhouse. Such rulings are not uncommon in self-defense cases where there is a dispute over who bears responsibility.

In allowing the defense to describe the people Rittenhouse shot in pejorative terms, the judge stressed that he had not changed his mind about calling them victims.

"The word victim is a loaded, loaded word," Schroeder said.

The ruling — among the last issued by Schroeder before jury selection begins Nov. 1 — clearly frustrated prosecutors, who suggested the judge was creating a double standard by allowing Rosenbaum and Huber to be disparaged when they could not defend themselves.

"The terms that I'm identifying here such as rioter, looter and arsonist are as loaded, if not more loaded, than the term victim," Assistant District Attorney Thomas Binger said.
This seems at first blush to be a stacking of the deck, allowing the defense to use inflammatory, prejudicial language while the prosecution has to avoid perfectly natural descriptions of people shot by a provocateur illegally brandishing an assault rifle. Then again, given that the state seeks to take away Rittenhouse's liberty, it's not unreasonable that they have to play by more restrictive rules.
Further, given that there is no dispute over whether Rittenhouse killed the men but rather whether he was justified by the self-defense doctrine, there's some logic to allowing his attorneys greater latitude.

The defense intends to argue that Rosenbaum, in particular, posed a danger that night as he threatened to kill people and engaged in arson. None of the acts, however, occurred in the moments immediately preceding the shooting.

"The behavior of many people there was lawless," defense attorney Mark Richards said. "Mr. Rosenbaum was at the top of that list."

Schroeder indicated he would allow evidence of bad behavior that night by the men Rittenhouse shot because it could speak to how dangerous they would have seemed to the teen. Prosecutors failed to convince the judge that the defense wanted to sully Rosenbaum's reputation so the jury could more easily justify the shooting.

"This is an attempt to tell the jury that Mr. Rosenbaum was a bad guy who deserved to die," Binger said. "That's really what's going on here, your honor."
Oftentimes, "rioter" and "looter" have racial connotations but that's not the case here. While Rosenbaum and Huber were participating in Black Lives Matter protests, they were White.
Nor was this the defense's only win in the pre-trial phase:
Schroeder also rejected the prosecution's request to block any evidence that local law enforcement provided water to vigilantes the night of the shooting and thanked them for their presence. In video taken before Rittenhouse fired his gun, officers in an armored vehicle tossed bottles of water to him and other armed civilians who were clearly violating the city's 8 p.m. curfew.

One officer can be heard on the recording expressing his gratitude to the group.

"We appreciate you guys," the officer said. "We really do."

"I'm concerned this is going to be turned into a trial over what law enforcement should or shouldn't have done that night," Binger said. "And I don't think that's what this court or this trial should be deciding."

In opting to allow the evidence, Schroeder said he wouldn't permit the defense to argue the encouraging words reflected the police department's overall opinion. It could, however, help explain Rittenhouse's mindset that night.

"I would not let it be used to prove that the entire police presence on that evening appreciated Mr. Rittenhouse's behavior or his presence," he said. "Relevance is another matter."
This strikes me as reasonable. It's legitimately part of the narrative that unfolded that night and speaks to Rittenhouse's state of mind. And it's also noteworthy that Gaige Grosskreutz, the man wounded by Rittenhouse but survived, has filed a civil suit against the Kenosha police arguing that they effectively "deputized" Rittenhouse and other armed vigilantes.
While I am not a lawyer, I fully expect Rittenhouse to win here. First, the charges are simply absurdly high: first-degree intentional homicide, first-degree reckless homicide, and attempted first-degree intentional reckless homicide are simply not going to stick when there is any question as to whether he feared for his life.
Under Wisconsin law,
939.48  Self-defense and defense of others.
(1)  A person is privileged to threaten or intentionally use force against another for the purpose of preventing or terminating what the person reasonably believes to be an unlawful interference with his or her person by such other person. The actor may intentionally use only such force or threat thereof as the actor reasonably believes is necessary to prevent or terminate the interference. The actor may not intentionally use force which is intended or likely to cause death or great bodily harm unless the actor reasonably believes that such force is necessary to prevent imminent death or great bodily harm to himself or herself.
But there's a huge caveat:
(2) Provocation affects the privilege of self-defense as follows:
(a) A person who engages in unlawful conduct of a type likely to provoke others to attack him or her and thereby does provoke an attack is not entitled to claim the privilege of self-defense against such attack, except when the attack which ensues is of a type causing the person engaging in the unlawful conduct to reasonably believe that he or she is in imminent danger of death or great bodily harm. In such a case, the person engaging in the unlawful conduct is privileged to act in self-defense, but the person is not privileged to resort to the use of force intended or likely to cause death to the person's assailant unless the person reasonably believes he or she has exhausted every other reasonable means to escape from or otherwise avoid death or great bodily harm at the hands of his or her assailant.
(b) The privilege lost by provocation may be regained if the actor in good faith withdraws from the fight and gives adequate notice thereof to his or her assailant.
(c) A person who provokes an attack, whether by lawful or unlawful conduct, with intent to use such an attack as an excuse to cause death or great bodily harm to his or her assailant is not entitled to claim the privilege of self-defense.
Wandering around the scene of a protest brandishing an AR-15 is surely provocative. And, since Rittenhouse was a minor at the time, it was illegal under both Wisconsin (where he committed the act) and Illinois (where he lived). And, since he crossed state lines to do it, it was likely a Federal crime as well.
But Rittenhouse almost certainly regained his privilege of self-defense given the sequence of events. Here's Tribune columnist Eric Zorn's summary:
According to prosecutors, video from the scene and witness accounts, the legally relevant portion of the story picked up a little before midnight: For unknown reasons, Joseph Rosenbaum, 36, of Kenosha, who had earlier been yelling angrily at the armed men who had come to the protests, was at a run, chasing Rittenhouse along Sheridan Road and into the parking lot of a used-car dealer.

When Rosenbaum, who was unarmed, finally cornered Rittenhouse, he grabbed for the teenager's gun. Multiple shots rang out, and Rosenbaum fell, mortally wounded.

Did Rittenhouse have a reasonable belief under the circumstances that if Rosenbaum got his gun he would suffer death or great bodily harm? Jurors in Wisconsin are instructed that "reasonable" means "what a person of ordinary intelligence and prudence would have believed … under the circumstances that existed at the time."

Tensions were high late into the protests against the police shooting of Jacob Blake two days earlier. Gunshots from other weapons were heard immediately before and after the shots that killed Rosenbaum. Whether you think Rittenhouse is a hero for helping guard against a repeat of the vandalism the night before, or if you think he's a reckless wannabe cop who had no business in Kenosha, you've got to concede that, at that moment, he was probably terrified.

Rittenhouse hustled away. Soon a group of people began chasing him up Sheridan Road, shouting "Beat him up!" "Get him! Get that dude!" and "Get his ass!" according to the prosecution's summary. One of the pursuers took a swing at Rittenhouse and knocked his ball cap off.

Were those running after him simply trying to effect a citizen's arrest in the belief that Rittenhouse had just committed a crime and might be a danger to others?

"Whether or not the people chasing him thought they had the right to chase him is irrelevant," said Richard Kling, a veteran Chicago defense attorney who teaches evidence and forensic science at Chicago-Kent College of Law.

Rittenhouse stumbled and fell as he ran. One of his pursuers took a flying kick at his head and missed as Rittenhouse fired two errant shots from the ground. A second pursuer, Anthony Huber, 26, of Silver Lake, Wisconsin, swung a skateboard at Rittenhouse, hitting him on the shoulder, and grabbed and tried to hang onto Rittenhouse's rifle. Rittenhouse shot Huber in the chest during that struggle, prosecutors said, killing him.

A third victim, Gaige Grosskreutz, 26, of West Allis, Wisconsin, who survived, first held up his hands in a gesture of surrender at a distance of a few feet. In one of his hands, he held a gun. But when he "moved toward" Rittenhouse, prosecutors said, Rittenhouse fired, striking him in the arm.

That final shooting "will be the most serious problem" for Rittenhouse at trial, Kling said. "The guy did have a gun in his hand. But he wasn't pointing it at or threatening Rittenhouse."

What about the context, though? The confrontational, high-adrenaline interactions that led up to the tragic deaths. The night air punctuated by gunshots. Danger all around.
Police should have arrested Rittenhouse long before it got to this. But, with an angry horde chasing him, yelling at him, and taking swings at him, he was almost certainly in fear for his safety. I just can't imagine a jury convicting him of homicide, let alone first-degree murder, under these circumstances.