Lance Armstrong Stripped of Titles, Banned For Life, For Doping
Lance Armstrong joins a long line of the greatest athletes of his generation whose glory was fueled by performance enhancing drugs.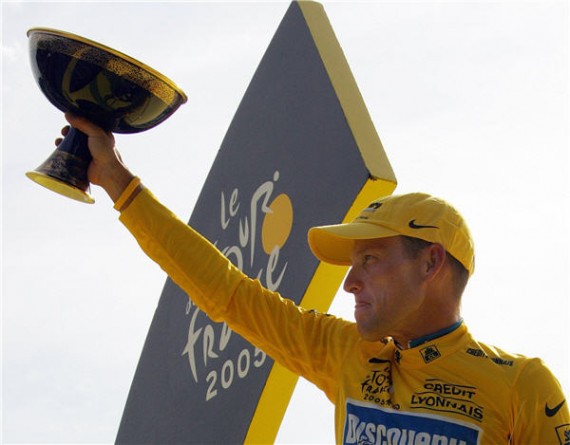 Lance Armstrong joins a long line of the greatest athletes of his generation whose glory was fueled by performance enhancing drugs.
USA Today ("USADA says it will ban Lance Armstrong, strip 7 Tour titles"):
Declaring "enough is enough," Lance Armstrong says he will not fight charges brought by the U.S. Anti-Doping Agency, a stunning decision that will cause him to be stripped of the seven Tour de France titles that turned him into an American hero.

USADA confirmed late Thursday it will strip him of all results since Aug. 1, 1998 and ban him from competition for life. Armstrong said his decision did not mean he would accept USADA's sanctions. His lawyers threatened a lawsuit if USADA proceeded, arguing the agency must first resolve a dispute with the International Cycling Union over whether the case should be pursued.

"It is a sad day for all of us who love sport and our athletic heroes," USADA CEO Travis Tygart said. "This is a heartbreaking example of how the win-at-all-costs culture of sport, if left unchecked, will overtake fair, safe and honest competition."

In walking away, the 40-year-old Armstrong cited a familiar defense: he has never tested positive for performance-enhancing drugs. He said his decision is not an admission of guilt, but a choice to devote more time to his family and his Livestrong foundation for cancer survivors. Armstrong overcame advanced cancer just a few years before his string of Tour de France victories.

"I know who won those seven Tours," Armstrong said in a statement. "The toughest event in the world where the strongest man wins. Nobody can ever change that. Especially Travis Tygart."

Armstrong said he will "commit myself to the work I began before ever winning a single Tour de France title: serving people and families affected by cancer, especially those in underserved communities."
USAT's Christine Brennan is convinced.
Lance Armstrong is Ben Johnson. Lance Armstrong is Marion Jones. By giving up rather than choosing to go to arbitration, as many others have to try to prove their innocence, Armstrong clearly understood that he would officially be stripped of his Tour de France titles.

[…]

Because those athletes cheated and were caught, in accordance with long-since agreed upon international anti-doping rules, those performances no longer exist. They have been wiped from the record books.

And so it will be with Armstrong's Tour titles, no matter how long he protests into the night.

Why didn't Armstrong continue to fight through the long-established channels? Why succumb in this manner, knowing that by giving up, his reputation will be immediately and likely irrevocably altered?
DMN's Tim Cowlishaw agrees:
Sounding a lot like Pete Rose when he accepted baseball's lifetime ban, Lance Armstrong said "enough is enough" Thursday and left those who have always defended his reputation wondering which way to turn.

Armstrong said he would not accept sanctions but chose not to fight the U.S. Anti-Doping Agency's charges against him. The USADA said it had "overwhelming evidence" in the form of eyewitness testimony and lab results that Armstrong was doping during his run of seven Tour de France titles.

Those titles will be stripped from his record, and he will be banned from the sport. Although, since Armstrong is 40, I'm not sure what that ban amounts to.

The difference between Rose, the all-time hits king, and Armstrong, the all-time champion cyclist who elevated his sport, is that one was just a degenerate gambler. Armstrong, as a cancer survivor, has raised millions for cancer research and said that work will continue to be his focus as he moves on.

But the fact that a man once so adamant about his innocence has chosen to walk away from this fight says it all. Far removed from the age of innocence, we live in an era of hollow heroes.
Armstrong's statement explains:
There comes a point in every man's life when he has to say, "Enough is enough." For me, that time is now. I have been dealing with claims that I cheated and had an unfair
advantage in winning my seven Tours since 1999. Over the past three years, I have been subjected to a two-year federal criminal investigation followed by Travis Tygart's unconstitutional witch hunt. The toll this has taken on my family, and my work for our foundation and on me leads me to where I am today – finished with this nonsense.

I had hoped that a federal court would stop USADA's charade. Although the court was sympathetic to my concerns and recognized the many improprieties and deficiencies in USADA's motives, its conduct, and its process, the court ultimately decided that it could not intervene.

If I thought for one moment that by participating in USADA's process, I could confront these allegations in a fair setting and – once and for all – put these charges to rest, I would jump at the chance. But I refuse to participate in a process that is so one-sided and unfair. Regardless of what Travis Tygart says, there is zero physical evidence to support his outlandish and heinous claims. The only physical evidence here is the hundreds of controls I have passed with flying colors. I made myself available around the clock and around the world. In-competition. Out of competition. Blood. Urine. Whatever they asked for I provided. What is the point of all this testing if, in the end, USADA will not stand by it?
At first blush, that's an awfully compelling argument. The long line of cheaters in Major League Baseball mostly did it in the days before the sport had any testing procedures in place; only the monumentally stupid have continued since. Cycling, like most international sports, has had a rigorous testing regime in place for years and years.
Alas, it's turned out that virtually all of the sport's great champions were doping, anyway. And Armstrong's insistence that USADA has it out for him personally makes no sense whatsoever. Cycling is at best a fringe spectator sport in this country, gaining visibility only when a superstar like Greg LeMond or Armstrong emerges—and even then, only if they're winning the Tour de France, the only bicycle race Americans have heard of. Surely, USADA would be better served by keeping Armstrong as a shining hero rather than just another in a long line of cheaters. Indeed, to the minimal extent that I ever cared about the sport, this is the final nail in that coffin.
Armstrong's story was the stuff sports legends are made of. Not only did he dominate his sport but he overcame cancer to do so. In doing so, he became the spokesman for and a great fundraiser for a noble cause. But the fact that came to  dominate a grueling sport, one infamous for doping, after recovering from cancer always fueled speculation that he must be cheating. His sport's association is now persuaded that he was.
And, yes, Brennan is right: Armstrong's throwing in the towel makes him look guilty.  Further, as Tygart noted after the court refused to grant Armstrong's injunction, holding that the dispute would be "best resolved through the well-established system of international arbitration, by those with expertise in the field, rather than by the unilateral edict of a single nation's courts," the next step isn't the same as in so many other sports, where those found guilty then appeal to the one who found them guilty:
The rules in place have protected the rights of athletes for over a decade in every case USADA has adjudicated and we look forward to a timely, public arbitration hearing in this case, should Mr. Armstrong choose, where the evidence can be presented, witness testimony will be given under oath and subject to cross examination, and an independent panel of arbitrators will determine the outcome of the case."
I'm sympathetic to the fact that Armstrong's had to fight and win this battle over and over; it's double jeopardy and more. But letting cheaters gets away with it essentially forces everyone else to cheat.
UPDATE: Alex Massie, who's actually a fan of the sport and has long argued that, not only was Armstrong almost certainly doping but that, even absent doping, he was nowhere near as great a bicycle champion as Tour-obsessed Americans believed, offers his take:
This is not, really, a matter of demolishing Armstrong's achievements. Rather it is a moment for placing them in some proper, human context. It always stretched credulity that Armstrong could be so much stronger than all his peers every year even as, one by one, they failed dope tests or were otherwise implicated in doping investigations.

Paradoxically, the fact that his opponents were caught "cheating" made it more important for Armstrong's devotional followers to insist upon his own cleanliness. It added to his aura. Here was a miracle in flesh.

And so the sceptics were just bitter europeans motivated by anti-American animus (a nonsense to those of us who so admired Greg LeMond's panache). Those team-mates who suggested Armstrong wasn't as pure as he claimed were jealous little men too. And, anyway, how credible could they be when they were so often revealed to have been doping themselves?

Armstrong never seemed to appreciate that his own credibility was undermined, not enhanced, by the fact that so many of his erstwhile team-mates began failing drug tests. If everyone else in the team was taking stuff didn't it stand to reason that the king might be too?

I see no need to strip Armstrong of his titles. He was, like all his predecessors, a product of his age. In the Tour de France,  (though, dishonourably, only in the Tour de France) Armstrong was better than all his rivals. That's enough. You can quarry a legacy from that rock.

But, my, how all these denials have become wearisome. Even as he retires from defending himself, Armstrong insists he is the innocent victim of persecution. Yet if, as is alleged, no fewer than ten former team-mates were on the point of testifying against him is it really credible that they must all be lying?

Almost all the greats have acknowledged their drug use or had it confirmed by failed tests. Coppi, Anquetil, Merckx, Kelly: the list is a long one. For years this was fine. We knew it happened but pretended not to know or to care too much. Drugs were just another survival tool.

But then the drugs started killing riders and, when they weren't dying in their sleep, transforming ordinary bicyclists into machine-like supermen. What had been a survival mechanism became, instead, a means of winning. The drugs became too dangerous and too good and it was no longer possible to pretend we did not know. We did. Once daylight was allowed into the peloton some of the magic was lost and the culture could not continue as if nothing had changed. It had.
Which, again, is why the witchhunt, though odious, is nonetheless necessary.