Lane Kiffin Fired – Who Will Hire Him Next?
The Miley Cyrus of college football will be back too soon.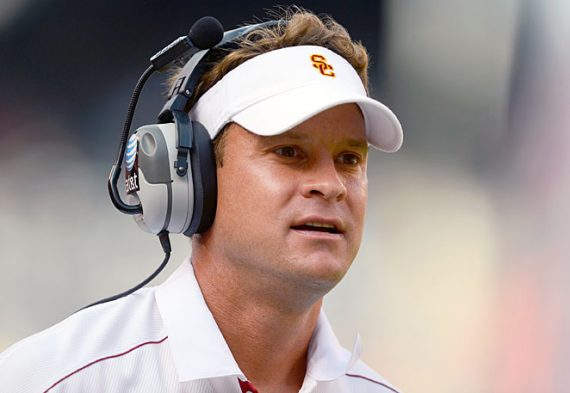 To the surprise of no one, the University of Southern California has fired head football coach Lane Kiffin after yet another embarrassing loss. The real question is why he keeps getting hired to begin with.  ESPN radio host Paul Finebaum has dubbed him the "Miley Cyrus of college football."
 "How did he land the Raiders job? At Tennessee? And particularly the one at SC? People think it's because of his father, Monte, the great defensive wizard. In some respects, Lane Kiffin is the Miley Cyrus of college football. He has very little talent, but we simply can't take our eyes off him."
Yet, are only 38 years of age—well before most coaches get their first crack at a head coaching gig—he's just been fired from his third. He was handed the keys to the NFL's Oakland Raiders in 2007, at only 31, after only two years as an offensive coordinator at the college level. That's simply unheard of.  After compiling a 4-12 record, he was fired by then-owner Al Davis in one of the most bizarre press conferences of all time.
Months later, he was hired as head coach of the University of Tennessee Volunteers, a storied program with a national title in recent memory. He coached them to a 7-6 record, embarrassing himself and the school constantly along the way with idiotic remarks and recruiting violations, before inexplicably being hired as the head coach of the Trojans, one of the top five all-time programs in the college game.
Now, even as an SEC fan, I don't get the animus that Tennessee fans have against Kiffin for leaving. No, the Vols aren't anyone's stepping stone program. But USC is indeed a more prestigious gig—I'd rank them in an elite with Alabama, Notre Dame, Michigan, and Texas—and he is a California guy who made his name as a rising star at USC.
Even with some minor NCAA sanctions limiting scholarships, Kiffin managed to recruit a lot of talent. But it didn't materialize in wins: he went 28-15 in three and a half seasons. By USC standards, that's embarrassing.
The thing is, as humiliated as Kiffin is at this juncture, he's sure to be given another high profile job soon. This is a profession where Wade Phillips got five chances to be an NFL head coach on the basis that, hey, he's been an NFL head coach before!  The mere fact that Kiffin coached the Raiders, Vols, and Trojans will be used as evidence that he must be a great coach. The fact that he was dreadful at it will be a mere footnote.