Larry Kudlow Trump's Next Economic Advisor
Best known as a television host, he served in the Reagan administration and chief economist of Bear Stearns.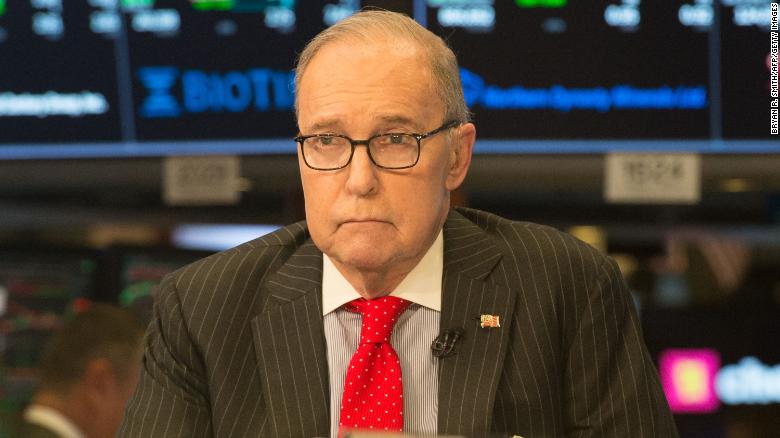 Larry Kudlow, who recently wrote an op-ed criticizing the President's proposed steel and aluminum tariffs, is going to be his next chief economic advisor.
CNN ("Kudlow to become Trump's next top economic adviser"):
President Donald Trump will name Larry Kudlow, the conservative media analyst who served as his informal economic adviser during the 2016 campaign, as the next head of the White House National Economic Council, two sources familiar with the decision tell CNN. Trump offered Kudlow the job Tuesday night over the phone and he accepted, the source said.

White House press secretary Sarah Sanders later confirmed Kudlow's hire in a statement to reporters. "Larry Kudlow was offered, and accepted, the position of assistant to the President for Economic Policy and Director of the National Economic Council," Sanders said. "We will work to have an orderly transition and will keep everyone posted on the timing of him officially assuming the role."

The move makes Kudlow Trump's second top economic adviser after Gary Cohn, a former Goldman Sachs executive who worked for Trump for over a year, announced his resignation earlier this month over internal disagreements around the President's decision to impose tariffs on steel and aluminum imports.

[…]

Kudlow's ascension, however, does not solve the disagreement inside the administration over Trump's tariff decision. The cable news personality has been outspoken in opposition to the tariff plan and 

wrote an op-ed for CNBC earlier this month

 that detailed his disagreements. "In other words, steel and aluminum may win in the short term, but steel and aluminum users and consumers will lose," Kudlow 

wrote

. "In fact, tariff hikes are really tax hikes."

Trump acknowledged his disagreement on tariffs with Kudlow in a conversation with reporters on Tuesday, but said he welcomed the difference of opinion.

"I'm looking at Larry Kudlow very strongly. I've known him a long time. We don't agree on everything but in this case I think that's good. I want to have a divergent opinion — we agree on most," Trump said. He added that Kudlow has "come around to believing in tariffs as a negotiating point."

Peter Navarro, Trump's top trade adviser and a fervent proponent of the President's tariffs, was seen as the force behind Cohn's eventual departure. The two butted heads over the decision and internally Trump's decision was seen as a win for Navarro and a damaging loss for Cohn.

Wary of the narrative that Navarro and Kudlow will clash in the same way that Navarro and Cohn did, a source close to Navarro said the President's trade adviser is "very happy" with Kudlow's selection. The source said the two men have been friends for years, dating back to the time they spent on CNBC sets together as economic analysts.
CNBC ("Larry Kudlow to replace Gary Cohn as Trump's top economic advisor"):
Larry Kudlow will take the job of top economic advisor to President Donald Trump, replacing Gary Cohn.

On Wednesday, Kudlow and the White House confirmed the economist and senior CNBC contributor accepted the post of National Economic Council director. The president offered Kudlow the job on Tuesday night after other conversations between the pair on Sunday and Monday.

"I've known him and interviewed him for over 20 years. I'm very comfortable with him and I can't wait to start," Kudlow told CNBC.

[…]

Kudlow told CNBC he got a call from Trump on Tuesday night as he got into an Uber after dinner. He had a conversation with the president in the car, and the driver "had never seen anything like this," Kudlow said.

By bringing in Kudlow, Trump adds an advisor who supports his push for lower taxes, fewer regulations and a so-called merit-based immigration system. But he may find an occasional critic of his trade policies.

The National Economic Council director advises the president on economic issues and works to implement policy goals. Cohn helped to shepherd the Republican tax overhaul, Trump's signature achievement in office so far, through its passage in December. Kudlow also supported the tax bill, and told CNBC "there may be more action on that front."

Trump won the presidency partly on his promises to shred or renegotiate U.S. trade deals and crack down on trade practices he deems unfair. He argued that the North American Free Trade Agreement, in particular, sapped manufacturing jobs from the United States.

On Wednesday, Kudlow told The Associated Press he opposed Trump's tariffs but is "in accord with his policies."

Kudlow was a budget aide during the Reagan administration. He was chief economist at Bear Stearns from 1987 to 1994. He informally advised Trump on taxes and other economic issues during his 2016 run for president.

Talking to CNBC on Wednesday, he highlighted his "strong relationships" with lawmakers in Congress. Kudlow said House Speaker Paul Ryan called him in recent days and "is very, very enthusiastic" about him taking the job.

He added he is "looking forward to working with" Treasury Secretary Steven Mnuchin and noted that trade advisor Peter Navarro was a regular guest on the CNBC show "The Kudlow Report." Navarro, who has pushed for aggressive actions to counter China's trade practices, sparred with Cohn over tariffs.

Kudlow said his job will be "not to rehash things but to execute" policy.

"I'm looking forward to serving the president," he said. "The way I was brought up in the Reagan years, you talk it out and you argue it out, but once the president has made a decision, that's it. My job is to execute. You don't go through these endless bureaucratic things and delays. The National Economic Council is in some ways an information broker and I look forward to that role."
We'll see whether the Trump-Navarro-Kudlow dynamic works better than the previous team, although I'm skeptical. Kudlow is used to speaking his own mind and hasn't been in government in over three decades.
While I was initially skeptical of his qualifications for the post, his resume is comparable to most who have served in that role. Unlike the chairman of the Council of Economic Advisors, who's usually an academic economist with a top-drawer PhD, the National Economic Council director has typically come out of the business sector. Kudlow's academic credentials aren't particularly impressive–an undergraduate history degree from the University of Rochester followed by some uncompleted masters study in politics and economics from Princeton's Woodrow Wilson School.
He spent his early career working on various campaign staffs, mostly for Democrats, and then moved to government as a staff economist at the Federal Reserve Bank of New York. He was associate director for economics and planning in the Office of Management and Budget (OMB) and an advisory committee member of at Freddie Mac during the Reagan administration. He was then chief economist at Bear Stearns.
He left that post circa 1994 to pursue treatment for drug and alcohol addiction. That seems to be when he moved into gigs with National Review, various conservative activist and media groups, and ultimately starring on various programs at CNBC.
At 70, he's rather old for the job. But, otherwise, he seems the sort that would be chosen for this post by a normal Republican president. In this case, the fact that he's spent the last two decades on television is likely more important in his getting the job than the more traditionally-qualifying resume points from decades ago.
As an economic forecaster, alas, he's not very good. As Duke sociologist Kieran Healy notes, he's literally a textbook example of a bad forecaster. The Canadian Press has more:
The book "Superforecasting," which analyzes the attributes of what makes someone good at predicting upcoming events, uses Kudlow's wild misses in the leadup to the 2008 financial crisis as a cautionary example of what not to do.

One of the book's core arguments is to fight back against your own biases when making a prediction, to seek contrasting views, and to factor everything in. Instead, it said, Kudlow's unflappable ideological faith in earlier tax cuts convinced him there would be no big recession.

"As the months passed, the economy weakened and worries grew, but Kudlow did not budge. There is no recession and there will be no recession, he insisted," says the book, by Canadian Philip Tetlock and Dan Gardner.

"Through the spring and into summer, the economy worsened but Kudlow denied it. 'We are in a mental recession, not an actual recession,' he wrote, a theme he kept repeating until Sept. 15, when Lehman Brothers filed for bankruptcy, Wall Street was thrown into chaos, the global financial system froze, and people the world over felt like passengers in a plunging jet, eyes wide, fingers digging into armrests."
He wasn't, of course, the only one to get it wrong.