The Law School Bubble Has Burst
Mediocre legal education doesn't pay.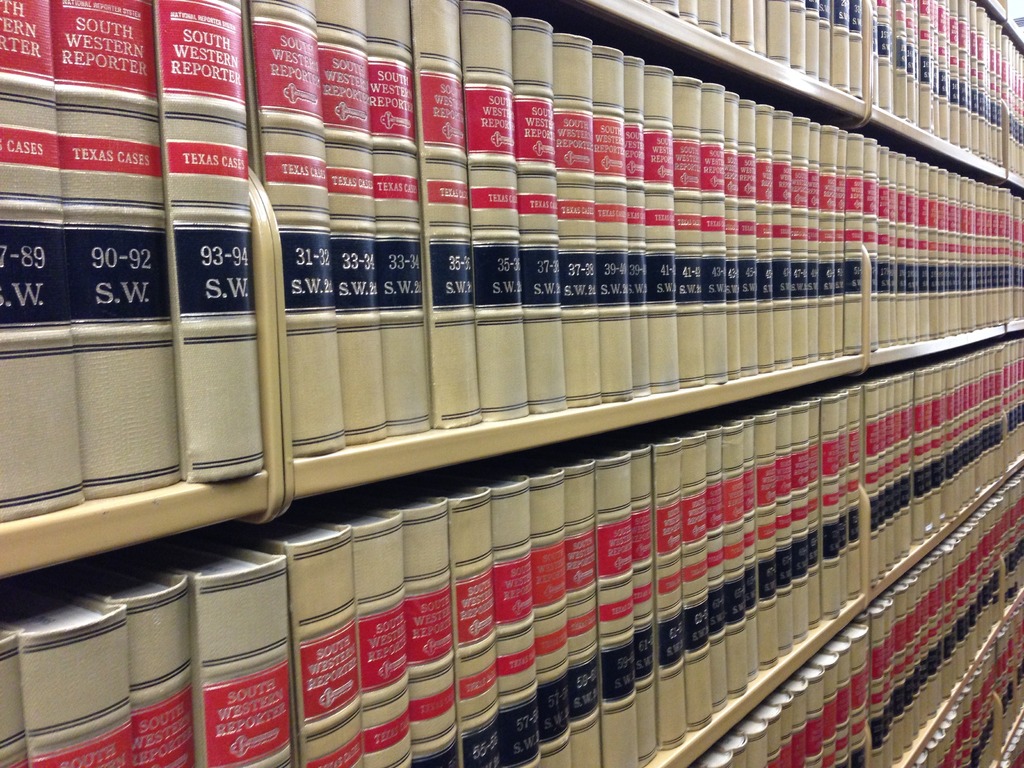 The Wall Street Journal continues to shine a light on the student debt crisis with its report "Law School Loses Luster as Debts Mount and Salaries Stagnate."
Law school was once considered a surefire ticket to a comfortable life. Years of tuition increases have made it a fast way to get buried in debt.

Recent graduates of the University of Miami School of Law who used federal loans borrowed a median of $163,000. Two years later, half were earning $59,000 or less. That's the biggest gap between debt and earnings among the top 100 law schools as ranked by U.S. News & World Report, a Wall Street Journal analysis of federal data found.

Graduates from a host of other well-regarded law schools routinely leave with six-figure student loans, then fail to find high-paying jobs as lawyers, according to the Journal's analysis of the latest federal data on earnings, for students who graduated in 2015 and 2016.
It's worth noting at the outset that Miami is an odd choice to spotlight. It's a private school, so there's no state subsidy at all. And, while it's a perfectly legitimate program, it's not exactly an elite school. Indeed, it's ranked well behind both the University of Florida and Florida State University, both of which are cheaper to attend. Here are the, admittedly contentious, US News rankings and data: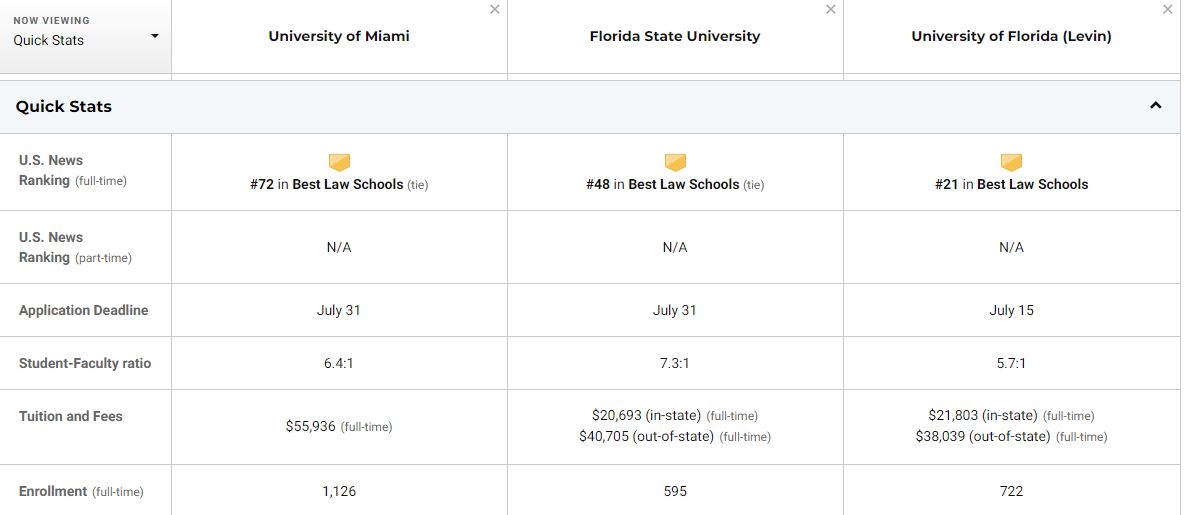 It's literally two-and-a-half times as expensive as the other schools yet admits nearly as many students as both combined. So, Miami Law students are almost certainly people who couldn't get into one of the much-higher-ranked state schools. Still, it's not a fly-by-night program, either.
Federal data suggest the value of a law degree from nonelite schools has diminished. Salaries haven't kept pace with inflation over the past 20 years. Meanwhile, tuitions have soared. A three-year juris doctor program, including living expenses, now can cost more than $250,000 at private law schools.

Graduates who finished law school in 2019 earned a median $72,500 the following year, according to the National Association for Law Placement. That is about the same as graduates who finished school a decade earlier earned soon after graduating.

In recent years, brand-name private schools have been saddling graduate students with upward of $100,000 in debt despite their limited earning prospects, in fields such as film and theater, the Journal has reported. The data suggest graduate debt is emerging as a new trouble spot in the student debt crisis. The law-school numbers in particular show how the problem extends even to professions reputed to be more lucrative.

Only a dozen of the nation's law schools leave students earning annual salaries two years after graduation that exceed their debts, according to the Education Department data covering roughly 200 programs. Among them are Harvard University, Stanford University and the University of Pennsylvania.
Again, though, Miami is an extreme case: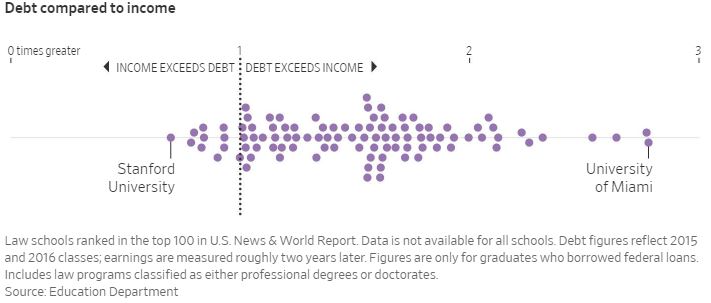 Even at some of the most prestigious law schools—those in U.S. News's top 30—students are borrowing far more than they will earn soon after graduation, including at George Washington University and Emory University. At lower-ranked but still competitive American University, graduates borrowed a median $175,000, nearly triple their median earnings after two years.

George Washington's dean said many of the college's alumni enter government and public-interest jobs, which pay less than private firms. American University and Emory declined to comment.
So, a GS-12 with two years of service makes $90,106 a year in the DC area. That's a decent living by any standards for a 25-year-old with no work experience. But civil service pay caps at $172,500. One would need to be appointed as a federal judge or a similarly plum mid-career gig to make significantly more than that working for the government.
Many Miami Law students said in interviews that they assumed attending a reputable private school would give them an edge in the job market.

Laura Cordell, a 2019 graduate, said she chose Miami for the prestige, particularly within Florida. "You go to any courthouse in Miami and the judge went to UM, the judge is a teacher at UM, there's some sort of connection to UM," she said.

"When I was looking for law schools, I wasn't looking at price as much as what would be good for my career," said Ms. Cordell, 30 years old, who said she turned down another school that offered her a large scholarship. "I didn't have an understanding of the gravity of the amount I was borrowing."
So, the school admits 1126 students a year, every year. People will practice law or otherwise utilize their degrees for four decades or more. The percentage of them who will go on to be judges has to be vanishingly small, indeed.
Regardless, the law schools are following the same path as the universities for the same reasons:
Over the past decade, Miami has increased law-school tuition and fees by 43%, to $57,000 for the coming school year, according to American Bar Association data. That's more than double the rate of inflation.

Law schools can charge higher and higher amounts knowing that students can tap the U.S. government's Grad Plus loan program, which permits borrowing up to the cost of tuition, fees and living expenses. It is now the fastest-growing federal student-loan program. If graduates' loans are never repaid, taxpayers will be on the hook.
Bernie Sanders and Elizabeth Warren notwithstanding, it makes no sense for the taxpayer to be subsidizing students who take on huge debt because they can't do math.
Although maybe the schools should be on the hook for cranking out more graduates than the market will bear. And for failing to teach them the broader context of the profession:
Ms. White said Miami urged students to borrow less for living expenses, but that students tend to be unsophisticated borrowers, with many taking out the maximum every year. "They don't know how to manage money in large numbers," she said. "And so, over a relatively small period of time, [borrowing] got out of control."
A 22-year-old who's not smart enough to get into Florida State is unlikely to have any clue about this sort of thing. Conversely, the schools collect massive amounts of data about what kinds of jobs their graduates get and how much they pay. Why not, I don't know, share that with them as part of the admissions process and continue to work with them as part of their legal education? Surely, law school should prepare graduates for the legal profession, not just teach them the law?
Starting lawyer salaries generally fall into two clusters: $45,000 to $75,000 for public service and small-firm attorneys, and around $190,000 for large firm jobs, according to data from the National Association for Law Placement.

More experienced associates at large law firms can earn upward of $250,000—far more than their peers at small firms or in the public sector. But more than half of entry-level jobs at high-paying firms have gone to graduates of just top 20 ranked schools, according to an analysis of American Bar Association data by Law School Transparency.
Well . . . yeah. I would be shocked if more than one or two Miami graduates go on to clerk for a federal judge, for example. I suspect most of them are eking out a living handling divorces, pleading down DUIs, and other mundane jobs that aren't the subject of television dramas.
Paying off a student loan over 10 years, once considered standard, is difficult for many law-school graduates with six-figure debt. Roughly two in three recent law-school graduates hadn't repaid a dime of their principal balance within two years, or had suspended payments altogether, the Journal's analysis shows. If the graduates don't pay down interest—often topping 7% in recent years—their balances will grow, not shrink.

Just 15% of recent University of Miami Law graduates had begun repaying their student loans after two years—the lowest rate among law schools at elite private research universities, as defined by categories the Education Department uses.
Again, Miami just isn't a particularly prestigious school. Here is its class profile: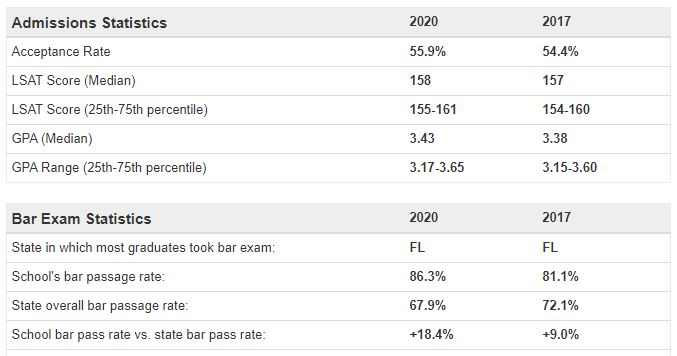 Compare it to much-higher-ranked yet markedly cheaper Florida: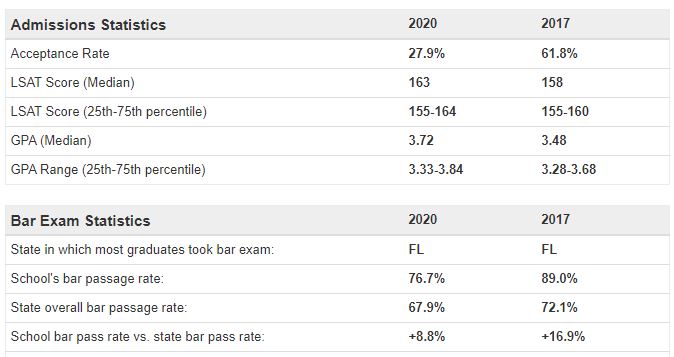 Florida is much, much more selective (although, for whatever reason, its graduates suck at preparing for the bar exam).
Regardless, it makes little sense for the federal taxpayer to subsidize ever-increasing tuition and ever-spiraling student debt at schools producing graduates who are uncompetitive for the job market.