Lawrence Lessig Spins A Bizarre Scenario To Put Hillary Clinton In The White House
There's something in the water up at Harvard......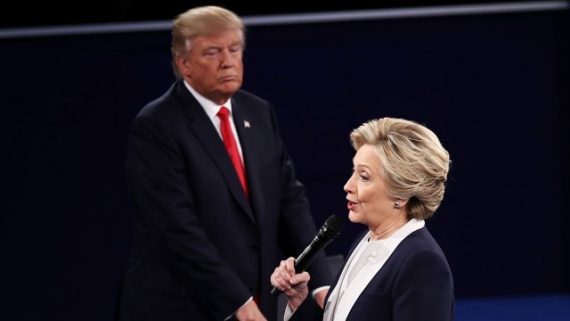 Harvard Professor Laurence Lessig has a post up at Medium where he goes completely off the rails in unfolding a way that Hillary Clinton could still become President. As Newsweek reporter Julia Glum notes, it starts with the premise that the ongoing Russia investigation finds affirmative evidence that the Trump campaign colluded with Russia to fix the 2016 election. I'll let Lessig words speak for themselves:
This "if" has got to be specified very precisely. The question is not whether Trump obstructed justice, or is guilty of tax evasion, or has violated the Emoluments Clause or done any other act justifying impeachment. The "if" here is quite specific: It relates explicitly to the validity of the election. The question I'm asking here is what should happen if Trump conspired with a foreign government to get elected? If he did that, then what should happen.

If that is shown, then the first step is obvious. Trump should resign or, if he doesn't, he should be impeached.

The second step should be obvious as well: Pence should resign or, if he doesn't, he should be impeached. He benefited from the criminal (and treasonous) conspiracy just as much as Trump. He shouldn't benefit even more by becoming the residual President.

Under the law as it is, this leaves Paul Ryan as President. And the hard moral question that Ryan would then face is whether he should remain as President. By hypothesis, we're assuming the office was effectively stolen from the legitimate winner by a criminal and treasonous act of the (previous) leader of Ryan's own party. Ryan's being President is just the fruit of that poisonous tree. So should he just ignore that? Or should he acknowledge the wrong, and act to make it right?

(…)

President Ryan would have the right to nominate a Vice-President. That right is specified in the 25th Amendment. That nominee then becomes Vice-President once confirmed by a majority of both houses. That's how Gerald Ford became Vice President. And that's how he eventually became President without ever running for that office.

(…)

Without doubt, if Ryan did the right thing, that would be the most extraordinary event in the history of America since the Confederate Army fired on Fort Sumter. But unlike that, this event would build the union, not divide it. And if he did it, then Clinton should embrace the spirit of cross partisan decency and nominate Ryan, or a Republican, as her Vice President. At least for the balance of her first term, the frame of adults-behaving-like-adults could live.
To his credit, Lessig does admit in his post that "I realize this all sounds crazy right now." Crazy is the least of the terms I would use, Professor Lessig. This is downright nuts, and a plot development that would be laughed out of the room by the writers on House of Cards or even ABC's slightly implausible yet still very good Washington drama Designated Survivor. As I joked on Twitter, it makes one wonder what Lessig is smoking up there in Cambridge during his off hours.
Right off the top, it's worth noting that we still don't have anything approaching plausible evidence of collusion between the Trump campaign and Russian officials regarding the election, much less any evidence that Trump himself had knowledge of or participated in any such collusion. Certainly, there have been plenty of reports of previously unreported contacts, suspicious meetings, and other activity, but this is far short of the kind of evidence that would be needed to justify the first step in this process, namely Trump's removal from office before January 20, 2021 via either voluntary or involuntary means. Clearly, these matters need to be investigated but that's a far cry from saying there are grounds for impeachment and removal.
Even if we get past that issue, the idea that Vice-President Pence would also be removed from office, again either voluntarily or involuntarily, is wholly unsupported by any available evidence. So far at least, there's been no allegation that Pence or anyone close to him was even aware of the meetings that were taking place between top Trump officials and representatives of the Russian government both during and after the campaign. This fact is seemingly confirmed by the fact that Michael Flynn, Trump's former National Security Adviser, was forced to resign in part because he lied to Pence about the nature of his contacts with Russian officials before an after the 2016 election. Given that, and absent any evidence to the contrary, it seems unlikely that Pence had any idea any of these meetings were going on. This seems to be further backed up by multiple reports that Pence is not necessarily being kept in the loop about what's going on in the White House even today. Given this, it's hard to see how Pence would be implicated even if the worst assumptions about Trump campaign collusion with Russia are proven to be true. The fact that he was Trump's running mate is not sufficient, and it's at this point where Lessig really starts going off the rails.
Lessig is essentially asserting that Pence should either voluntarily resign or be impeached in his own right if it is proven that the Trump campaign colluded with Russia during the election. This is absurd. First of all, Pence's resignation would serve no useful purpose other than to make an already chaotic political situation even more chaotic. Second, even before taking into account how unlikely it is that Trump would be impeached and removed from office, it's even less likely in Pence's case. The more likely outcome would be something akin to what happened after President Nixon resigned and Gerald Ford became President. Politicians on both sides of the aisle, and on Capitol Hill would be a desire to calm the nation and move on from what would be a horrible political ordeal that would be as traumatic to the system as Watergate was.
Having assumed that Pence would leave office, Lessig then moves on to the next leg of his bizarre scenario. Yes, under the laws of succession Paul Ryan would become President at that point assuming that he was still serving as Speaker of the House, but the idea that he'd appoint Hillary Clinton his Vice-President, and that she could possibly be confirmed for that position as required by Section Three of the 25th Amendment, is simply absurd. The same goes for the suggestion that Hillary Clinton would or should appoint Ryan as her Vice-President after he decides to resign so that she can become President.
As I said, this is a plot that would be laughed out of Hollywood, and that's saying something.