Leading Don't Ask, Don't Tell Protester Discharged From Army
Recently Lt. Dan Choi chained himself to the White House fence to protest Don't Ask, Don't Tell. Yesterday, he found out that he'd been discharged from the Army because he's gay.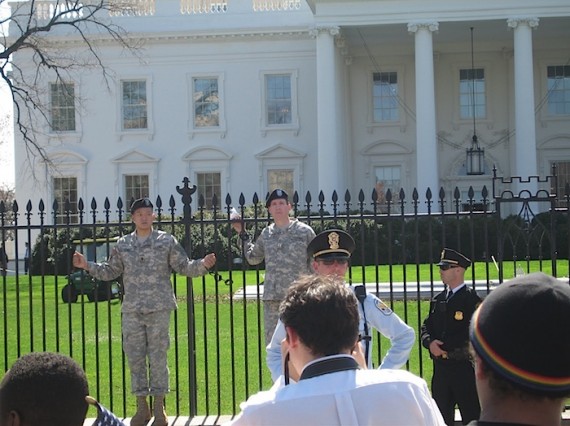 Lt. Dan Choi, who had become one of the most vocal critics of the military's Don't Ask, Don't Tell policy while still serving, has been formally discharged from service:
One of the most vocal critics of the military's "don't ask, don't tell" policy has been honorably discharged for being in violation of the policy.

Dan Choi, a West Point graduate and first lieutenant with the Army National Guard, said he learned of the decision on Thursday.

"It's painful mostly, not that my career is coming to an end, but really that it's been a very difficult year," he said in an interview.

Though his discharge has been rumored for weeks in the gay blogosphere and among gay rights activists, Choi said he only officially learned of the discharge on Thursday after a phone call from his commander.

"The Army said I was notified by letter to my home of record, which is Orange County, Calif.," Choi said. "My dad apparently signed for the letter and, well, that's what they say."

Choi hasn't spoken to his father since October, he said.

He emerged as the face of gay and lesbian service members discharged under the policy when he came out publicly during a March 2009 MSNBC interview — essentially violating "don't ask, don't tell" in front of a primetime television audience.

The military started discharge proceedings shortly after the interview. The move angered gay rights groups and other opponents of the policy, who cited Choi's training as an Arab linguist as reason enough to keep him in the military.
There's no question that Choi violated the DADT policy, so the discharge would be an appropriate sanction in this case. I get the impression that Choi knew this would happen, accepted it, and is willing to accept the sanction to make a political point.
Choi would seem to be the perfect example of why the policy makes no sense whatsoever. He's a West Point graduate, with a degree in Arabic, and he served as an infantry officer in Iraq in 2006 and 2007, but he's being discharged because he told Rachel Maddow he's gay. Yes, that's the law right now, but this is just another reason why the law makes absolutely no sense whatsoever.
Somewhat ironically, Choi says he wants to rejoin the military if and when DADT is repealed. So let me get this straight — we've got a guy who actually wants to serve and we're kicking him out ? Explain that to me.