LeBron James Breaks Yet Another Record
Last night, he finished in double digits for his 867th consecutive game. There are 71 players in the Hall of Fame who didn't play in that many games.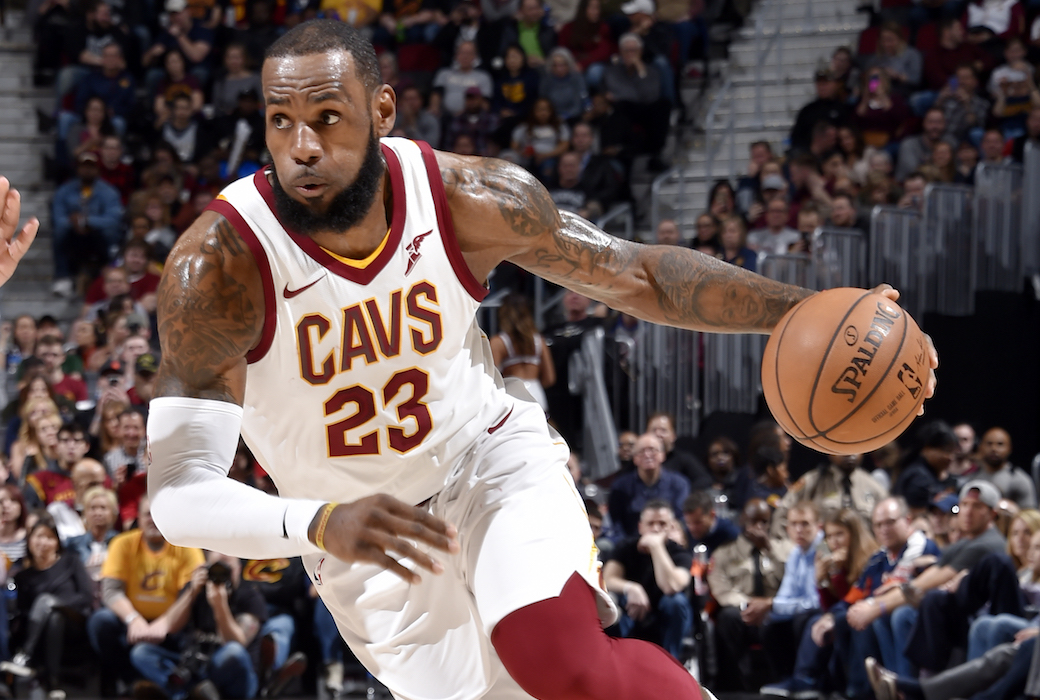 LeBron James, then a high school prodigy, earned a mention on the very first day of OTB's existence. It turns out that he's still a pretty fair basketball player. No, it's true.
ESPN ("The need-to-know numbers about LeBron's epic scoring streak"):
The date is Jan. 5, 2007, and the Milwaukee Bucks have no answer for Cleveland Cavaliers forward Drew Gooden. He's having a career night: 19 second-half points and his first game with 30 points and 15 rebounds. Cleveland wins, earning its fifth straight victory against the Bucks.

It also would be the last time LeBron James scores fewer than 10 points. On this night, he finishes with eight.

That was 11 years, 2 months and 25 days ago.

Now he passes Michael Jordan with his 867th consecutive game scoring in double figures, the longest streak in NBA history.

Here are 10 numbers to know about one of the most underrated and absurd streaks in sports to put into context the nature of such mechanically consistent production.

10 numbers to know about LeBron James' 10-point streak

867: If you added up the longest double-digit points streaks of the following 15 players' careers, it would equal James' all-time mark of 867 games: LaMarcus Aldridge (84), Giannis Antetokounmpo (82), Karl-Anthony Towns (75), Stephen Curry (74), Goran Dragic (60), Kyrie Irving (58), Chris Paul (57), Klay Thompson (56), John Wall (55), Paul George (55), Anthony Davis (52), Kemba Walker (48), Jimmy Butler (44), Kristaps Porzingis (34) and Al Horford (33). That's an All-Star lineup.

610: James Harden has the second-longest active streak at 257 straight games, 610 fewer than LeBron James. James' streak is more than the next seven active streaks combined.

50: According to the Elias Sports Bureau, James has more 50-point games in his career (11) than single-digit scoring games (8). He, Jordan and Wilt Chamberlain are the only players in NBA history to have accomplished that feat.

99.3: James has scored 10 or more in 99.3 percent of his career games, the highest percentage in NBA history, according to the Elias Sports Bureau. Kevin Durant is second on the list (98.8 percent), with Jordan a couple of tenths behind.

1: Jordan had one game out of 1,109 in a Chicago Bulls uniform scoring fewer than 10 points, including the playoffs. He scored eight points in a blowout loss against the Cavaliers on March 22, 1986, before his streak began. Jordan wouldn't score in single digits again until December 27, 2001, against the Indiana Pacers, as a member of the Washington Wizards, with a six-point effort as a 38-year-old.

40: During his streak, Jordan had twice as many 40-point games than games scoring fewer than 20 (159 to 78). James has had 44 40-point games during his streak.

71: There are 71 players in the Basketball Hall of Fame who didn't play 867 games in their entire NBA careers, including George Gervin, Bob Pettit, Elgin Baylor, Bob McAdoo and Pete Maravich.

90: 90 percent of active NBA players weren't in the league the last time James didn't score in double figures in a regular-season game. Every Cavalier who played in that 2007 game besides James is no longer in the NBA.

1,029: James' streak could have been 1,029 games if not for that eight-point game in 2007. He had reeled off 161 straight double-figure scoring games, then scored those eight against the Bucks — and then he began his current streak. That 161-game streak, the second longest of James' career, is longer than the longest streak — current or since ended — of all active players but five.

2: That's how many playoff games James has finished with fewer than 10 points. He scored a career postseason-low seven points against the Pacers in Game 5 of the 2014 Eastern Conference finals. And he infamously finished with eight points against the Dallas Mavericks in Game 4 of the 2011 NBA Finals. James didn't score in the fourth quarter of that game and only attempted one shot.
James has been in the conversation for greatest player in NBA history for quite some time. Even so, he's arguably still underappreciated. While he doesn't physically dominate the game in the way Wilt Chamberlain did in his day, I don't know that anyone has come close to the level of consistency James has demonstrated. The only real argument against him in the Greatest Of All Time discussion is that Jordan, Russell, and others have won more championships. But it's a team game.