Legendary Comedian Jerry Lewis Dead At 91
A loss for the world of comedy.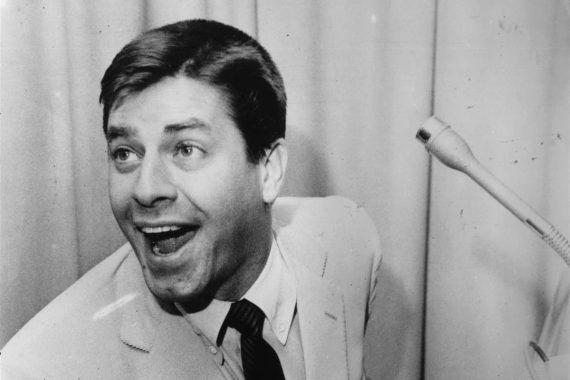 Jerry Lewis, who rose to fame as one-half of a comedic duo with the late Dean Martin and later became best known as a charitable benefactor and longtime host of the annual telethon for the Muscular Dystrophy Association, has died at the age of 91:
Jerry Lewis, the brash slapstick comic who teamed with Dean Martin in the 1950s and later starred in "The Nutty Professor" and "The Bellboy" before launching the Muscular Dystrophy telethon, has died in Las Vegas. He was 91.

The Las Vegas Review-Journal columnist John Katsilometes reported that he died at his home at 9:15 a.m. and his agent confirmed the news.

Over the past 10 years of his life, the cranky icon's reputation soured as he was forced to apologize for making a gay slur on camera during the 2007 telethon, continued to make racist jokes into his '90s, and didn't hesitate to share his right-wing political views.

He appeared in a few later films such as Martin Scorsese's "The King of Comedy," but Lewis was largely offscreen from the late '60s on and was more active with his annual Labor Day Muscular Dystrophy telethon, for which he raised more than $2.45 billion before being relieved of his role as leader of the telethon in 2011. As late as 2016, he continued to perform in Las Vegas, where he first did his comedy routine in 1949.

The high regard in which his comic abilities were held in France — he received the Legion of Honor award in 1983 — became a running joke in the U.S. long after Lewis' style of broad physical comedy fell out of fashion. His final film, "Max Rose," screened at France's Cannes Film Festival in 2013.

The telethon, like other aspects of Lewis' life, was beset by controversy. The comic's offstage persona was anything but humorous. He was, by his own admission, an impatient man, and over the years battled numerous illnesses and a prescription drug dependency. His parting with Martin in 1956 after 10 years as a duo was acrimonious. And the telethons were awash in claims that there was a disparity between the money pledged and the money collected.

Lewis' pairing with Martin, featuring their improvisatory backbiting and physical chicanery, was an instant hit in 1946. When producer Hal Wallis saw them performing at the Copacabana and at Slapsie Maxie's in Hollywood, he saw the potential for a new Bob Hope and Bing Crosby and signed them to a Paramount Pictures contract.

For the next 10 years, Martin and Lewis turned out one silly film after the next starting with "My Friend Irma" in 1949 and including "The Caddy," "The Stooge," "Artists and Models" and "Pardners." None of their films grossed less than $5 million, a handy sum in those days.

The premises of the films grew tired, and the more Martin and Lewis worked together, the more disparate they appeared. In 1956, after their film "Hollywood or Bust," they made their last dual appearance at the Copacabana.

By the time of their breakup, Martin had a prosperous career as a recording artist and actor. And soon Lewis, too, was a hot solo ticket.

Shortly after they broke up, Lewis filled in for an ailing Judy Garland in Las Vegas. Over the next five years Lewis developed a slicker, more sophisticated stage persona and would continue to play Vegas until 2013.

Onscreen he made a go of it in such films as "The Delicate Delinquent" and "Rock-a-Bye Baby." Lewis even had a million-selling single in the "Rock-a-Bye Your Baby" title track, which led to several albums on Decca Records.

He then extended his efforts into writing, producing and directing films. The first two, 1961's "The Ladies Man" and 1962's "The Errand Boy," showed him at his best. His talents also dovetailed with director Frank Tashlin's style in films such as "Cinderfella" and "The Disorderly Orderly."

"The Nutty Professor" (1963) was his biggest success ever, grossing $19 million. But by then his mugging and exaggerated body gyrations had become out of control, as had the syrupy moments in his films.

Lewis signed a nonexclusive deal with Columbia that resulted in several uninspired films such as "Three on a Couch," "The Big Mouth" and "Don't Raise the Bridge, Lower the River." Even Lewis had to admit, "Jerry Lewis is never just OK or adequate; he's either very funny or he's awful."

While Americans largely dismissed him, Lewis had developed a following at French film journals Cahiers du Cinema and Positif

He was born Joseph Levitch in Newark, N.J. Both his parents were in show business and, at the age of 5, Lewis made his debut at a Borscht Belt hotel singing "Brother Can You Spare a Dime?"

Perhaps because his parents spent a great deal of time on the road, Lewis was demanding attention through humor by the time he was attending Irvington High School in New Jersey. By age 15 he was pantomiming operatic and popular songs and was booked into a burlesque house in Buffalo.

In 1942 he tried out his comic pantomiming at Brown's Hotel in upstate New York, where he was also working the summer as a bellboy. Comic Irving Kaye was sufficiently impressed to land Lewis some bookings and became his road manager.

Lewis met the young singer Dean Martin at New York nightclub the Glass Hatt and was first paired with him in 1946. Afters years of rupture, Martin made a surprise appearance on the Muscular Dystrophy Telethon in 1976, and the pair reconciled after the death of Martin's son in the late 1980s. (Martin died in 1995.)

In the early '70s he continued to direct uninspired fare such as "Which Way to the Front?" and then tried a serious film, "The Day the Clown Cried," though he famously shelved the completed work (some footage of it finally surfaced in 2013). He attempted a live TV variety show that failed, as did an attempt at a Broadway musical, "Feeling No Pain"; it was followed by the acrimonious "Hellzapoppin," which was ditched out of town in Boston at a loss of $1.25 million.

(…)

Most of his later film work, however, failed to impress, such as "Slapstick of Another Kind," "Cookie" and 1992's "American Dreamer."

In 1995, he appeared in Peter Chelsom's film "Funny Bones" and took over the role of the devil in a Broadway revival of "Damn Yankees," which he took on tour in the U.S.; he then appeared in a London production of the musical.

In 2003 he provided a guest voice on an episode of "The Simpsons"; in 2006 he did an episode of "Law and Order: SVU" in which he played the insane, morally befuddled but bizarrely benevolent uncle of Det. John Munch (Richard Belzer).

Lewis long sought to create a sequel to "The Nutty Professor"; eventually, Imagine Entertainment produced and Universal released the 1996 remake starring Eddie Murphy on which Lewis was credited for the screenplay to the 1963 version and as an executive producer.

Lewis also hoped to bring a musical adaptation of "The Nutty Professor" to Broadway. By summer 2012 an ailing but still enthusiastic Lewis made his stage helming debut with such a musical, with a score by Marvin Hamlisch and a book and lyrics by Rupert Holmes, in Nashville, where it played for seven weeks.

In 2013 Lewis starred in the long-gestating project "Max Rose," written and directed by Daniel Noah and also starring Claire Bloom, Kevin Pollak, Kerry Bishe and Mort Sahl. Lewis played a jazz pianist who recently became a widower.

In 2009, Lewis received the Academy of Motion Pictures Arts & Sciences' Jean Hersholt Award for his charitable work. In May 2014, he added his footprints to those of other screen luminaries at the Chinese Theatre.
More from The New York Times:

Jerry Lewis was born on March 16, 1926, in Newark. Most sources, including his 1982 autobiography, "Jerry Lewis: In Person," give his birth name as Joseph Levitch. But Shawn Levy, author of the exhaustive 1996 biography "King of Comedy: The Life and Art of Jerry Lewis," unearthed a birth record that gave his first name as Jerome.

His parents, Danny and Rae Levitch, were entertainers — his father a song-and-dance man, his mother a pianist — who used the name Lewis when they appeared in small-time vaudeville and at Catskills resort hotels. The Levitches were frequently on the road and often left Joey, as he was called, in the care of Rae's mother and her sisters. The experience of being passed from home to home left Mr. Lewis with an enduring sense of insecurity and, as he observed, a desperate need for attention and affection.

An often bored student at Union Avenue School in Irvington, N.J., he began organizing amateur shows with and for his classmates, while yearning to join his parents on tour. During the winter of 1938-39, his father landed an extended engagement at the Hotel Arthur in Lakewood, N.J., and Joey was allowed to go along. Working with the daughter of the hotel's owners, he created a comedy act in which they lip-synced to popular recordings.

By his 16th birthday, Joey had dropped out of Irvington High and was aggressively looking for work, having adopted the professional name Jerry Lewis to avoid confusion with the nightclub comic Joe E. Lewis. He performed his "record act" solo between features at movie theaters in northern New Jersey, and soon moved on to burlesque and vaudeville.

In 1944 — a 4F classification kept him out of the war — he was performing at the Downtown Theater in Detroit when he met Patti Palmer, a 23-year-old singer. Three months later they were married, and on July 31, 1945, while Patti was living with Jerry's parents in Newark and he was performing at a Baltimore nightclub, she gave birth to the first of the couple's six sons, Gary, who in the 1960s had a series of hit records with his band Gary Lewis and the Playboys. The couple divorced in 1980.

Between his first date with Ms. Palmer and the birth of his first son, Mr. Lewis had met Dean Martin, a promising young crooner from Steubenville, Ohio. Appearing on the same bill at the Glass Hat nightclub in Manhattan, the skinny kid from New Jersey was dazzled by the sleepy-eyed singer, who seemed to be everything he was not: handsome, self-assured and deeply, unshakably cool.

When they found themselves on the same bill again at another Manhattan nightclub, the Havana-Madrid, in March 1946, they started fooling around in impromptu sessions after the evening's last show. Their antics earned the notice of Billboard magazine, whose reviewer wrote, "Martin and Lewis do an afterpiece that has all the makings of a sock act," using showbiz slang for a successful show.

Mr. Lewis must have remembered those words when he was booked that summer at the 500 Club in Atlantic City. When the singer on the program dropped out, he pushed the club's owner to hire Mr. Martin to fill the spot. Mr. Lewis and Mr. Martin cobbled together a routine based on their after-hours high jinks at the Havana-Madrid, with Mr. Lewis as a bumbling busboy who kept breaking in on Mr. Martin — dropping trays, hurling food, cavorting like a monkey — without ever ruffling the singer's sang-froid.

The act was a success. Before the week's end, they were drawing crowds and winning mentions from Broadway columnists. That September, they returned to the Havana-Madrid in triumph.

Bookings at bigger and better clubs in New York and Chicago followed, and by the summer of 1948 they had reached the pinnacle, headlining at the Copacabana on the Upper East Side of Manhattan while playing one show a night at the 6,000-seat Roxy Theater in Times Square.

The phenomenal rise of Martin and Lewis was like nothing show business had seen before. Partly this was because of the rise of mass media after the war, when newspapers, radio and the emerging medium of television came together to create a new kind of instant celebrity. And partly it was because four years of war and its difficult aftermath were finally lifting, allowing America to indulge a long-suppressed taste for silliness. But primarily it was the unusual chemical reaction that occurred when Martin and Lewis were side by side.

Mr. Lewis's shorthand definition for their relationship was "sex and slapstick." But much more was going on: a dialectic between adult and infant, assurance and anxiety, bitter experience and wide-eyed innocence that generated a powerful image of postwar America, a gangly young country suddenly dominant on the world stage.

Among the audience members at the Copacabana was the producer Hal Wallis, who had a distribution deal through Paramount Pictures. Other studios were interested — more so after Martin and Lewis began appearing on live television — but it was Mr. Wallis who signed them to a five-year contract.

He started them off slowly, slipping them into a low-budget project already in the pipeline. Based on a popular radio show, "My Friend Irma" (1949) starred Marie Wilson as a ditsy blonde and Diana Lynn as her levelheaded roommate, with Martin and Lewis providing comic support. The film did well enough to generate a sequel, "My Friend Irma Goes West" (1950), but it was not until "At War With the Army" (1951), an independent production filmed outside Mr. Wallis's control, that the team took center stage.

"At War With the Army" codified the relationship that ran through all 13 subsequent Martin and Lewis films, positing the pair as unlikely pals whose friendship might be tested by trouble with money or women (usually generated by Mr. Martin's character), but who were there for each other in the end.

The films were phenomenally successful, and their budgets quickly grew. Some were remakes of Paramount properties — Bob Hope's 1940 hit "The Ghost Breakers," for example, became "Scared Stiff" (1953) — while other projects were more adventurous.

"That's My Boy" (1951), "The Stooge" (1953) and "The Caddy" (1953) approached psychological drama with their forbidding father figures and suggestions of sibling rivalry; Mr. Lewis had a hand in the writing of each. "Artists and Models" (1955) and "Hollywood or Bust" (1956) were broadly satirical looks at American popular culture under the authorial hand of the director Frank Tashlin, who brought a bold graphic style and a flair for wild sight gags to his work. For Mr. Tashlin, Mr. Lewis became a live-action extension of the anarchic characters, like Bugs Bunny and Daffy Duck, he had worked with as a director of Warner Bros. cartoons.

Mr. Tashlin also functioned as a mentor to Mr. Lewis, who was fascinated with the technical side of filmmaking. Mr. Lewis made 16-millimeter sound home movies and by 1949 was enlisting celebrity friends for short comedies with titles like "How to Smuggle a Hernia Across the Border." These were amateur efforts, but Mr. Lewis was soon confident enough to advise veteran directors like George Marshall ("Money From Home") and Norman Taurog ("Living It Up") on questions of staging. With Mr. Tashlin, he found a director both sympathetic to his style of comedy and technically adept.

But as his artistic aspirations grew and his control over the films in which he appeared increased, Mr. Lewis's relationship with Mr. Martin became strained. As wildly popular as the team remained, Mr. Martin had come to resent Mr. Lewis's dominant role in shaping their work and spoke of reviving his solo career as a singer. Mr. Lewis felt betrayed by the man he still worshiped as a role model, and by the time filming began on "Hollywood or Bust" they were barely speaking.

After a farewell performance at the Copacabana on July 25, 1956, 10 years to the day after they had first appeared together in Atlantic City, Mr. Martin and Mr. Lewis went their separate ways.

For Mr. Lewis, an unexpected success mitigated the trauma of the breakup. His recording of "Rock-a-Bye Your Baby With a Dixie Melody," belted in a style that suggested Al Jolson, became a Top 10 hit, and the album on which it appeared, "Jerry Lewis Just Sings," climbed to No. 3 on the Billboard chart, outselling anything his former partner had released.

Reassured that his public still loved him, Mr. Lewis returned to filmmaking with the low-budget, semidramatic "The Delicate Delinquent" and then shifted into overdrive for a series of personal appearances, beginning at the Sands in Las Vegas and culminating with a four-week engagement at the Palace in New York. He signed a contract with NBC for a series of specials and renewed his relationship with the Muscular Dystrophy Association — a charity that he and Mr. Martin had long supported — by hosting a 19-hour telethon.

Mr. Lewis made three uninspired films to complete his obligation to Hal Wallis. He saved his creative energies for the films he produced himself. The first three of those films — "Rock-a-Bye Baby" (1958), "The Geisha Boy" (1958) and "Cinderfella" (1960) — were directed by Mr. Tashlin. After that, finally ready to assume complete control, Mr. Lewis persuaded Paramount to take a chance on "The Bellboy" (1960), a virtually plotless hommage to silent-film comedy that he wrote, directed and starred in, playing a hapless employee of the Fontainebleau Hotel in Miami Beach.

It was the beginning of Mr. Lewis's most creative period. During the next five years, he directed five more films of remarkable stylistic assurance, including "The Ladies Man" (1961), with its huge multistory set of a women's boardinghouse, and, most notably, "The Nutty Professor" (1963), a variation on "Dr. Jekyll and Mr. Hyde," in which Mr. Lewis appeared as a painfully shy chemistry professor and his dark alter ego, a swaggering nightclub singer.

With their themes of fragmented identity and their experimental approach to sound, color and narrative structure, Mr. Lewis's films began to attract the serious consideration of iconoclastic young critics in France. At a time when American film was still largely dismissed by American critics as purely commercial and devoid of artistic interest, Mr. Lewis's work was held up as a prime example of a personal filmmaker functioning happily within the studio system.

"The Nutty Professor," a study in split personality that is as disturbing as it is hilarious, is probably the most honored and analyzed of Mr. Lewis's films. (It was also his personal favorite.) For some critics, the opposition between the helpless, infantile Professor Julius Kelp and the coldly manipulative lounge singer Buddy Love represented a spiteful revision of the old Martin-and-Lewis dynamic. But Buddy seems more pertinently a projection of Mr. Lewis's darkest fears about himself: a version of the distant, unloving father whom Mr. Lewis had never managed to please as a child, and whom he both despised and desperately wanted to be.

"The Nutty Professor" transcends mere pathology by placing that division within the cultural context of the Kennedy-Hefner-Sinatra era. Buddy Love was what the midcentury American male dreamed of becoming; Julius Kelp was what, deep inside, he suspected he actually was.

"The Nutty Professor" was a hit. But the studio era was coming to an end, Mr. Lewis's audience was growing old, and by the time he and Paramount parted ways in 1965 his career was in crisis. He tried casting himself in more mature, sophisticated roles — for example, as a prosperous commercial artist in "Three on a Couch," which he directed for Columbia in 1966. But the public was unconvinced.

He seemed more himself in the multi-role chase comedy "The Big Mouth" (1967) and the World War II farce "Which Way to the Front?" (1970). But his blend of physical comedy and pathos was quickly going out of style in a Hollywood defined by the countercultural irony of "The Graduate" and "MASH." After "The Day the Clown Cried," his audacious attempt to direct a comedy-drama set in a Nazi concentration amp, collapsed in litigation in 1972, Mr. Lewis was absent from films for eight years. In that dark period, he struggled with an addiction to the pain killer Percodan.

(…)

Although the Academy of Motion Picture Arts and Sciences never honored Mr. Lewis for his film work, he received the Jean Hersholt Humanitarian Award for his charitable activity in 2009. His many other honors included two stars on the Hollywood Walk of Fame — one for his movie work, the other for television — and an induction into the Légion d'Honneur, awarded by the French government in 2006.

In 2015, the Library of Congress announced that it had acquired Mr. Lewis's personal archives. In a statement, he said, "Knowing that the Library of Congress was interested in acquiring my life's work was one of the biggest thrills of my life."

Mr. Lewis was officially recognized as a "towering figure in cinema" at the 2013 Cannes Film Festival. The festival's tribute to him included the screening of a preliminary cut of "Max Rose," Mr. Lewis's first movie in almost 20 years, in which he starred as a recently widowed jazz pianist in search of answers about his past. The film did not have its United States premiere until 2016, when it was shown as part of a Lewis tribute at the Museum of Modern Art. Also in 2016, he appeared briefly as the father of Nicolas Cage's character in the crime drama "The Trust."
In many ways, the ten-year collaboration between Lewis and Dean Martin was the high point of Lewis's career in the United States, and outside of movies such as "The Nutty Professor" and "The Bellboy," Lewis largely faded as a star in the years following the duos break up while Martin rocketed to new fame thanks both to his commercial success as a singer and his long period of association with Frank Sinatra, Sammy Davis, Jr., and the Rat Pack that reached its own heights in the 1960s. It wasn't until he started the annual Labor Day Telethon for the Muscular Dystrophy Association that he re-entered popular culture in a big way. In that role, Lewis became famous for staying up for some 24 hours along with his longtime co-host for that show Ed McMahon urging viewers to give money for 'Jerry's Kids' and lauded the companies who would send often quite sizable donations for the organization. It was in this role that I remember Lewis as a kid, and it was something he continued to do well into his 80s even as the telethon went from being something that was broadcast around the clock every Labor Day to something that was only on the air for a handful of hours in at least some parts of the country. More recently, Lewis had stretched his wings into drama in his later years, including an especially memorable appearance on Law & Order: Special Victims Unit. Additionally, Lewis seemed to achieve more fame and accolades overseas than he did at home. Most famously, of course, that occurred in France where Lewis was considered a major celebrity. He also received several awards in his later years for his charitable work.
Over the years, though, I also saw much of Lewis's earlier work, including several of the movies that he and Dean Martin had done during the height of their career. The talent possessed by both men was quite apparent in all of them notwithstanding the often silly plot twists that the movies would take. In the end, though, the ten-year relationship began to fall apart and the duo broke up. It was a break-up that was the topic of Hollywood legend for years and at some point, it became acrimonious enough that the two men apparently didn't speak to or see each other for some two decades. It wasn't until 1976 when Martin appeared with Frank Sinatra during a performance at the telethon that the two would appear in public together, and real reconciliation didn't occur until Martin's son died in a plane crash in the 1980s.
As for Lewis himself, as I said he never did get the fame or credit that he likely deserved, although he was greatly appreciated by many of the comedians who followed in his footsteps, including people such as Penn Jillette, who called him "the real. no irony, king of comedy" in a Tweet that was posted shortly after news of Lewis's death was made public.
Lewis spoke about the breakup of his collaboration with Dean Martin decades later as part of an Emmy Awards documentary:
And, finally, here's video of the famous "reunion" of the two men at the 1976 MDA Telethon, a reunion that was apparently engineered entirely by Frank Sinatra: